Unexpected, enjoyable schooling in Nowgong
Category:
My family had a sojourn at Nowgong, Madhya Pradesh from September 1962 to April 1963.
In 1962, my father, Major C. K. Panemanglor. was 2IC (2nd-in-Command) for the 1st. Sikh Light Infantry - they were known as The Fighting 1st Sikh L.I. He was based in Ambala, Punjab.
In September 1962, he was unexpectedly transferred to Nowgong in Chhatarpur District, Madhya Pradesh, as Commandant of the Army Cadet College (formerly known as Kitchener College for Army Cadets). He was promoted to Lieutenant-Colonel to take up this position. At that time, there was a great deal of tension going on between India and China. My father was genuinely upset that he was not going to fight in case war broke out between India and China.
We arrived in Nowgong in early September 1962 to great fanfare! There was a welcoming party with garlands, and a brass band playing. The Commandant from whom my father was taking over had already left to join his Battalion.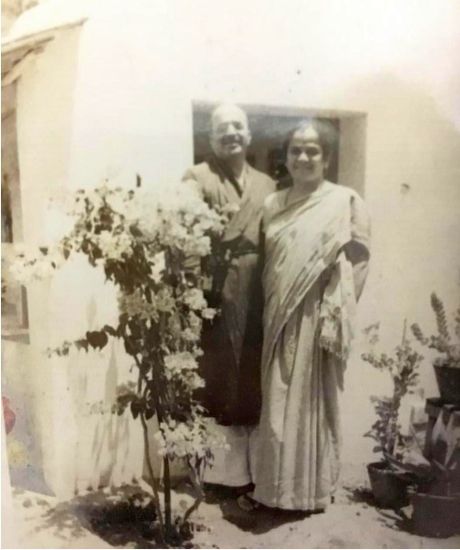 My parents - Lt. Col. C K Panemanglor and Mrs. Mira Panemanglor, Nowgong. 1962
We settled down comfortably in a lovely house with bougainvillea growing all around the house. There were fruit trees - jamun, guava, mangoes, tamarind, mulberry and a vegetable garden in our backyard. Our house had verandas, both in the front and back of the house.
We got a lot of guests, mainly relatives, who came to stay with us and go sightseeing. Their main attraction was to visit Khajuraho with its beautiful carvings on the temples. These temples were built between 900 AD to 1130 AD. These temples were approximately 60 miles from Nowgong. For their journey, they would take packed Aloo sabji, Puris/ Parathas, Kachoris, Imarti, Gulab Jamun, fruits etc. It used to take about two hours to reach Khajuraho. It was so much fun taking this trip, and another one to Panna to dig for diamonds.
[The temple complex at Khajuraho has since been named a UNESCO World Heritage Site.]
Taking these trips was like going on a picnic! We travelled in the Army 3 Ton Trucks that had been modified with seats etc., and were pretty comfortable. The orderlies would spread out durries (carpets) under the shade of trees with cushions and bolsters to recline on. Then, then set up tables on which the food was laid out, along with the crockery and cutlery. We had cold water from these giant water containers that were covered in coarse and thick blanket live covers. The outside was always kept wet, which then chilled the water inside. Orange squash and cold beer were always on the menu.
All this was after we visited the temple complex or dug up the earth at Panna Diamond fields in search of that elusive rock! Which of course we never found, not even a tiny sliver!
My younger brother was seven years old at that time. He had been sent to a boarding school, Rajkumar College in Rajkot, so it was just me with my parents.
In Nowgong, I was admitted to the Nowgong cantonment school. The school was a one-room set up. It had a corrugated, sloping tin roof, and a large veranda with mud floors. At the front of the room was an easel with a blackboard on it, besides a table and chair. The students sat on benches with a long table in front of us.
The school had only one teacher, who taught all the students from Standards 1 to 5 in the same room! This was my school!
We used this for a few hours in a day, learning Itihas (History), Bhugol (Geography), Ganith (Maths), and Hindi. We wrote on slates with chalk - no notebooks.
At other times, we sat on the verandah trying out various crafts. I learnt how to spin yarn from raw cotton using a Takli. (See this for an example.) I also learnt how to work clay in making vases, plates, etc., which we left out to dry in the hot sun. Once dry, we painted the objects, but we never fired them in a kiln.
We were taught wood working too. My project was to make a stool. I sanded it down to a smooth finish, and eventually varnished it. It was my father's prized possession. He used it as footstool!
On hot days, we used to study outdoors under a large Peepal tree as it used to get too hot, staying indoors under the tin roof. The school had no fans or any other cooling system. Outside under the shade of the Peepal tree, it was delightful with a light  breeze cooling us down.
At home, on hot nights, we all used to sleep on the roof on charpoys, under individual macchardanis (mosquito nets)! It was so lovely and restful sleeping under the stars.
There was a huge forest behind the Cantonment compound. We used to go hiking along the trails in the forest, which had a variety of birds and small animals like squirrels, rabbits, jackal, lizards, chameleons etc. The lizards would drive my mother nuts as she hated them!
I still remember our sojourn at Nowgong, and how much I learnt while there for a short period. I have very fond memories of our time in Nowgong.
---
© Preeti Gurung 2018