Suffering the Partition in Bannu, Kohat and Parichnar
Category:
I was only 5 years of age at the time of partition. What I remember are the stories and tales from the family elders. I got input from my elder brother, Dr. Subhash K Batra, Distinguished Professor, Non-Wovens Technology, North Carolina State University, NC.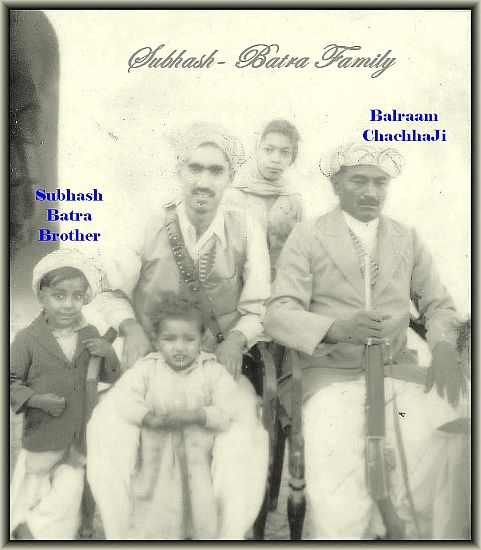 Subhash K Batra (Extreme Left), Balraam Chacha Ji (Extreme Right) Circa 1941/1942
I was born in Bannu (NWFP) in a Batra family - my Mom came from a Banga family in Bannu.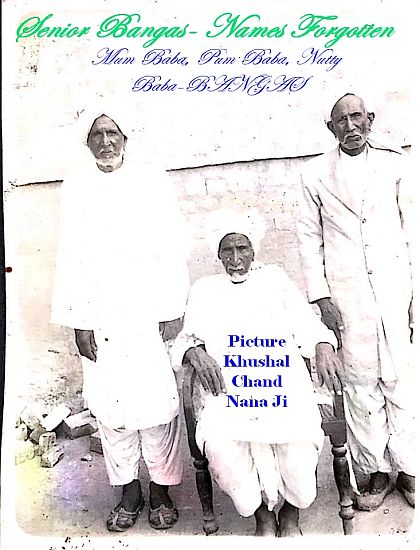 Senior members of the Banga family. Mum Baba, Pam Baba (seated), Nutty Baba in Bannu
Pam Baba holding Picture of Khushal Chand Banga (Nana Ji)
NWFP bordered tribal (Wazirs, Paras, Afrids) areas, which led into Afghanistan. NWFP was divided into six districts (Dera Ismail Khan, Bannu, Kohat, Peshawar, Hazara and Mardan). Our Batra family was located in Nahar Tehl Ram (NTR), a fortified village near (a few miles) Serai Naurang, a railway station on the now-defunct "Tank-Bannu" railway line. Bannu was about 15 miles from Serai Naurang. The Batra family were share-croppers. They managed the land (crops) outside the village for the Bagai family.
The Batra joint family consisted of the families of three brothers: Mr. Uttam Chand, Mr. Jaisa Ram, and Mr. Moti Ram (our grandfather).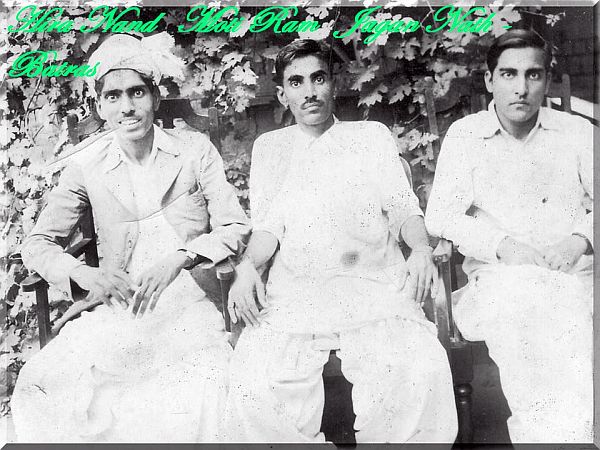 Three brothers: Mr. Hira Nand Batra (author's father), Mr. Mool Chand Batra, and Dr. Jagan Nath Batra. Bannu
Pitaji (Mr. Hira Nand Batra) was the first in the joint family to go to college - an agricultural college. He started in Pusa (https://www.britannica.com/place/Pusa-India). Pusa and the college were destroyed in an earthquake in 1934. Sometime later, he went to the Agriculture College in Lyallpur (now Faisalabad, Pakistan) to finish his B.Sc.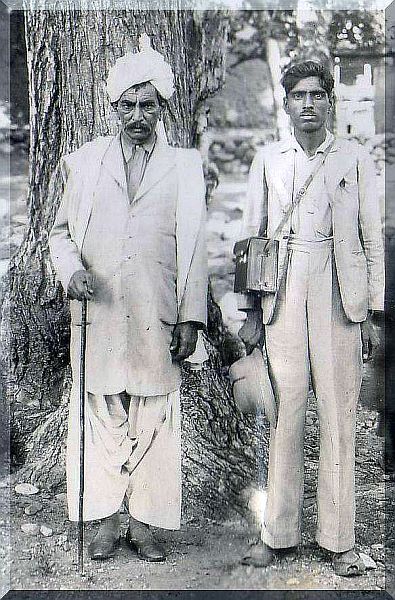 Left: Unknown Elder, Right: Hira Nand Batra with Box Camera (Glass Plate Negatives) and Straw Hat
Probably near Bannu on the Farm
His college education was supported by his older brother, Mr. Mool Chand, who had a modest shop in Serai Naurang (a daily commute-I suspect by a bicycle). After college, Pitaji joined the British Agriculture Department in NWFP as what we would call as an extension specialist, stationed in Bannu. His salary was Rs. 30/month. His job was to go around the fruit growers to teach them pest control. During this period, he took over support for his younger brother Mr. Jagan Nath to go to medical school, and two cousins (Mr. Chaman Lal and Mr. Des Raj, sons of Mr. Jaisa Ram Batra). The latter two lived with us and to go to school in Bannu.
A few years later, Pitaji was posted to Tarnab Farm about 3 or 4 miles east of Peshawar (it is now Agriculture Research Institute, Tarnab) in the Entomology group. Pitaji's next posting was in Haripur (Hazara district,) not too far from Abbotabad. Pitaji was transferred to take charge of the facility in Parachinar and the whole of Kurrum Valley. This was about 1943/44.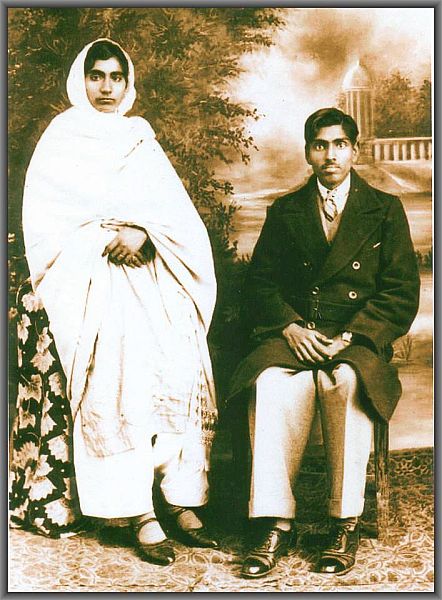 Mrs. Subhashvati (Author's Mom) and Mr. H N Batra (Pita Ji) in Bannu
He attended the unfurling of Pakistan's flag on August 14th 1947 in Parachinar. Things were pretty bad in the hilly area. Sikhs were swirled around by the jooda (uncut long hair of the Sikh male head, often tied into a bun under the turban) and thrown into the valley by the goondas.
In August 1947, the tribal men were being recruited and sent to Kashmir to liberate it for Pakistan. Within weeks, dead bodies were coming back from the raids in Kashmir.
From where we lived, we could see the traffic on the road across the airfield, and our staff people (Pathans) would tell us about the bodies being transported. The tensions were rising. The British political agent (Kurrum Valley was centrally administered region as were the other tribal regions) invited the Hindu/Sikh senior government officials (Pitaji included) and local business leaders to discuss the situation and how best to safeguard against potential reprisals by the local population.
It was agreed to create a camp in the airfield grounds (there was not much air traffic anyway) to house in tents as many people as would want to come. So, sometime in late September/early October 1947, we all moved into tents-most accommodating more than one family. We had enough rations for a few weeks.
A few weeks later, we were advised that three hundred people could be airlifted to India from Kohat under military escort. They chose families of senior government officers and some from the business community (who could pay for the airlift). This was done in strict secrecy one very early morning. We were loaded into military lorries and taken to a fortified stop halfway to Kohat. Two days later, we were loaded into lorries for the next trip to Kohat city, again under military escort. In Kohat, I believe we must have been in a military compound.
On the second day in Kohat, we were told that the planes, coming from India, could take only a limited number of people at one time. So, the Sikh families were evacuated first for they were considered more vulnerable. The following day, November 26 1947, the rest of us were airlifted to Ambala. To accommodate people, seats in the planes were taken out. No one was allowed to carry any baggage - essentially we landed in Ambala with the one set of clothing that we were wearing. Remember, these were small propeller planes (probably Fokker Friendship).
In Ambala, the families respectively went to their relatives and friends. We stayed with Mr. Chaman Lal Banga (MES) for a few days. Then we went to Delhi. We ended up in Shadipur village (it no longer exists except for its name on the bus depot in South Patel Nagar) and stayed in a mud hut. Shadipur was the closest village to the Indian Agriculture Research Institute (IARI), where Pitaji was expecting to be hired-starting at the lower rung of the ladder.
My dad got reinstated on December 10th 1947 and joined IARI, Pusa, New Delhi.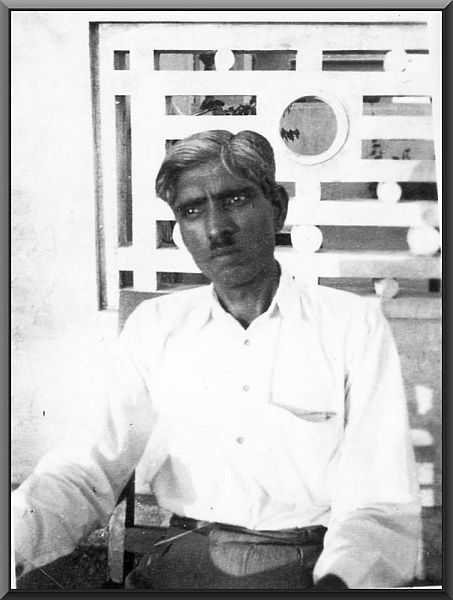 Mr. Hira Nand Batra. Pita Ji ~1960. New Rajinder Nagar, New Delhi 5
My education started in Pusa; then in Salwan School, Rajinder Nagar; then in Ramjas Higher Secondary School No. 2, Anand Parvat, Delhi. I joined IIT Madras, the first batch in 1959, graduated in Chemical Engineering in 1964. I did my master's in Chemical Engineering from Techno, BHU in 1966 (mow IIT BHU).
After a year of lectureships at BHU and a year at IIT Delhi, I left for Canada in 1968. After finishing Ph.D., my wife Sudarshan, daughter Anjana, and son Aneil moved to Cincinnati in 1975. I retired from Procter and Gamble in 2000, and have settled in Cincinnati.
In the stories, I did hear about the Santa da Gurdwara in Bannu but I can't pinpoint the location on the map. Our families believed in Guru Nanak and visited the Gurudwara.
This map was compiled by the Bannu Beradari (community) in Haridwar and Faridabad from the memory of several elders. It is not to scale, obviously.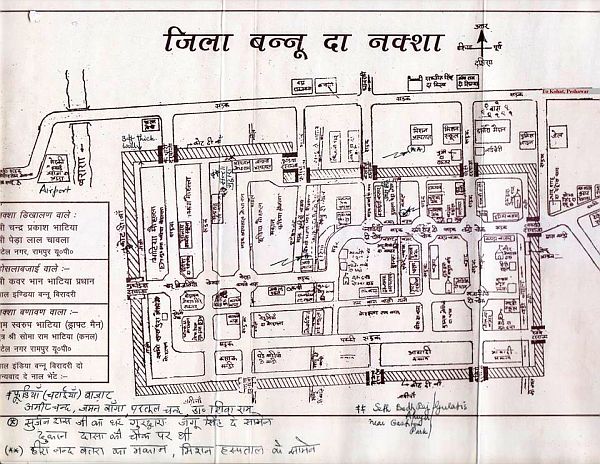 Many refugees who settled in Faridabad used to visit Banga Medical Hall operated by Dr. Partool Chand Banga, my Mama Ji, and my cousin Pradeep Banga's grandfather.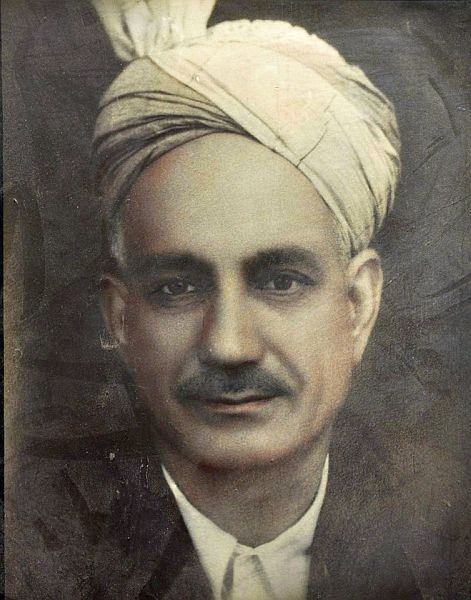 Dr. Partool Chand Banga. Mamaji. Faridabad .
My elder Mama Ji, Dr. Shiva Ram Banga, brother of Dr. Partool Chand Banga, had his practice in Bannu. He lost his life when there was a fire in his clinic.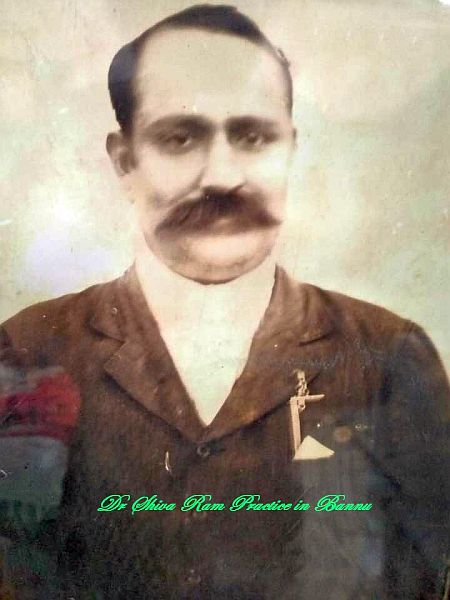 Dr. Shiva Ram Banga- Bannu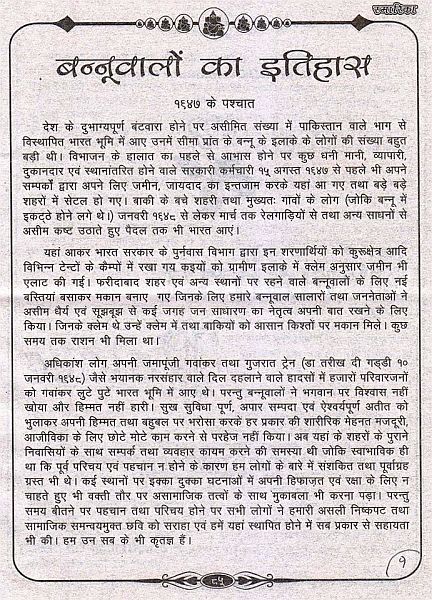 History of Bannu people. Written by Bannu Beradri in Faridabad and Hardwar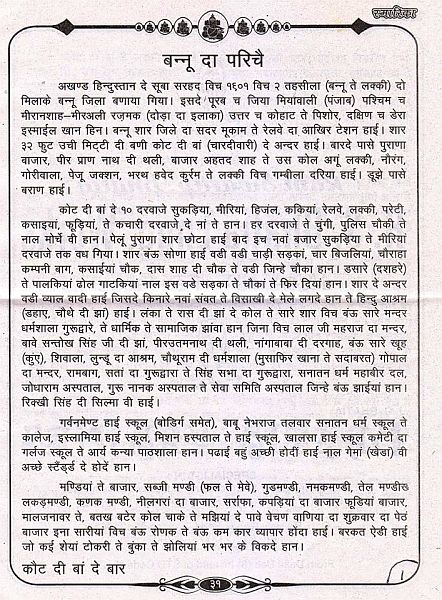 Introduction to Bannu. Written by Bannu Beradri in Faridabad and Hardwar-Page 1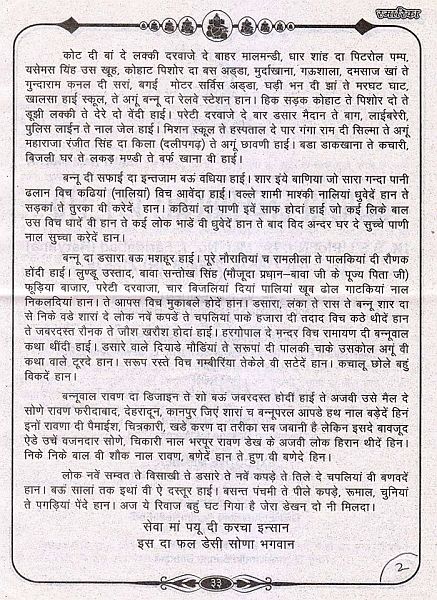 Introduction to Bannu. Written by Bannu Beradri in Faridabad and Hardwar-Page 2
I believe that my life has been a blessing despite the ordeals of partition, being a refugee kid and yet making IT. In gratitude, I share these memories and hope the humanity learns from these bitter experiences.
__________________________________________
© Vijay Batra. Published October 2019.