Lyallpur is in their hearts - Part 1
Category:
Editor's note: Jatinder Sethi's My Memories of Lyallpur was published on this website in 2012. Since then, it has attracted many comments. In June 2016, Sangat Singh read the story, and wrote a comment on it on the website. This has led to an ongoing electronic exchange and friendship between them. At their suggestion, I have collated them into a dialogue-story.
---
Sangat: June 7, 2016 (Comment on www.indiaofthepast.org)
My God. You have no idea how I have searched to find your [Jatinder Sethi's] e-mail address. Even wrote to APNA without success.
I was born in Lyallpur in 1933. I have needless to say a lot of delicious memories of Lyallpur and a lot more details to add to your affectionate recap of our beloved Lyallpur. My father had a shop at the corner of Gole Bazar just next to Dr. Chaman Lal's dispensary and next to Bhagar Ram Sawhney's office and home. His son Ravi was my friend.
Our shop was just in Cooperative Bank building next to the vegetable stall, and also a Mochi (cobbler) used to sit.
I have some special feelings for Lat Photo where I forcibly attached myself to learn developing and printing and enlarging skill.
I studied at the Convent School and then entered MB School for my 9th class. Master Avatar Singh was my Chemistry teacher.
We lived in Walkila da mohalla next to Zail Ghar and shared a common wall with Pandi Wakil (lawyer) whose house was opposite the small Kasi and a small bridge.
Please give your e-mail address as I have a lot more grist to add to your most wonderful and nostalgic recant of Lyallpur.
As a lout, I knew every inch of Lyallpur and would be happy to supply you some missing bits, like for example Grand Hotel next to Ghanta Ghar who baked breads as well make us the most divine Cream Horns. The owner's wife was an English Doctor and had their Bungalow next to Coronation Library and near the Ladies Garden.
Jatinder Ji, we may have played together.
With much affection,
Sangat
_________________________________________________
Jatinder: June 7, 2016 (Comment on www.indiaofthepast.org)
Dear Sangat, Thanks to Subodh that even after years, I still keep getting Lyallpur wallas contact me and share old memories. You have certainly awakened more memories.
Yes, Ravi was very close to me. Even years later when he retired as Vice Admiral from the Navy, I used to meet him in Bombay where he lived in Colaba. One of his three daughters worked in the advertising agency I worked for over 20 years in Bombay. His Naval career got stuck because of his ship colliding while on duty. I also remember his elder brother Om was class fellow of my brother Ved (now 92).
I also recall Grand Hotel. What I used to like and watch was the cutting slices of freshly cooked bread with a very nice Bread cutter on the table.
Lat Photo, next to Aleem Painter, was just opposite our House in the Gole Bazar. Now that you mention it, I remember the Vegetable walla and the Mochi. In fact, my father used to get our shoes made from a Mochi who had a shop on the left hand the moment you entered Kechari Bazar from the Court side.
Pandhis were my brothers' friends. In fact, Gulshan Pandhi used to meet my brother regularly in Delhi till few years back. There was another Vakil family Jhingans, next to Pandhis.
Since you mention yourself as Lout, that reminds me of another school friend Gulu (son of a Vakil Shikarpuri) living next to house of Haqeekat (who owned shoe shop before Ghanta ghar.) Gulu became a big BOSS in Delhi after partition. I have lost touch with him.
My mother was a regular walker in the Ladies Garden with her friends, and we used to go off to Company Bagh.
Great to hear from you. I will send this mail to my brothers, Ved and Satinder.
_________________________________________________
Sangat: June 8, 2016 (Comment on www.indiaofthepast.org)
Dear Jatinder, how very nice to connect with you and finding like a long lost relative. I was actually born in Dichkot but moved to Diglespura. Our house was the corner lot on the left as you entered from Jhang Bazar. At the end was a one roomed Babu Sant Ram's Gurdwara. I used to walk there as I was allowed to man the 'Jora Ghar.' My only problem was to remember if the number was for the upper or lower shoe hole.
Let's walk the Ketchery Road and come to the Mochi on the left side. That's where all shoes were made. Next to it was Dr. P.N. Dhody's Dental practice. His son Mohan was my classmate at the Convent.
No one else mentioned about the Grain Elevator but you where we used to play often. Then there was my friend Mugis whose family owned Sheikha de Mill and among the few to own a couple of cars. On the right hand side was S. Sant Singh Vakil and lived in his 'white house'.
Continuing on the left side was Pitman Commercial College teaching touch typing. I got myself enrolled and learned touch typing at the age of about 12. At the end was a 'Pasari di dukan' who used to act as Hanuman during Diwali.
Entering the Gurdwara Gali there was another lawyer's house I forget his name but remember the son as Mota Inder. I am sure you would remember him too. Next was another photographer who had a motor cycle with a side car. Next to it was Mehta Shop - sold some fancy stuff which we couldn't afford. That was opposite the ASCO Museum.
You mentioned Janj Ghar. It was built by my wife's family Piar Singh Jawaher Singh, the leading textile merchants in Lyallpur, and favourite of all ladies for their dresses. I suspect this comment is long enough and hope it passes Subodh Ji's muster. Well, there are still 7 more Bazars to go. Sangat
_________________________________________________
Jatinder: June 8, 2016 (email to Subodh Mathur)
Subodh
You can pass my email to Sangat and also my comments.
Bye Jatinder
_________________________________________________
Sangat: June 10, 2016 (email to a number of his friends)
Dear All,
The partition of India turned the world upside down. Just imagine if someone in some mad authority were to tell you to run and save your life. The only thing you could do was to run with whatever you had on. Such a thing happened in 1947 when Britain just drew a line. And there was India and Pakistan that resulted in millions dead and millions on the foot in the greatest exchange of populations.
Lyallpur was the most special place for those who lived there. Unfortunately, foolishly enough even the name of Lyallpur has disappeared. It is renamed as Faisalabad - just some Middle- East Shah donated some money and got himself a new name.
I was born in Lyallpur and so was the author Jatinder Sethi, who has now recapped the memories of Lyallpur. Please do read. This is the best account ever. The site is:
http://www.indiaofthepast.org/contribute-memories/read-contributions/life-back-then/310-my-memories-of-lyallpur
Jatinder and I lived may be less than 100 yards away but never had a chance to meet each other. It was this piece that brought us together like lost relatives during the partition with heart breaking tales. If you get a chance. there are some wonderful films produced about the partition. For example, Kamosh Pani.
Sangat Singh
_________________________________________________
Jatinder: June10, 2016 (email to Sangat Singh)
Thanks a million, Sangat.
Will you do another thing. Collate all the tales we have been remembering since we got in touch with each other--thanks Subodh - and we ask Subodh to incorporate in the original piece.
I felt really ashamed that I did not know lot of things you reminded of, like the eagle, Lat having Laxmi.
Incidentally you mentioned Lori, which I remember. You can read my write up on Seasons And Fairs in Lyallpur (check with Subodh). I am certain you can add lot more to that.
Incidentally, we recently celebrated the 90th birthday of my sister, Santosh. And our niece found some old pictures of our father. I will mail you once I lay my hand on it
Regards...Jatinder Sethi
_________________________________________________
Sangat: June 10, 2016 (email to Jatinder Sethi)
Jatinder Ji,
First of all, we both are perhaps just months apart in birth. I was born on 18th April, 1933. Again, all dates are approximate and sometimes matched with the situational requirements, in train, in school, sometimes marriage.
When I asked from my eldest sister Bhenji Amar about the year of my birth, as my mother had passed away, the standard answer would be when so and so gave birth and took bath after 14 days you were born.
There was of course no dearth of births (I could make it more interesting if said in Punjabi). Looks like that ritual bath was the benchmark.
It was the time of WW II - no medicines were available in the hospital. You might remember the Government Hospital near Minerva Cinema, also next to the Mandi. The gruff shouting doctor was one Dr. Chabil Dass.
One morning, I didn't want to go to school\; I wanted to be near mother. But my father persuaded me to go to school. Just a couple of hours later, my brother in law (Jija Ji) came on his bicycle, and told me to get back to the house immediately. He then went to Government High School for girls to take my Bhenji Pritam, who was then in her 10th class, likewise to go home.
When I arrived, my mother had passed away. But the moment I got near her bed, she stated to breathe for perhaps 10 seconds. She waited for me. I was the first born son after the birth of perhaps 8 sisters.
Why was I named Sangat Singh is a story for another time.
Bhenji Amar was married in Kamalia and was living there. Being the eldest, she shifted to Lyallpur and became the mother I knew.
I am still in Ketchery Bazar and standing near the right entrance pf Gole Bazar. Now you cannot forget what I was seeing. You would remember of the three cinema halls. Nishat, one of the halls, used to send out huge painted cinema hoardings held by two boys with one middle aged Sikh with a Gharall (tal). They would stop a few times and then like a master compere tell you what a wonderful picture it was. This Sikh's favourite stop used to be the cross between Ketchery and Gole Bazar.
I never learnt Urdu in my convent school. But looking at these boards on daily basis, and with this master announcer, I picked up a smattering of Urdu and can still read at least 70 percent without knowing the basics of the Urdu alphabet - Alif Bay Thay.
Still in Ketchery Bazar.
Much affection
Sangat
_________________________________________________
Jatinder: June10, 2016 (email to Sangat Singh)
I seem to blanked out lot of memories because I am finding it hard to locate all the cinemas, though I used to watch them by sneaking into cinema hall from the back door. Otherwise we were not allowed to see cinemas.
My first school was just few buildings away from our Gole Bazar side. There used to be a Kohlu making oil. Then there was the house of another Vakil (Muslim) who died of Tetanus. Then there was a Tandoor run by a Muslim lady. Then it was my school, with Master Birbal. We used Kalums (pens that had to be dipped in ink) and Takhti (slate) to write Urdu. I learnt Urdu from childhood.
Sometimes, I used to skip school, and hide under my father's bed - that's what my sister, Pritam Bhenji, says. Then the master (teacher) used to come home looking for me.
Being the last of two sisters and six brothers, I was a little pampered.
Now my two brother - Satinder, older than me by two years, and Ved, now 93 - live in Delhi. My sister Santosh (now 90) divides her time between Singapore and Delhi. My granddaughter has just finished MBA and is looking for placement. My younger son in USA has no children.
I am now trying to write about the company houses we stayed in Bombay while working there for 30 years. And our own home which our elder son built in Gurgaon, where we are now. Our younger son built his house in New Jersey, which we have visited few times.
This is how the Life Circle goes on.
Jatinder
_________________________________________________
Sangat: June 10, 2016 (email to Jatinder Sethi)
Jatinder Ji,
Talking of cinemas, we all were universally banned. All of us had to sneak and that too for the afternoon show because you couldn't go missing for too long. I had devised a method of sneaking by able to lock the baithak (sitting room) from the outside. On return, there was invariable punishment of becoming a Kukar, i.e., squatting and holding your ears throw the legs. There was one thing I never told a lie. I would admit that I had gone to the cinema. In any case, admission was unnecessary as the shirt would reek of cigarette smoke.
My younger brother had developed a fool-proof strategy. One day he mentioned to our Bhaaiya Ji (father) that he would like to join the night Punjabi class that used to run by Master Nanak Singh in the primary school in Wada Gurdwara. My father was mighty pleased to hear that his son had become quite religious and wanted to learn on his own volition.
I had a sneaking feeling that there was a catch somewhere. So, one day I followed him. He first stopped to buy a Meetha Paan (betel leaf). This was opposite Dhody's Dental Clinic. I continued following him. Instead of turning on the road to Gurdwara before Grand Hotel, he walked straight past the Ghanta Ghar to Minerva cinema. Just as he got the ticket, I caught him. His immediate response was, "You also come. I will pay for your ticket."
(Later on, after Partition, we had settled in Ludhiana. Here, my brother divided his cinema trip into two. He would watch up to the interval, and saved the gate pass. He couldn't go back the next day as they would change the colour of the pass. He would wait until the required colour matched his pass, and then see the second part of the movie after the interval.) He had a variety of passes for each cinema house. Ludhiana in those days had only two cinemas Raykhi and Minerva. What fun it was.)
Lyallpur in 1947 had Regal, Minerva, and Nishat just opposite Gobindpura. Coming from Khalsa School side you could just cut across to Nishat. Still, we had to sneak to go to cinema, and on return would become Kukar even without asking. Of course, we would pout and say "Mein nahi roti khani (I am not going to have my dinner)." Bhenji Amar and other sisters would plead, "Kha la roti naal gusay nai hoi dha (do eat - don't be angry)."
Jatinder Ji, as you write more stories would emerge. One in passing. This one is in Aminpur Bazar. It you remember, there were a couple of Sharab dhay Thakay (liquor stores). Each one had a painted board that read "Pee kar khali bottle edher chorni paray ge (after drinking you will have to leave the empty bottle here." This was the time of WW II and empty bottles were in short supply.
Sangat
_________________________________________________
Sangat: June 11, 2016 (email to Jatinder Sethi)
Dear Jatinder/Subodh Ji,
This is a piece I wrote a long time ago and share with you. Please click:
http://sikhchic.com/people/a_peek_into_eternity
As an amateur photographer, once I was once in contact with another amateur in Lyallpur who used to work for SUI Gas company. When I started my contact with him, it was my ardent desire to know where he lived.
His instant reply was, "You wouldn't know."
I said, "Try Me."
He said he was living just at the end of Chinot Bazar on the road opposite to MB School.
I said, "lf you wish to know, MB School shares a wall with Khalsa High School, and next to it is DAV School.  Across the road is Ismalia School. At 2 O' clock, there is a Police Station. At 3 O' Clock is the Telephone School. Also in front of your house must be a big Nala."
Then he mentioned that his daughter was studying in the Convent. "Then she must know that there was a grave in the school of a Sister who died." This was when I was a student myself there.
Then on we had regular contacts with each other for a long time.
God, you have got yourself in endless pit of stories.
_________________________________________________
Sangat: July 5, 2016 (email to Subodh Mathur and Jatinder Sethi)
Subodh Ji,
This historic picture was my first selfie in 1947.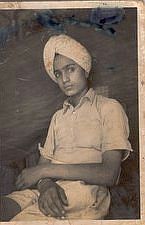 Sangat Singh, 1947. Lyallpur.
I had just then sold some second hand books and got some Rs. 7/- from a book seller in Aminpur Bazar.  This shop was located just opposite the  Desi Sharab da Thayka Shop that sold 'Desi Sharab'  They also had a notice that read in Urdu Sharab pee kar khali bottle ederh  chorni para gee (After drinking the alcohol, you will have to leave the empty bottle here.) The World War II had just finished, empty bottles were in short supply, and were sold for one or two rupees each.
Armed with Rs.7/- I went to the famous photographer in Katcherry Bazar - the one who had a motor cycle with side car and always wore a black topic.  I bought this rare camera which became available just after World War II.  This Kodak Box Camera  cost me Rs 6 &amp\; 12 Annas.  By then I had already learned how to develop and print pictures. My first Photography Guru was 'Lat' of Lat Photo just opposite Jatinder Ji's House in Goal Bazar that was also mentioned by Jatinder Ji in his biographical notes.
Will be sending some more pictures as I retrieve them.
With much regards
Sangat
_______________________________________
© Sangat Singh and Jatinder Sethi 2017
Editor's note: I approve all comments written by people, provided the comments are related to the story. The purpose of approval is to prevent unwanted commetns, inserted by bots, which are really adverstiments for their products.