Mushairas in Delhi – 1950s
Category:
Ed. Note. Mr. Sethi's article on Delhi in the 1950s is a complement to this article.
_______________________________________
Saba Phir Humain Puuchti Phir Rahi Hai
Chaman Ko Sajane Ke Din Aa Rahe Hain
This sher (couplet) from Faiz Ahmed Faiz's ghazal  Naseeb Aazmane Ke Din Aa Rahe Hain urged me to think of my old days. I wanted to renew the memories of those happy time when I was part of the crowd spending nights listening to Urdu poetry from the zaban (lips) of some of the great Urdu poets alive at that time.
Now at the age of 85, I am trying to re-kindle that flame for  myself. To paraphrase Faiz ,Apne Chaman Ko Phir Tero-Taza Rekhne kay liye.
I am not really happy with the present efforts to rekindle the flame of Urdu poetry in India through so called Mushaira Mehfils. Do not think this to be an old man's ranting when I say that Mushaire Ki Mehfil Hamare Zamne mein  Kuch aur hee Baat Thee (In those days, mushaira mehfils were quite different and more appealing). That's why this sher from Faiz Sahib.
Today, these mehfils are more filmy. They don't have the depth old poets had. Old poets even of my times-of 1950s were almost as great thinkers as in the times of Ghalib, Mir and even Khusro.
I, now old, still like to recall the poets and Mushairas of our times.
Here are some old, random gems of Memorable Mushaira. The last one I attended was perhaps in 1957, when I left Delhi for almost 60 years. Now, in 2017, I am back trying  to enjoy Chaman Apna.
The Sir Shanker Lal Mushaira, Chelmsford Club, New Delhi
It was October 1957. Beautiful open green lawn of Delhi Chelmsford Club.
And, it was past midnight. About 2 am. No one was bothered about the time.  Sky was star-studded.
So was the inside of the Club grounds.  Shining STARS of the Urdu Poetry reciting their Ghazals, Nazms, Geet from their hand-held copies.
And it was the last day - day three - of the famous Annual Mushaira in memory of  Shanker Lal. Suddenly the silence of the night outside was broken by the thunder inside. In that thunder, you could hear Wah Wah, Subhan Allah,  Mukarer Ershad Ho, Walla Ajaz Hai - the audience was alive and booming.
Well known poets like Josh Malihabadi, Saghar Nizami, Pt. Jagan Nath Azad, Firaq Gorkhpuri, Majrooh Sultanpuri,   Ali Sardar Jafri and others sitting on the stage. Presided over by Mohinder Singh Bedi  Sahar.  This annual Mushaira was always presided over by Bedi Sahib, who himself was a poet of note.
Then there was the huge crowd, thousands of Delhi wallas, including ladies. All chairs were full and there were always more people sitting on the ground.
The scene here, in this Mushaira was exactly, as described by Hafeez Jalandhari himself when he attended his first Mushaira at the age of eight years:-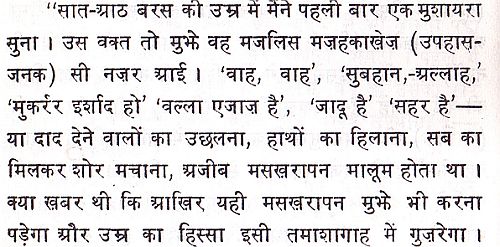 I heard my first mushaira when I was about 7-8 years old. At the time, I felt that this meeting was a bit ridiculous. Wah Wah,  Subhan Allah,  Mukarer Eeshafd Ho, Walla Ajaz Hai, Jaddi hai, Sahar hai.  The spontaneous response of the whole crowd to each  couplet was to jump on their seats , raise their hands to show their appreciation of the poet, and jointly shout WAH WAH!
To any outsider, not an Urdu lover, this whole scene would look like a Tamasha of jokers
This is exactly what was happening at this Mushaira . The people in the audience were also the India Coffee House intellectuals, well versed in both Urdu and Urdu poetry. They could appreciate every nuance of the ghazals being recited.
And at this stage, at 2am ,the most popular poet of that time, Jigar Moradabadi had started reciting his ghazal. It was the trait of Jigar that audience used to go berserk when he started his poem in Tarranum (Ed. note: Tarannum is the musical recitation of Urdu poetry, a chanting style belonging to the Indian Mughal  cultural tradition and practiced in both India and Pakistan. It is identified principally with the poetic symposia where poets recite their own work to an audience. Click here to hear Jigar Sahib.
No other poet , except perhaps Hafeez, could outclass him in Tarranum.
At each line of the ghazal, as Jigar sang, the audience went wild with Wah wah and hand gestures. jumping on their seats.
Read each line (click here for Roman script version) and imagine the audience as described by Hafeez.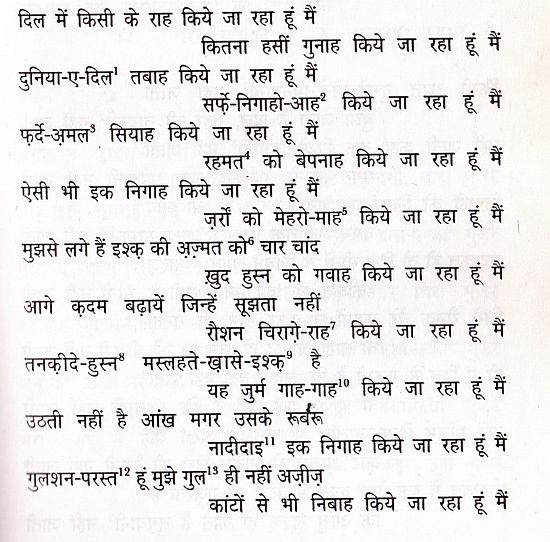 And after hours, when Jigar recited the last lines, the Wah Wah and Mukarer Mukerer went on for god knows how long. The Mushaira ended with Jigar's ghazal.  The last shers were:

And the whisky flasks were out of the hip pocket of the audience, for one for the road and Jigar. (Whisky flask in those days were quite fashionable.)
Each night, the Mushaira would start with some local poets and upcoming one, like Ali Sardar Jafry. It would end with big guns, like Jigar ,Josh and Firaq. Each one had his own style of reciting their ghazals.
A day earlier, the second day ended with Josh Malhiabadi, reciting his with last line
Mana Kay Her Kadam pay Kayamat Hai, Phir Bhee Josh
Banta Nahin Kisee say Mohabat kiye begair
Josh would start his ghazal with a misra,  and  expect the audience to repeat it. The whole audience would loudly recite "Mana Kay Her Kadam pay Kayamat Hai Phir Bhee Josh." Then Josh Sahib after reciting the misra again, would recite the second line Banta nahin ...
This is how Josh would involve and carry his audience with him. Then, after the couplet was completed, he expected Daad, which the audience would give, generously, by saying Wah Wah Josh Sahib, and repeating his line "Banta Nahin  kisee say...."
Wah wah. Josh Sahib .
Josh had a heavy, deliberate way of reciting, putting emphasis on each word. Josh always came on the stage with his chosen Chela (student, follower). I have forgotten his takhalis but he is still here and is a well-known promoter  of Urdu. He is respected as a Senior in Urdu mehfils.
Similarly, the first day ended with Firaq Sahib, more like an English professor reciting Keats. What the audience liked about him was his Andaz of reciting his ghazal, which was different from just reading his ghazal. Like a teacher to students, quite sure and proud of his works.
Muddatein Guzreen Teri Yaad Bhi Aayi Na Humein\;
Aur Hum Bhool Gaye Hon Tujhey Aisa Bhi Nahi\;
Sar Mein Sauda Bhi Naheen Dil Mein Tamanna Bhi Nahi\;
Lekin Is Tark-E-Mohabbat Ka Bharosa Bhi Nahi
The Most Memorable Features of Mushairas of That Time: Hard Drinkers.
It is no surprise to the Urdu poetry lovers that the well known poets not only wrote more on Sharab (alcohol) Saki (alcohol provider), Maikhana (tavern), but also those poets like Ghalib, Sahir, and Faiz were also hard drinkers.
Going back to the Mushaira of the 1950s, one of the most compelling pictures I have embedded in my Zahain (mind) is that of Jigar Moradabadi and Firaq Gorakhpuri. It was a known fact to us all that these two were really hard drinkers. Especially Jigar.
The most memorable picture in my mind of those Mushaira nights is these  two very contrasting personalities of Urdu poetry: call them Black and White
The Black One
Jigar Sahib. Jet black like coal. Long ,unkempt black hair. Black Achken, black cap. Drunk beyond limit. Ugly to look at. But when he starts reciting his ghazal, his face used to light up like a shining star. And the audience only saw the great poet. And eager to lap up each and every word. Here is one of his most popular ghazals, always on farmaish (request) list. Nothing but sheer drunk Jigar.
Saaqi ki har nigaah pe bal kha ke pee gaya,
leharon se khelta hua lehra ke pee gaya.
Bekaifiyon ke kaif se ghabra ke pee gaya,
tauba ko tod taad ke tharra ke pee gaya.
Zahid ye meri shokhi-e-rindana dekhna,
rahmat ko baaton baaton mein behla ke pee gaya.
Sarmasti-e-azal mujhe jab yaad aa gayi,
duniya-e-aitbaar ko thukra ke pee gaya.
Aye rahmat-e-tamaam meri har khata muaaf,
main inteha-e-shauq mein ghabra ke pee gaya.
Peeta baghair izan ye kab thi meri majaal,
dar-parda chashm-e-yaar ki sheh pa ke pee gaya.
Uss jaan-e-maikada ki qasam baarha 'Jigar'
kul alam-e-bisaat pe main chhaa ke pee gaya!
The White One
The other poet I cannot forget is Firaq Gorkhpuri. Contrast to Jigar. Very fair. Tall. White Achken. White Pajama. But almost as drunk as Jigar. In audience rating Firaq was much behind Jigar and Josh. Although he was well known for Oscar Wilden traits, yet he was loved by the audience, always eager to hear him recite his poems,
The only poets who came  from Pakistan were Qateel Shafai and Ahmed Nedeem Kasmi. I never saw Hafeez as he never came back to India, as far as I know. But one had the privilege of listening to his poems from the famous Pakistani singer Mallika Pukhraj, who always attended the Annual (also three nights)Classical Musical function at Constitution Club, every year, right after the Annual Mushaira. She was always requested to sing Hafeez's Abhi tou Mein Jawan Huin
My love for Urdu and Urdu Poetry
Before partition, in school in Lyallpur, in the 1930s/40s, our morning prayer used to be a Nazm of Allama Iqbal, the great Poet of Urdu and Persian. Urdu was the language we learnt in school. Urdu was the Court Language that my father, as a Vakil, used to write his briefs, Then after Partition, in early 1947, in Delhi I came into possession of three valuable books. I think they were a part of the loot from rich Muslim house around Connaught Place.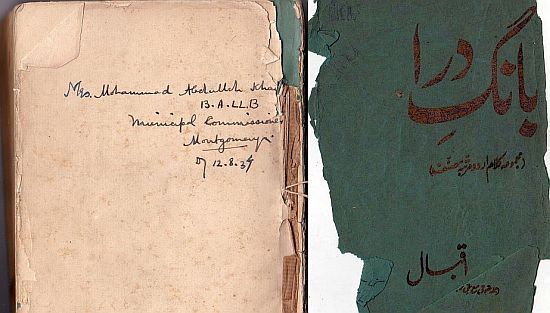 Iqbal's BANG-E-DARA, one of the earlierst editions. It was obviously owned by a  Lady Municipal Commissioner of Montgomery circa 1934.
My second book is as valuable as this. This book is the Dewan of Mirza Ghalib wth Sheraw (explaining each couplet). The cost was Rs.5, published sometimes in the 1920s.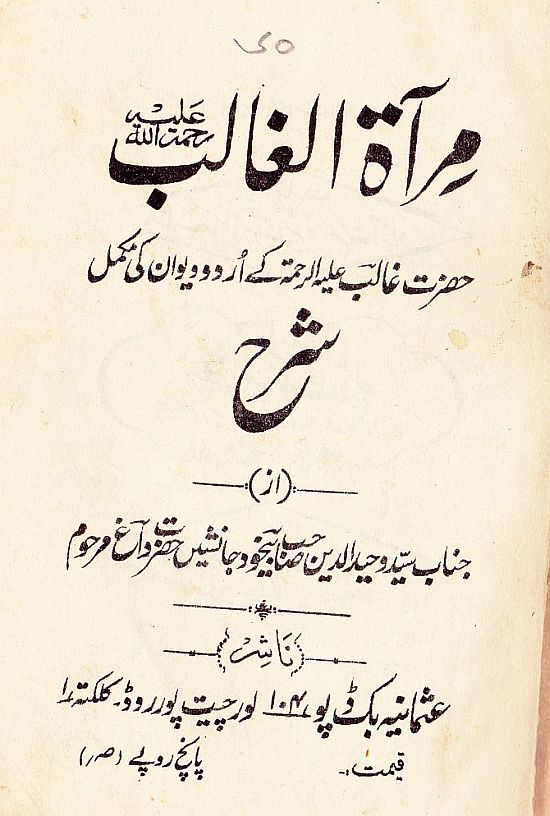 And the third book is a hard bound 12 X 10 inch Dewan-e-Ghalib with reproductions of Chugtai's Paintings, where each painting has a couplet of Ghalib. Printed in Lahore and priced Rs. 35!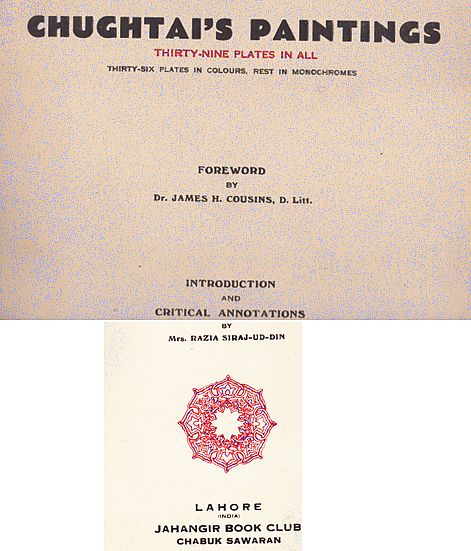 Here is one example of Ghalib's couplet:
"Shama Hur Rung Mein Jalti Hai Sahar Hone Tak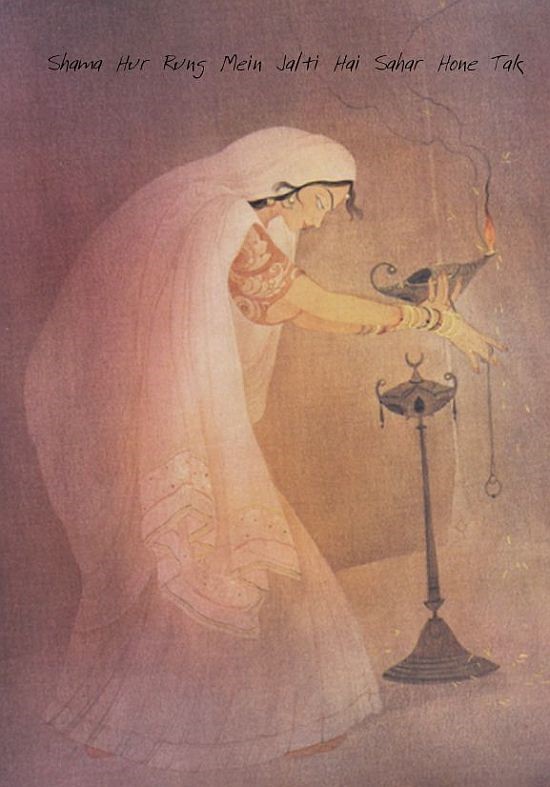 The first time I visited the mazar (mausoleum) of Ghalib in  Nizamuddin  was around 1956. At that time, we were living in Nizamuddin East, hardly 10 minutes' walk in those days. The area was still a jungle and hardly any people used to come to Urs of Nizamuddin Auliya at his kaber, and listen to the kawalis of  Amir Khusro.
Khusro Goree Sowe Sej Par Mukh par dare kes
Chal khusro ghar aapne rain bhee chahun des
My love for Urdu poetry has continued since then.
Epilogue
Almost 60 years later, in May 2016, my son Amal and I decided to drive through the congested streets of Hazart Nizamuddin. We wanted to  pay homage to the mazar of Merhuum Mirza Ghalib.
Poochchte haiN woh K 'GHalib' kaun hai ?
Koee  batlaao   K  ham  batlaayaiN  kya ?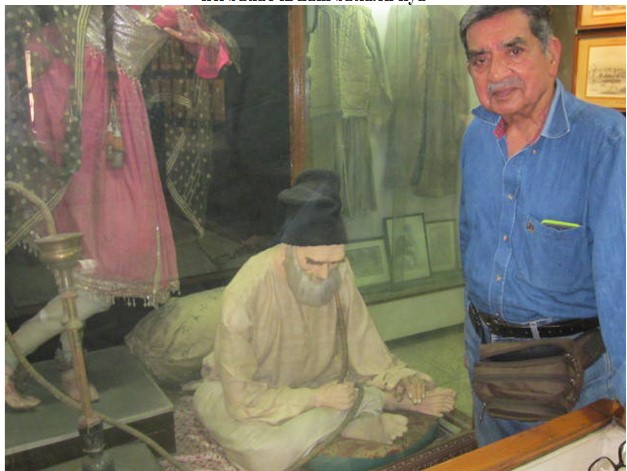 Jatinder Sethi with Mirza Ghalib (1797-1869). 2016. Ghalib Mausoleum.
This is where the poets come to do their Haj.  After walking through the famous eateries and perfume shops, we first visited  the Ghalib Academy.
This Academy is located almost on top of the Kabursthan. The mazar is located in a desolate corner where the great Mirza Sahib is buried-the place where Delhi comes to worship it.
It was a happy coincidence that when we visited the mazar, there was one young man singing one of Ghalib's famous ghazal's in a beautiful voice
dil se tirii nigaah jigar tak utar ga.ii.
When he came to the couplet
vo bāda-e-shabāna kī sarmastiyāñ kahāñ
Uthiyev bas ab ki lazzat-khvab-e sahar gai'
One almost had wet eyes. And, at the end, you could feel the pain of Ghalib when he wrote:
maarā zamāne ne asadullāh ḳhaañ tumheñ The world has defeated you, Assadullah Khan (Ghalib)
vo valvale kahāñ vo javānī kidhar ga.ī Where is the bubbly spirit, where has the youth gone?
_______________________________________
© Jatinder Sethi 2017
Editor's note: I approve all comments written by people, provided the comments are related to the story. The purpose of approval is to prevent unwanted comments, inserted by bots, which are really advertisments for their products.