A Tribute To My Wife After Two Decades
Category:
Dear Grandkids and loved ones,
It is 27th December today, your Nani's or Dadi's birthday. I am sorry that her grandkids do not have any memory of her as she left us too early. I thought that I should describe for you how unique and gifted she was!
Suvarna was born in Jhalod, a small village in the Panchmahal district of Gujarat state. It is on the border of Gujarat and Rajasthan state. She was very cute in her childhood, so all the friends of her father would grab her and give her a kiss. So she used to run away or avoid her father's friends! After getting her high school education, she had to go to a city named Baroda or Vadodara for her college education. Her mother said to her that if you do not succeed in your education, we will call you back as we cannot afford the college expenses.
So, she decided to work hard as well as earn some money by giving  tuition to kids studying in high schools. She tried to earn part of her expenses by such activities. She also tutored a housewife in Math and Science so she can pass her exam without attending school. Ultimately, that lady, Lata Deolalikar, came to Boston with her husband, and enrolled in Leslie University for her M.S. degree in Child Education.
Lata became Suvarna's adoptive mother. Lata's husband wrote to a friend who was a professor, Dr. G. P. Patil to offer Suvarna a scholarship so she can come to USA for her Ph.D. degree. She ranked first in her M.S. exam in Baroda University, and came to USA for her Ph.D. degree in Statistics.
Once, I went to see my former roommate and friend, Dr. P. T. Manoharan who was working in East Lansing, Michigan as an Assistant Professor. His wife invited two girls for a tea at her apartment. That's where I first met Suvarna, your grandma. I was impressed by her smile, enthusiasm for life and sparkle on her face. I was attracted to her but did not pursue it as I lived too far in New York City.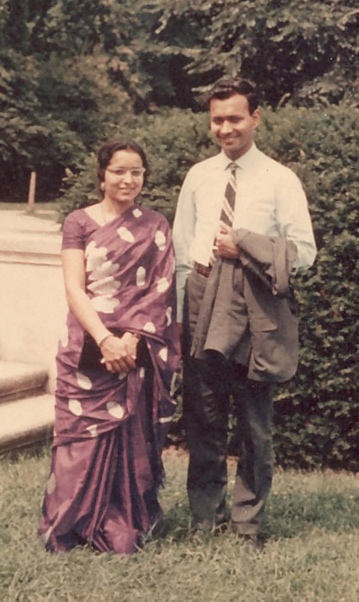 Suvarna and Dinesh Shah, State College, PA in 1967.
Once she came to New York City to attend her friend's wedding, Rekha and Mukul Mehta. They invited my mother, Shardaben, to assist them in wedding preparations. My mother was impressed with Suvarna's skills in doing all the work in the kitchen, and offering hospitality to all guests. My mother told me that it would be nice if we find a girl like her for our family. She asked me to find out indirectly whether she is engaged or has a boyfriend.
Next day, Suvarna made a dish of food for me and offered me with her charming smile! She had put lot of sweets very generously so I removed some and put it in her plate, which was noticed by several sharp observers including the priest. Subsequently, we as a group went to many picnics, usually Mukul, Rekha, my mother, my two brothers, and Suvarna.
One may call it dating Indian style but we used to figure out the dreams, values, and mindset of each other. I felt that her dreams were very similar to mine. She wanted her family members to be in USA just as I wanted my brothers, sisters, nephews, and nieces to be in USA. We both were brought up in a Vaishnav family so we had the same cultural and religious background. We both were vegetarian and from typical middle class. We both had dreams, courage, and hopes!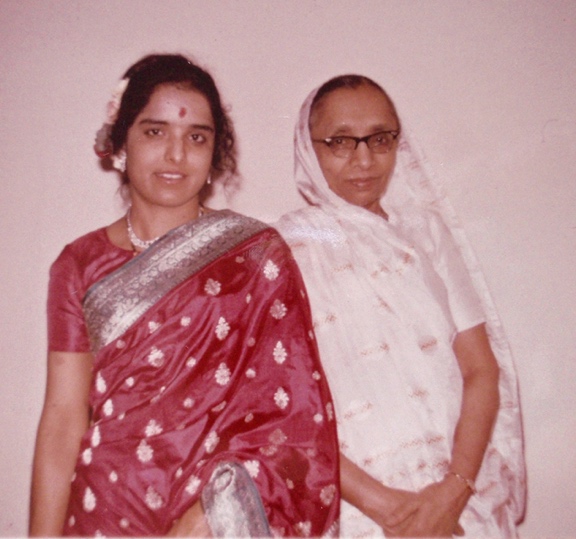 Suvarna with my mother, Shardaben, on our wedding day. New York City. April 6, 1968.
We got married on April 6, 1968 at Columbia University in Earl Hall. The same Hindu Priest, Mr. Patwardhan who had gotten her friend married came to conduct ceremony for our wedding. He said that when I saw both of you at that wedding, I thought that you were right for each other! He was happy that things turned out that way.
Bijal was born on Nov 8, 1969 in Elizabeth, New Jersey. We moved from New Jersey to Florida on July 1, 1970 as I was offered a faculty position in Chemical Engineering and Anesthesiology departments at University of Florida. Prerak was born on Nov 9, 1971 after we celebrated Bijal's second birthday!
Time slipped away very fast. She took a job with the university but was not very happy. She wanted to do business in computer software. She left her job and opened her one-room office on the main street in Gainesville. She provided software to real estate agents for property management, doctor's offices for insurances, etc. Ultimately, she had four office workers and she supplied software in 100-mile radius of Gainesville. Occasionally, I meet her former employees and they say that they would never get a generous and considerate boss like Mrs. Suvarna Shah! I used to joke that if she makes more money then I will quit my job and do some social work and write poetry.
She organized memorable weddings of Prerak and Bijal. Ishani, Anjay, and Akesh were born and she saw them.
Then, one day, she was diagnosed with a brain tumor (GBM) and the doctor said she may live for six more months. It was like a bomb dropped on our family. She bravely fought without any complaint. All relatives came to Gainesville and spent a few weeks with her and the Indian community organized a Suvrna Shah Honor Banquet in her honor. I took her to the banquet in a wheelchair, and she thanked everyone. The speakers described her work for the community and her warmth for inviting every newcomer to town for dinner at our home. She passed away on Aug 28, 2000 to Heaven.
Her college friends called her "12" smile"! She was always cheerful with full of laughter! Upon her arrival at any home, the mood of the party or home would change instantly. I remember, many times I would be alone at home working on my papers or lectures and as soon as she would enter the home, the atmosphere would change!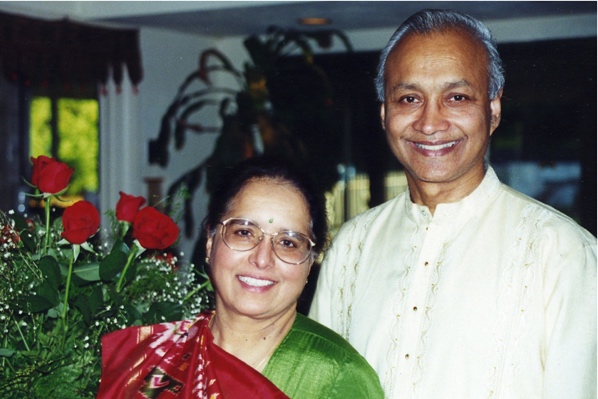 Suvarna and Dinesh Shah, Chicago, 1994.
She was one- in-a million person. If you ask me that have I met or seen any person that can come close to what Suvarna was? My answer is no! We all are lucky that we had chance to associate with such a person. If I have to describe her qualities, it would be smiles, cheerfulness, generosity, hard-working, always willing to help others, giving benefit of doubt to others, looking always the positive side of others. She never complained about anything, fully content with what she had, always supporting all family members, relatives, friends as well as my students, postdocs and colleagues. I salute her and I used to say to her that it was my privilege to be her husband! I have been telling my grandsons, that they have to find a bride who is smarter and better than them in all these characteristics. Then I would call them smart boys! This is a brief summary of your Nani's or Dadi's life.
The University of Florida organizes a Suvarna D. Shah Poetry Festival every alternate year. There is a community center in Baroda called "Suvarna Bhavan" in her memory. She was the first girl from her town to come to USA for higher studies. She has one sister, Urvashi married to my brother, Bhupendra, and two brothers, Prakash and Lenin. On her birthday, I give her the gift of this article and my sentiments for having her in my life and losing her!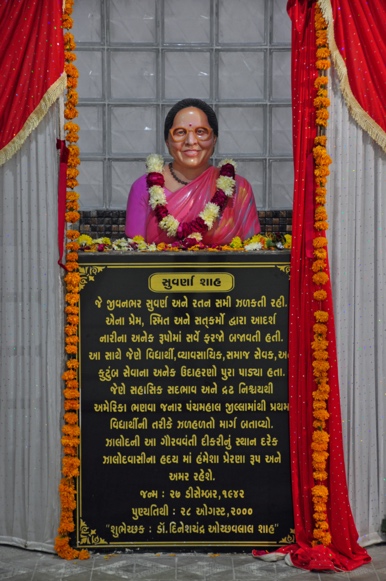 Suvarna's statue in Suvarna Bhavan, Baroda, India.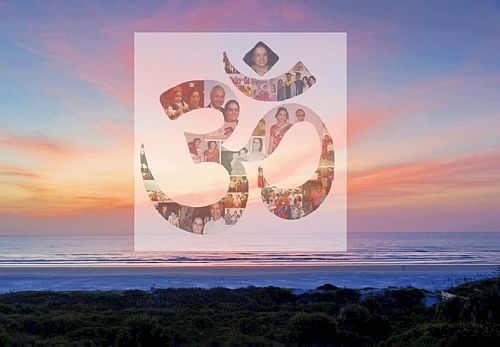 ______________________________________
© Dinesh Shah. Published January 2020.