Chapter3: Our staff members
Category:

Editor's note: This is Part 3 of her memoirs, which have been edited for this website. Part 1 is available here, and Part 2 here. Kamakshi Balasubramanian, her daughter, has added some parenthetical explanatory notes in italics.
I think now I will talk about the staff - I cannot bring myself to call them servants.
First and foremost is Kandappan. He came to our house even before my father had married. He simply identified himself with our family. And I was his pet. He idolised me. He was literally a watchdog of anything connected with the "Iyer" family, "Iyer" property, "Iyer" name. He held my grandfather's authoritarian ways as a model. As I said earlier, my grandfather was பெரிய ஐயரு (Periya ayyiru the elder Iyer) for the entire town. That regard and respect came to him only because my father was a leading businessman. But my grandfather accepted it and wielded it very well. As if it was his due! Automatically my father was சின்னஐயரு (Chinna ayyiru younger Iyer).
Kandappan was always clean, neat and well clothed. His வேஷ்டி (veshti, dhoti) and turban cloth were always white and crisp. So was his shirt. He was never bare bodied. Always worked with his shirt on. His main work was to milk the cows, feed them and keep the cowshed clean. He used to take them out for grazing and as there was running water in the canal that ran near our house for ten months in the year, he would give them a good rub down and bath there. He used to bring grass, fodder etc. for the cows, carrying it on his head from the market. Instead of granting that he saved his master's money by not hiring a coolie, my grandfather would question him about the price he paid! He was a very cheerful person and had a proud smile. He considered it a privilege to be in the பாங்கி ஐயரு (baanki aiyar "Bank Iyer") household. Of course, my father treated him very well.
Time and age have not and (will not) change the closeness that I felt towards Kandappan. It was not one sided. It was mutual.
His smile and strength vanished when his first born son died of typhoid at the age of 11. It was instilled in that boy's mind that he will succeed his father as "life" servant in our house in course of time. And he was preparing for that role by taking up bodyguard duty to my brother in school! We felt the shock of his death very keenly, and it took us a long time to get over it.
Kandappan always accompanied us, i.e., my father took him along with us on our summer trips to Ooty and December trips to Madras whether we went by train or road.
Kandappan was a Vellala Kounder (a caste, denoting a community in Western Tamilnadu), an illiterate. He was tall. Bony framed. Dark. White, well set row of teeth.
He had a playful streak in him. He used to enact scenes from Madras High Court, English couples dancing in Ooty, the Todas singing in the Nilgiris and the like, using the bank clerk Lakshmanan, Sarwar our tailor and car driver as dummies, and himself doing the roles. Sarwar was "Nawab". Lakshmanan was கனம் பிள்ளைவாள் (ganam pillaiva "The Honourable Mr. Pillai, Esq.", a lofty sounding mode of address. He himself was கவனர் (gavanar, (the word "Governor" as it would sound in rustic Tamil, mutilation and pun on both Governorand Kounder). He even used to rig costumes, using imagination skilfully.
*************************************************************
Papu, (nickname for Kamakshi)
You know I am writing this for you. When I began this four days ago, I thought this was meaningless. There is nothing spectacular, only a very ordinary humdrum life. Some years ago, I began to do this for you. At that time, my mind was in it, meaning, I had much to say! So I began pompously: "I was born in the year 1925, being the middle child of my parents." I was a little more methodical and put down dates and years for the events.
Now, I find I'm rambling. Still, I am going to write. You asked for it and you have it! In David Copperfield, Charles Dickens describes Peggotty in just a few words and one gets a complete picture of her person, character and devotion
Here I am trying to write about Kandappan and I am not sure if someone who has not seen him or heard about him from me would understand what I am trying to say.
I feel very inadequate.
I am going to write about all that is lacklustre in my make-up and this inadequacy will be self- evident!
*************************************************************
Next, I remember only Lakshmanan as the clerk working in my father's bank. Before him, one Govindaswamy was working during my mother's lifetime. Gowri has recollection of that. I knew Govindaswamy. He was a Naicker (a title denoting affiliation to a caste, for example, Vanniyar caste), I think. Imposing stature, very white clothes, white short clipped hair, a red நாமம் (namam a caste mark for males belonging to certain communities), always chewing betel leaf, chain of his pocket watch running across from the middle button of his shirt, slip-on type of slippers is how remember him. I have heard Kandappan say my father thought Govindaswamy, looking too grand to be a clerk, did not appeal to him, and that is why my father terminated his employment..
Lakshmanan was a shy man with friendly demeanour. He could never shout, never frown nor pick up a quarrel. I have never seen him grumble or complain. Both he and Kandappan were like clockwork. Very regular! Their time of arrival never varied. Kandappan came at 6.00 a.m., Lakshmanan precisely at 9.00 a.m. Lakshmanan closed the bank at 12 noon and went home for lunch. Returned at 4.00 p.m. and kept the bank open till 9.00 p.m.! He lived in a small place called Veerappan Chathram, about 4-5 miles from our house. He had his own bicycle. He used to keep it bright and gleaming. Changing a new bell, chain, chain guard, seat cover every now and then, so that no part looked old or worn out on it. He was one of the first to fit a dynamo light on his cycle in Erode. He lived in his own house. I think he would have had some வாழைத்தோட்டம் (vazhai-t-thottam banana gardens) etc. Kandappan was given a house by my father.
Lakshmanan never changed his குடுமி (kudumi tuft of hair) nor his style of clothing at any time. Kandappan changed from குடுமி (kudumi tuft of hair) to cropped head when he came to Tirupathi for my brother's முடி இறக்கல்  (mudi irakkal, ceremonial offering of a baby's hair at a temple). He also took off his earrings then. His earrings were a kind of traditional wear consisting of three rings made of gold with a fixed beadlike protrusion in the middle of each one.
I had left off writing this.  Let me continue now.  Let me remember the cooks.
There was one Meenakshi ammal ("Ammal" is a suffix denoting respect, added to an older woman's name), a typical Tanjorean. A very knowledgeable, kind, able person, and a good manager. I may have been four at the time she was in our service. She may have been there even earlier, I don't know. All of us liked her and she was efficient. She was the only one who used to take over  உுட்டுதல் (oottudal feeding food) into our mouths from our grandfather. No other cook ever did it. She would use threat, story-telling, etc. to make us eat. Her love for us was genuine, generous and natural.
She might have continued with our family always but for our doctor David, who frightened my father by saying that her filaria might infect us. Even then my father didn't have the heart to terminate her services. So he arranged that she came to our house a number of times every day, supervise the incumbent cook of the time, keep an eye on us, the children. She was doing it for some time. I think though she understood the responsibility and trust that she had been entrusted with, she sort of disliked taking money from my father for doing what she thought was  practically nothing.
During that period, she used to come, clean the annual supply of tamarind, toor dal, urad dal, make papads, wafers and pickles for us. Nobody, not even my grandfather, referred to the money being paid to her as either "waste" or "charity". Everyone liked that arrangement but the succeeding cook concocted a canard that Meenakshi ammal was stealing things. When my father confronted her with that accusation, she did not flinch, did not defend herself but spoke in a level voice. I think she said she could neither prove nor disprove anything. She took leave of everyone and left.
A few years later, she was waiting behind a hedge in the park one evening hoping to see us. (This is something like a novel! She had come to Erode just to see us. She must have asked around when and where she could come near us, touch, kiss and carry each one of us.) Even coming to the park, she was only taking a chance because we were not going there every day.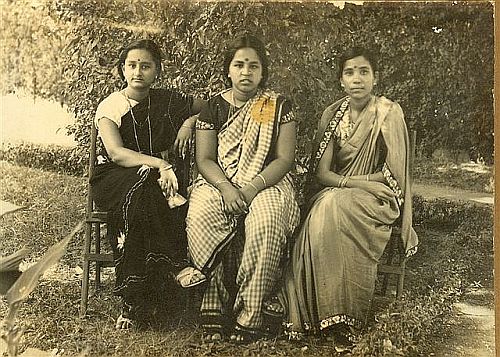 L to R: Visalam, Gowri (older sister), Sakku (friend) in a park where they went for walks. C. 193x
When we reported seeing her to my father and Kandappan described the circumstances (of her eagerness and the trouble she had taken), my father immediately despatched our driver with the car to fetch her. She spent a couple of days with us, and left again. After that, she used to visit us now and then. But she never took any money from my father, though she was poor and was eking out a living by cooking. Later, much later, she had established a small hotel (eatery) in Sankaragiri and even had a young destitute Madhva boy to work for her.
I write so much about her because at that time I had a problem of vomiting. Vomiting immediately after eating every meal. Lunch and dinner. Especially if my father was around, even half way through a meal, I would bring it all out. It was a nightmare for me. I never, never wanted to vomit. My father used to scold me, and humiliate me for this and the bed-wetting problem I had. All the others used to be sympathetic. I felt mortified. My father used to reprimand me calling me names, inventing more and repeating those for anticipated effect. My father thought, if he shamed me, I would break these habits.
And there was another sad mistake all of them were making. I was afraid, terribly afraid of most things. There was hardly anything I was not afraid of. Since threats were always used to make us eat, like saying "the beggar will carry you away if you don't eat," my father had Kandappan standing in a dark corridor making noises in his throat or else walk on all fours with one of the cheetah skins on his back on the dark side of the eating hall. My sister would cry out, "Tell the cheetah to go. I'll eat," whereas I used to stare at the form mesmerised. My people thought I was looking with defiance,, whereas in truth I was tongue-tied with fear.
When my father came down upon us in anger, again the same thing happened. My sister would scream, "Don't beat, don't beat," whereas I would just stand petrified, with unblinking eyes. Everyone used to say that I was bold, courageous!
That kind woman, Meenakshi ammal understood that I was not bold. So she would sit in such a way or position so as to hide any shadow or the tiger skin from my view while I was being fed. I knew it was there behind her. So, with my throat constricted, I couldn't swallow. But she had a bag of tricks to take my mind off my fright. I think I vomited less on the occasions she fed me. She also knew a lot of home remedies. I missed her when she was made to go away.
And the one who came after hated me. She was a young widow by name Muthu. She even set my sister and brother against me. My sister never liked me, so she did this now with a vengeance. Always calling me names and cursing me. And the two years or so that she worked in our house were bad for me. She was sent away ostensibly for stealing. But, I think, my father was horrified that she was abusing my brother.
After her came Parvathy mami (aunty) who stayed with us for years. She was by nature a very kind woman. She left her own young children - ages between 9 and 3 perhaps -in the care of a co-tenant at Coimbatore, and came to work in our house. Russian and Bengalee novelists write poignantly of the poverty of those days. Real life was not very different! Money. Money to buy essentials. Food to eat. Some clothes to cover one's body. Such bare necessities were the considerations - that was all that mattered to many poor people. Caste was a barrier to most things. Observing அமாவாசை (Amavasya, New Moon) was never missed.
Even when Parvathy mami was working in our house, I have time and again asked her how she could leave her children so far away. It bothered me. She used to say, "If I stayed near them, then they won't get enough to eat," meaning that her earnings there would be much less.
People from the higher caste could not do some jobs. Jobs that were considered menial. Likewise, a lower caste person cannot do kitchen work in a house belonging to a higher caste family. Higher caste people were strict vegetarians. They would not eat any cooked food even in the presence of a non-Brahmin. So never would they eat any food, if touched by them. Even under most reduced circumstances, a Brahmin would neither cook nor eat without bathing.
Such customs and restrictions were a deterrent to a poor Brahmin widow in many ways. Thus mami was pleased that her children could be sure of a meal - even granting that the co-tenant did use up a little money for her own family from what mami sent her.
A year or two later mami took away her children from that co-tenant and let them be looked after by her own sister and her husband who were childless, living in a temple-town, three miles from Coimbatore.
When Paravthy mami's daughter was 13 or 14 years old, mami's sister had arranged for her marriage.  My grandfather gave one hundred rupees as his gift, and mami went on leave.  We were shocked and surprised when mami returned to Erode on the evening of the day the marriage was supposed to have been held. She coolly said the marriage had been called off in the nick of time when mami's sister discovered that the proposed bridegroom was a leper.
There was a great to do by everyone present. Some saying that the girl would never get married again, others talking about the money already spent. But mami's sister stood her ground. She was not willing to sacrifice the girl's health, happiness on any account. And to the admiration of all the village people and her own relatives, mami's sister arranged this girl's marriage with a good boy from a decent family within fifteen days. My father bore the entire expenditure for this marriage.  That girl's husband joined the army during the war (WW II), and led a good life, earned money.
Parvathy mami worked in our house for something like fifteen years or more. The years that she, Kandappan, Lakshmanan, house maid Pavayee, and motor car driver Kittu worked were a kind of steady time.
My father owned a car, even though private cars were not needed in those days, i.e. before 1930-35. Horse drawn vehicles were fast enough in small towns. There were plenty to be hired. Even in big cities, animal drawn vehicles were used/preferred for short distances.
______________________________________
© Kamakshi Balasubramanian 2015
Editor's note: I approve all comments written by people. The purpose of the approval process is to prevent unwanted comments, inserted by software robots, which have nothing to do with the story.