My brother: handsome, witty, generous, tragic
Category:
The year was 1975. I was surprised to see my wife in the lobby of the small motel in San Francisco. She had flown in from Los Angeles. I had gone to San Francisco to attend a meeting and had run into an old friend from Ohio. The friend had decided to move to the same hotel as me to save some money. After the day-long meeting we had eaten together and leisurely walked back to the motel. A couple of drinks each we had with dinner had left us relaxed and in a good mood.
But, she was serious and waved away my friend's hearty greetings. "We have to leave!" she said.
"I received a call from India, Satish is injured."
"Is it a scooter accident?" I asked, Satish was my older brother.
"No, he is burnt, and he is in the hospital. I bought a return ticket for you."
She tried to console me on the return flight to Los Angeles. I had difficulty in understanding how he could sustain burns. His work as a manufacturer of hand-made oriental carpets did not involve any fires or furnaces.
Next morning, we were able to talk to her father who also said that Satish had sustained more than 90% burns on his body, and was in a very precarious condition.
We scrambled to get a flight to Delhi. I had the slim hope that may be Satish was still alive, and I would get to see him. Another call in the evening from India, this time from my oldest brother Ravi shattered that hope. Satish was dead. His cremation had been arranged, which I would miss.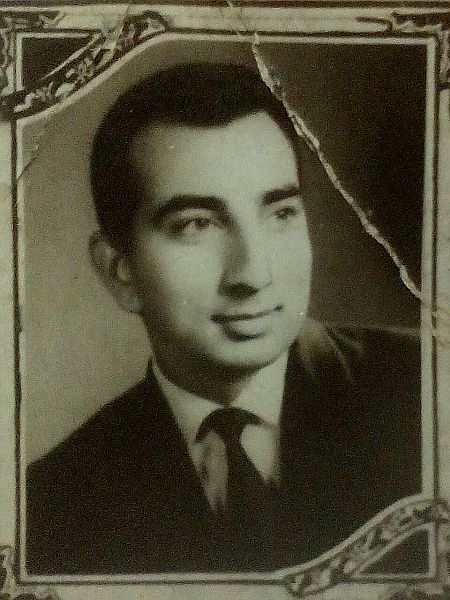 Captain Satish Puri.
I requested two weeks of leave from work but the boss insisted on docking my pay. I did not care at the time, and am still amazed at the thoughtlessness of the great man. I was working with a man who was a legend in his medical specialty. He would perhaps never know the depth of my feelings!
The horror of what Satish had done was to dawn on me when I landed in my old home town, Amritsar. Satish had committed suicide. He had travelled to an abandoned stone quarry outside the city of Agra, doused himself with petrol, and burnt himself. Some villagers had tried to put out the fire and help him. Taken to the hospital, he barely survived thirty-six hours and had suffered horribly. He had left behind a widow and two small children, a girl and a boy.
I had kept my composure on the flight to New Delhi, and then a domestic flight to Amritsar. When I reached the ancestral house, I broke down. After climbing three broad steps to the great room, I leaned against the well-worn cement wall and bawled without inhibition.
As the youngest of three brothers, I rarely had to bear any responsibility. Now I was overwhelmed by the loss. People had gathered in the large room for grieving. I saw Prabha, my cousin, Satya Bua's adopted daughter, and her handsome husband Ashok, a former captain in Indian Merchant Navy. They were a dignified couple. Prabha had served many a meal to me in Chandigarh. They would leave without saying much to me!
Ironically this was the room where we had celebrated many an occasion, including my own engagement and wedding. There were people I had not seen in years. Perversely, they were grateful that my parents were dead, and had been spared the grief of losing a son.
Satish was all of thirty-six at the time of his death.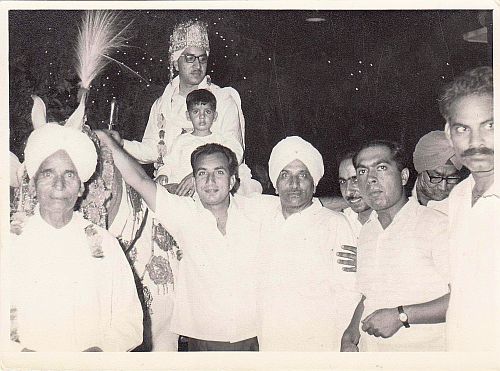 My wedding baraat, 1969.
At back: Vinod Puri on a horse, with a cousin's son, traditional groom companion in Punjab called 'sarballa'.
Front: L to R: L. Diwan Chand (Uncle), Satish Puri, Dharam Pal Puri (uncle), Ravi (older brother, only half visible)  Col. Gulshan Soni (cousin), Unidentified Sardarji, Narotam Kher (cousin)
The gruesome and violent end Satish had met dwarfs every memory associated with him. He was the most unlikely person to take his own life. This is precisely what most of his friends said at the time.
And, yet, I think I knew him better. He cared so much about the good name of the family! He killed himself when financial burdens of the business weighed him down. My oldest brother Ravi was supposed to supply him with the cash. When Satish could not even pay the weavers who depended on him for their daily wages and insulted him, it must have been hard to handle. I was especially angry with my brother Ravi. How could he not know? It took me many years to forgive Ravi for abandoning Satish.
If anyone of us in our family could have been predicted to succeed, it would have been Satish! He was handsome, very fair with medium height. He had light grey eyes that earned him the nickname Billa in Punjabi. Persons with such eyes are supposed to have certain characteristics of a cat, such as furtiveness, a lithe body, and intelligence or cunning.
He had a puckish sense of humour. He would literally make anyone laugh and that included serious old fogies. I have continued to find a semblance of his features &amp\; mannerisms in his children. While our father was alive, acquaintances, and relatives frequently remarked about Satish's resemblance to him.
An extrovert, Satish made friends easily. Uncles, aunts, cousins all doted on him. Even when our mother felt exasperated at his shaving his head or growing a beard, she could not remain mad at him for long. She forbade him to wear black T-shirt or pants. He looked good in them and would attract the admiring glances and comments of the neighbours. Our mother was always warding off the 'evil eye' as for as her boys were concerned! She would many a time forbid us to walk together into a room full of people. We used to think she was just superstitious!
In childhood, for years, Satish played a side drum in the school band. He would bring his wooden drumsticks home and demonstrate his virtuosity on a table or any wooden surface. He got to wear smart khaki uniform and go to numerous celebrations of festivals in town. When he would return from these events, he could tell a story or two!
A graceful athlete he played cricket for high school team that won a championship. He kept wicket and opened for his team. Despite being weighed down by the gear of a wicket keeper that included heavy leg pads and gloves, he played with such flourish that he was recognizable from a distance. One of the finest plays of the game is to stump the batsman when he steps beyond the crease. Satish was feared for his ability to do so.
Just two years his junior, I aped him in playing cricket at the same position but perhaps not as well. In order to compensate I also represented the school on soccer and volleyball teams. My career as a cricketer was cut short by a knee injury in the middle school. But Satish continued to play in college, and was teammate of a future captain of Indian Test Team, Bishen Singh Bedi. He made friends with leading cricket players of the city and could mimic a number of them.
He got carried away with cricket to the extent that he neglected his studies in college. That was the time when he faked his final BA examination results, and then disappeared. For three days, we searched for him all over town. My mother was beside herself but it was my father who sat quietly day and night in the courtyard of the house. In the long sticky summer evening he sat there with his head covered with a soft, red muslin cloth, a parna with which he would wipe the sweat on his forehead. He behaved as if he knew something! Perhaps an impending disaster?
He grieved with a grave dignity that was peculiar to him. Late into night, we would sit under the clear skies full of stars talking about Satish. All of Satish's friends, relatives and servants looked for him in relay teams. His fat Sardarji friend, who ran a general merchant's shop and came every evening to visit him. He liked to smoke cigarettes, something that his religion forbade but he indulged in anyhow, was beside himself. Someone would be sent to the railway and bus stations several times a day to check on outgoing traffic. Messages were sent to relatives all over the state, and as far as Bombay.
It was by chance that uncle Diwan Chand, my father's older half-brother, found him in the Company Gardens. Ill-kempt and hungry, he was apparently eating raw small mangoes. He did not have any money. When uncle brought him home, Satish fell on my father's feet and cried like a baby. Our eyes were full of tears of relief &amp\; joy! He was covered with sweat and grime. For a change my father's older brother became a hero and earned our eternal gratitude! For Satish, all was forgiven. But to his credit, he never again bothered my parents. His solution was to change his college and take easier study subjects. That way he could continue to play cricket! He never made the State team, though that was his dream.
I had known since early childhood that he was the beloved of not just our parents but all the relatives. We would frequently get into fights. After he turned twelve, I could not hold my own but I was foolish enough to persist. Some of the relatives were not above provoking these fights for their own enjoyment. But invariably my parents favoured him, and I resented that for a long time. If I went to see a relative, he or she would enquire about Satish. The female cousins thought he was the most fun! Both married and unmarried women relatives would beg him to accompany them on shopping jaunts. Not once was he was fazed by the glamour of these beautiful young women.
When the Indian National Congress Party held its convention about five miles outside Amritsar in 1956, our father sent Satish and me to hawk some crafts. We carried a few phulkaris that are indigenous, colourful needlepoint on thick cotton cloth. They are prized as wall hangings and small prayer rugs. We took the bus to the grounds near Khalsa College, and for several hours stood outside the open-air meeting place. There was little interest in what we had to sell. Our reward was some catty remarks by a few men or total neglect. We returned home with all our merchandise. By this time, we were ready to kill each other!
For once we realized that our father was an incorrigible romantic. How did he imagine that twelve and fourteen-year-old boys could sell handicrafts to hard-boiled Indian politicians?
I also remember one of the most horrendous journeys across town that both of us undertook to protect the family cow from floods! The great floods of 1953 were devastating to the city. Our parents first moved to the second floor of the house as floodwaters entered our living room and sofas and chairs floated around in muddy river water. The grounds of Goal Bagh were turned into a vast lake!
One could leave the street from the back entrance, where the road was on a little higher level. We were first dispatched to Guru Bazaar near the centre of the city where the floodwaters had not affected houses. We were also made in charge of a year-old calf. After staying with Kamla Bua, my father's sister, for a few days, we found that the floodwaters were not receding but actually worsening. Under the circumstances there was no fresh grass or dry hay in the city for the animals. The villagers who daily brought feed for the livestock were handicapped by flooded villages and roads.
So our parents' instructions reached us that we should relocate to Race Course Road house of our maternal uncles. That was located way outside the city and not flooded. The locality was close to fields and villages, fresh grass and hay would be available for the calf. So, Satish and I put the rope round the neck of the full grown white calf with brown spots, collected our meagre clothing and embarked on a six-mile-long trek through knee deep flood waters!
As we dragged the reluctant calf through at times fast-flowing waters, many a man-made fun of us. Aware of our inexperience with the animal they advised us to let it go. "Let God's will be done!" We were certain that if we did so, they would catch the calf for their own use. We did have some emotional attachment to the animal. She was the first born of our amber-brown gentle cow. She had in fact been born in the walled courtyard of our house. Moreover, we knew that our father would be very unhappy if we let go of the calf.
It must have taken us six to eight hours to cover the distance. We had many spats on the way. We made up and fought again. But somehow, we made it to Race Course Road by late afternoon. Satish regaled relatives with the tales of wily Sikh farmers who had urged us to abandon the calf!
Very soon thereafter, we again found ourselves on opposing sides. The two maternal uncles and their families were constantly quarrelling and we enthusiastically joined the foray! The aunts and cousins seemed to be delighted at gaining an ally each in their interminable feuds.
We also got to play cricket with a young Vijay Mehra, who later on represented India in test cricket. Satish made some lasting friends with the cricketers in the locality. Later, when we returned to our home in Goal Bagh, we used an unhinged wooden door to a bathroom as a raft. With a bamboo pole, we could go all over the grounds of Goal Bagh. Most people were amazed at the site of young boys taking rides in the floods. Eventually when we read about Huck Finn and Tom Sawyer, we felt that we knew something about rafting!
My brother's big disappointment in life was not to make into a military academy. After matriculation, he flunked the entrance test or tough physical examinations more than once. He had set his heart on joining the Indian Army. Our father had also encouraged it. The post-colonial Indian Army still maintained barriers to entry to officers' corps. Traders' sons, such as us, were discouraged to the advantage of army brats and bureaucrats' children.
From 1960 to 1966, for two years, Satish worked for Hans Raj, a distant relative and a close friend of our father who ran a medical supply business. Hans Raj recognized his talent and industry but would not pay him enough to make it worthwhile for him. Satish made friends with the lowly paid help at the store and many a times saved the skin of Hans Raj's oldest son, who indulged in petty theft from his father. The slow and tiresome process of progress through family owned business was at work!
Much later in 1995, I met Mr. Hans Raj just a few years before his death at the ripe age of 90. Bent with age, his mind as sharp as ever, he uttered the words, "What did Satish Babu do that for?" referring to his suicide. He was repentant for not paying Satish enough years ago, in comparison to his errant sons. As fate, would have it, Hans Raj's sons had abandoned him, and he had restarted the business for a grandson in far-away Bombay. The wistfulness with which Hans Raj talked of his twice a week conversation with Mohan Lal, a friend of my father's from the old hometown was touching.
Eventually, Satish got his wish to join the army as a second lieutenant. China had attacked India in 1962. Now, the Indian army needed a lot of officers. He cut a dashing figure in uniform. As soon as I graduated from medical school, he bought our first stereo system, a record player in a big wooden cabinet on legs. Though speakers were primitive by current standards, the versatile player could play old-fashioned seventy-eight or long play records. That summer I was to indulge in a hobby while wading through a lazy hospital clerkship!
Satish had also left me well supplied with small bottles of rum and exotic liqueurs brought from Sikkim. Unbeknown to the family downstairs, my friends would often join me in the summer evenings.
That was the year I studied the Urdu poet Faiz Ahmed Faiz, whom I had discovered a few years earlier. I tried to impress on Satish as to how great Faiz was. I even told him of the story of my roommate in medical school, Kirpal Singh, a hard-drinking Jat and a hockey player. When we were room-mates in the hostel, this Sikh, who did not know a word of Urdu, was so besotted with Faiz's poetry that every night he begged me to recite a stanza or two from some long poem. In turn Satish repeated the story of the Sikh classmate he had in college. This man when asked to volunteer for a building project of DAV College would toil without a break for hours if Talat Mahmood songs were being played. As soon as the music stopped playing, this burly Sardar stopped swinging the shovel! I never met this gentleman, but he remains as a romantic figure in my memory.
Satish got to fight in the war against Pakistan in 1965. As an artillery officer, he was in the forefront with advancing infantry troops. He survived some harrowing moments. During the war, he even made a trip back to our hometown and managed to take a bath and sleep in a clean bed for a few hours before heading back to the front while his platoon restocked on supplies. For years, our mother would comment on his dirt covered face and army clothes.
He related the story how Indian Army had been thwarted to cross Pakistan's Ichogal Canal. For thirteen days, they had fought artillery battles. One morning, an old Sardar from a village brought them hot tea. He had a small bucket and a brass cup to serve soldiers on the front. Satish recalled that as he looked in the cup, ants were floating in the milky sweet tea. Along with his fellow soldiers, he gratefully drank the tea!
While I was a house-surgeon in Irwin Hospital, Delhi in 1965, there were a few anxious months for me. I feared the loss of family to Pakistani bombs in Amritsar, and loss of a brother in the war. The prospect of being left alone in the world was not very pleasant. Meanwhile, at our hospital, we had vacated the wards and waited for war causalities that never came.
Later on, Satish would visit me occasionally in different cities where I was taking internships and residencies. My friends and I especially welcomed him since he could supply free liquor for our parties. Inordinately proud of me, he would brag to his friends about my brains. Those were the years we grew close and I realized how much I loved him. All the years of petty squabbles and fights of our childhood seemed of little consequence. My mother would often ruefully remind us how we could not be left alone in a room for more than a few minutes without coming to blows.
Now, he was ready to settle down. But I did not think he wanted to join the ancestral business. What seemed to change his mind was the stroke our father had suffered. Both of us wanted to help our father with his disability due to Parkinson's Disease. He arranged to take time off for the operation in Delhi. He spent a lot of his own money for father's and everyone else's comfort. We rejoiced when our father's tremors subsided, fretted when they reappeared the same evening.
The brain surgeon, Dr. Rao, said he would give it another shot, injecting a chemical into our father's brain one more time. Two days later we were again disappointed. But at least he was no worse! That is what the brain surgeon had explained over and over again. My father returned home and I to my studies in Chandigarh. Disappointed, Satish returned to his regiment.
But, soon enough the devastating news came that our father had suffered a major stroke. He was paralyzed on one side and had lost his speech. It would be many months before his condition stabilized but now he was a permanent invalid. I realized for the first time how our mother had a close and trusting relationship with him. All her life she had played second fiddle, subservient to our father's will. Now she was called upon to not only look after him but decide important matters.
Within a year, in 1967, Satish left the army. He had made captain by this time. Soon enough he was engaged to be married. He was offered good jobs but joined our older brother Ravi and an uncle in the family business. He tried hard to learn the ropes quickly. He was observant, hard-working and honest. He easily made friends with my future in-laws and my fiancée. He was happy to see my wife and me off to America after our wedding.
The business in general was good and seemed to thrive for a few years after my father's death. I was amused to see him making the transition. The change I noticed in his personality amounted to a concerted effort to please. I thought he was talking much more than he needed to! He also did not dress as well as he used to. He had started to leave his shirttails out of his pants! The sloppiness was ascribed to his being out of the army and becoming a 'businessman', which in the vernacular meant becoming a trader. Next time I saw him was when our mother was diagnosed with a fatal cancer. I made a special trip from America with our baby son.
Satish appeared more subdued. He and his wife raised no objections when I divided my mother's jewellery in equal parts for the siblings, according to her wishes. Within a year of her death, the uncle who had guided both of my brothers in business for several years had suffered a fatal heart attack and died. His children wished to split the business with my brothers.
But it was the worldwide recession in the early 1970s that destroyed the business. The oil-producing countries of the Middle East had sought to hurt the industrialized societies of the West. In the process, they hurt the Asian subcontinent that depended on the buying powers of the well-to-do nations. Luxury goods such as oriental carpets were the first to disappear from the shopping list of a budget conscious German or American tourist visiting India! The stingy Indians were no great buyers of these expensive items.
As far as the local business was concerned, there was little to do. If these rich folks ever bought a carpet for the wedding of a daughter in Amritsar, it would be after great deliberations and interminable negotiations. I promised on my return to America to see if I could find someone to import carpets in Los Angeles. An Indian neighbour did buy three or four carpets from Satish but that was a drop in the bucket! I was pursuing a fellowship. Long distance commerce was not my strong suite!
The trip to Agra that I undertook after Satish's death in the company of his widow and Ravi was painful. We travelled in a third-class compartment of Indian Railways. There was little room to sit or rest. Expression of private emotions under the circumstances would have been unthinkable.
I got to visit the rented two-room flat that he had lived in. I was told that he had to have water hauled as municipal water supply lacked pressure to reach the second floor flat. A distant relative whom I had never met before took us everywhere in his car. As usual Satish, had befriended and charmed this gentleman and on more than one occasion he said, "I wish I knew!" He was a well- to-do businessman and would have gladly loaned Satish money! We went to the local bank to close his account. His widow was overcome with grief. She had difficulty holding the pen to sign her name to the document. The bank manager was considerate. We decided to move his stuff to the ancestral home and came back.
At back of my mind was a trip I had taken several years earlier when his regiment was stationed outside Meerut. I had gone to Delhi for a brief trip and decided to track him down. I had not seen him for eight or nine months as he had been posted in out of the way places. After riding in bumpy buses for two hours I had reached the cantonment.
One of his friends told me that Satish was out on the firing range with his platoon. By now he had become a captain. So, I waited for a while in the officers' mess. As we grabbed some lunch, he decided on an impulse to accompany me back to Delhi. I told him that I did not have more than the day to spend with him. He said not to worry, he could handle being late for Monday.
He borrowed a friend's motor scooter and we rode back to Delhi. The two-hour journey was pleasant because I had his undivided attention. Conversation was difficult. I wanted to know what he planned to do next. Was he planning to make a career out of the army or do something else? He was non-committal. He obviously liked the army life but wasn't cut out to be a career officer. He explained that despite the exemplary performance of officers recruited with him, the army still preferred those who had come through the traditional route of academies.
It was late afternoon when we reached the outskirts of New Delhi. We surprised an aunt and cousins with our unexpected visit. That was not unusual for him. He was in the habit of showing up to the delight of relatives. Later at night he dropped me at the New Delhi Railway Station to take a train back to Chandigarh. Next morning, he would have to again ride for hours to re-join his regiment. I remember this trip now, though I have rarely thought about it for many years.
Epilogue
Now, Satish's children are grown up, married with their own children. His widow, Sarla Bhabhi, has somehow endured. She has found solace in raising her children and grandchildren.
For me, the passage of time has made it somewhat easier to talk about it though I do not know if I can make any better sense of it. This was brought home to me a few years after his death. When I tried to talk to a young woman in her thirties who had survived a suicide attempt. I mentioned something about losing a brother "Everyone suffers these losses." She retorted, "So your brother committed suicide, that makes you an expert?"
Ever since, until now, I have been reluctant to tell anyone about Satish. The conflicting emotions that pass through one's mind can leave one confused. A few years ago, a cousin of my wife, whom we had befriended in America, returned to India and shortly thereafter committed suicide. Several of his relatives had trouble describing his actions. They attempted to explain his suicide in terms of bravery or cowardice. These terms are obviously inadequate to describe an act of self-destruction that defies all reasoning.
Eventually, we are left with clichés to deal with profound feelings of loss. I am also left with the memory of a brother who was always fair and handsome, athletic, witty, and generous.
And, most of all, young forever!
_______________________________________
© Vinod Puri 2017
Editor's note: I approve all comments, related to the story, written by people. The purpose of the approval process is to prevent unwanted comments, inserted by software robots, which have nothing to do with the story.