साला, मैं तो साहिब बन गया!
Category:
My late father, Khem Chand Ji (1911 -2004) joined the Indian Administrative Service soon after Independence. He, along with a few others, was selected through a special recruitment process. He was the first Collector and District Magistrate of the newly formed Alwar district after Independence, which became part of United States of Matysa, and then was merged into Rajasthan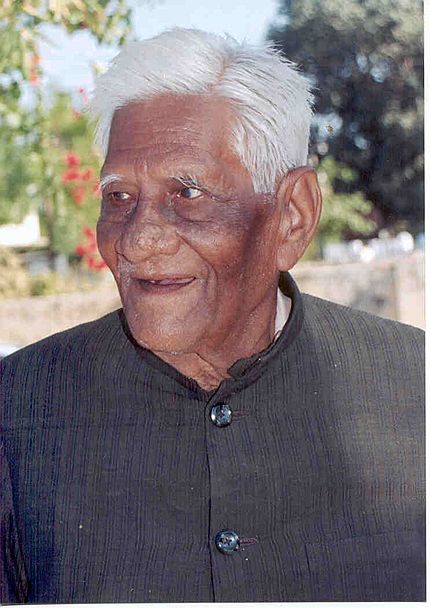 Khem Chand, my father. Circa late 1990s. Jaipur. He was about 85 years old at that time.
My father was tall and handsome. Every inch an imposing personality. He exuded the St. Stephen's confidence (see his college photos here) with a camouflaged snootiness. He was widely read and up-to-date on all matters.
He not only spoke impeccably and but also wrote sharply. He surprised most with his fluency in Urdu and Farsi. In fact, he made all his personal jottings in Urdu and Farsi.
He loved many good things in life like an evening downer, contract bridge etc. Outdoor life played a huge role in his daily life. He combined it seamlessly with shikar (hunting - read my older brother Kailash's story here) and picnics. He immensely enjoyed sitting on machaanas the whole night with a loaded double bore.12 gun waiting for the tiger to fall in the goat trap.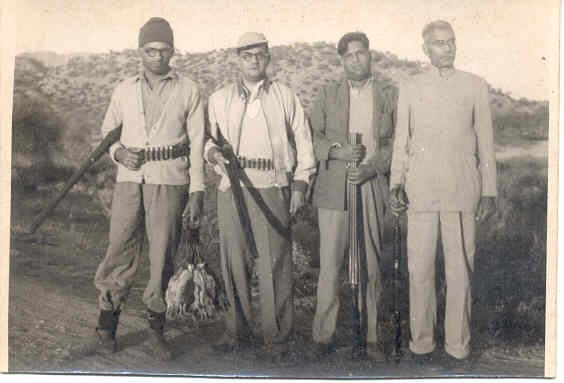 My father, Khem Chand, second from right (names of others not known). Mid-1950s. Bikaner.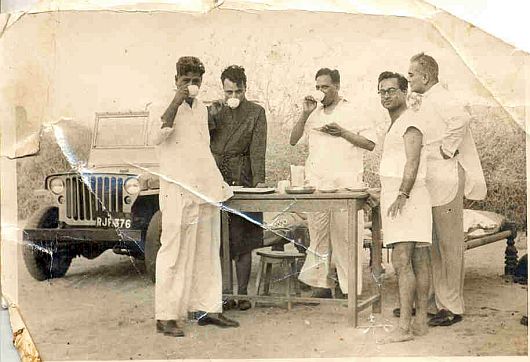 My father, Khem Chand, extreme left (names of others not known). Mid-1950s. Bikaner.
Even we children sometimes got to accompany him on a few such outings. I particularly remember chasing a black buck in an open Jeep on undulating terrain for nearly a mile or so before Dad could get the first shot. It is a majestic sight to watch a blackbuck loping away from the hunter. The chase became my ambition for re-enactment when I grew up but, alas, the world had changed by then. Another highlight was to view a panther 'kill' safely tucked away on the forked branches of a tree. To protect his next meal from the wild carnivore animals. Shooting partridges was passé.
He occasionally fully solved the prize word puzzle of The Illustrated Weekly of India, edited initially by AS Raman and later on by Khushwant Singh. It was one of the hardest puzzles with cash prizes in public domain. The princely shared prize used to be as much as rupees five via postal order.
He didn't much care for the seniors in hierarchy but supported his subordinates fully. And on top of all that, he was a quick decision maker.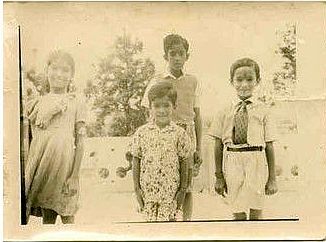 Three of my siblings and I.
L to R: Manmohini (Dolly), Ashok (Shammi), Subhash (author)
At back: Kailash (Chanda). Mid-1950s. Probably Bikaner.
Initially he was posted to some very small towns like Alwar, Bharatpur, and Jhalawar, and then to three bigger cities - Udaipur, Bikaner, and Ajmer before reaching Jaipur in 1958.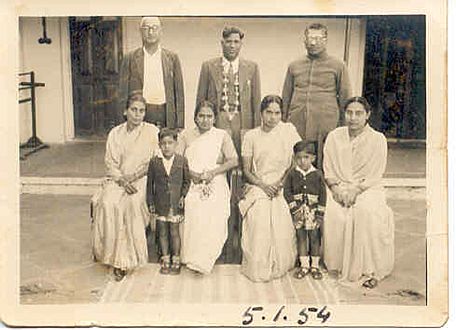 Front row: Name unknown, Ashok (my younger brother), Dayawanti (my mother), name unknown, Subodh (my younger brother), name unknown.
Back row: Name unknown, Khem Chand (my father), name unknown. Bikaner. January 1954.
Naturally, the family moved around with him.
Bag and baggage.
The railways arranged a special first class saloon with a little sit out. These journeys were always fun times for us siblings.
And so, my schooling was somewhat of a Yo-Yo situation.
I attended as many as seven different schools before I reached class 6 in Government Higher Secondary School, Ajmer in 1958.
The mofussil towns usually had one good primary Hindi medium school with English medium façade. One barely picked up any proficiency in English but these schools attracted the crème de la crème.
For lack of options, I suppose.
Very few schools had any outdoor sports facilities but they did offer plenty of opportunities for co- curricular and extra-curricular activities.
I remember attending Rampuria High School in Bikaner. It was housed around an abandoned cinema hall.
I recall that I played the lead role in a one act play called Jhitiyaa (झीटीया), loosely based on the story of Red Riding Hood going to meet her Grandmother in a remote cottage through the jungle. And obviously running into the disguised Big Bad Wolf.
The title song went like this:
झीटीया झीटीया कहां चले? Jhitiyaa, Jhitiyaa, where are you going?
नानी के घर नानी के घर To grandmother's home, to grandmother's home
दूध मलाई खाऊँगा! I will dirnk milk and eat cream!
मोटा हौकर आऊँगा! I will get fat and then come back!
I even got a silverish medal for my 'stellar' performance\; I preserved the medal for several years before losing it in a spate of transfers.
These schools had one English class with books in English but rest of the subjects like maths, social sciences, history, geography, etc. were taught in Hindi.
Picking up spoken and writing English proficiency was matter of left to the parents.
When my father was posted to Jaipur, it was the capital of Rajasthan, and a flourishing medium level town. The family lived thereafter at Jaipur while my father did a short stint at Ajmer on promotion to the Revenue Board.
Once the family settled down, my seven siblings got admitted to the educational institutions of their choice
But my case was peculiar and presented a very piquant situation.
In the late 1950s, Jaipur had two schools with very good reputations. English medium Xavier's and Hindi medium Mahaveer. They were located next to each other. Xavier's had overall better faculty and sports facilities. Xavier's was run and managed by the Society of Jesuits, while a Jain trust was in charge of Mahaveer.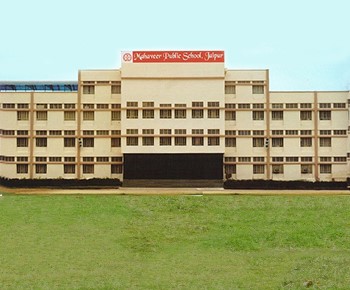 Mahaveer School, Jaipur. 2017.
Without any consultation with me (as per the prevailing norms), my parents decided to send me to Xavier's.

St. Xavier School, Jaipur. 2017.
The school at that time was following a January-to-December academic calendar in line with Senior Cambridge examinations worldwide.
And my parents were trying to get me admitted to Xavier's in the month of July, half way in the 1958 academic calendar. On top of that, I was switching over from Hindi to English medium in the 6th grade. It was a situation ready to explode but maturity on both sides saved the day. The dynamics went like this.
Xavier's didn't want me (quite understandable). But, my parents were adamant. And I was rooting for Mahaveer (my opinion hardly mattered in real terms).
Xavier's gladly accepted my younger brothers, Ashok and Subodh, as they were being admitted to primary classes and were coming from English medium St Anselm's, Ajmer. Both adjusted quickly to the new Xavier atmosphere.
Speak in English. Write in English. Think in English.
But not me.
The end result was that I was not admitted to any school. I was left asunder from July for the next few months. It became some a sort of what we call 'Sabbath' these days. You could have easily labelled it वेल्ला पण (time waste).
Parents were willing to make me sit at home, but Mahaveer was a no-no. Thus, it became a game of tug of war with me in the centre as the marker.
To my parents, it was clear from day one as to who would win. After all, my father was a senior civil servant, who held an important position in the Government.
In those days, local school managements were highly amenable to bulldozing by civil servants and other influential citizens. The schools could resist somewhat but would eventually capitulate.
Parents of today would never be able to fathom that.
No admission test. No quota: alumni or management or merit. Just admit.
After three months of jockeying, Xavier's gave in to the daily dose of nagging, cajoling, and bullying.  I am sure it was against their better sense of judgement but they realised that resisting the pressure of a senior civil servant was a pain in the neck.
Might as well get the kid in, and let him flounder!
And move on with administering. The Principal, Fr. Pereira, was a gentle but firm administrator. Vice-Principal Fr. Ribeiro played the bad cop.
Efficiently.
Of course, the bullying and other tactics did not come directly from my father, but from two efficient and dedicated Personal Assistants in his office.
Why two? Simple. One from the Agriculture department, and the other from Irrigation department of the Government, both of which my father controlled.
Messrs. Soni and Siddiqui were old hands at the softening game. Highly polite, highly sophisticated, and gentlemanly, but overtly persuasive. And tough negotiators.
They stayed on with my father subsequently for several years in all the departments he was posted to. And were around to assist him even after his retirement in April 1969.
Both were gems and 'genies'.
Entrust them with the most impossible task, and they would invariably produce the Rabbit.
Naturally, Dad left this task - get me into Xavier's - to their persuasive and negotiating skills. And they set about this on the phone - no personal visits. At that time, a phone with unlimited calls was the prerogative of senior civil servants alone.
I may also mention that my father never came to our school even once in all the years the three of us - Subhash, Ashok and Subodh - were studying at Xavier's. In 1964, my youngest Satish too joined the school in Standard 1. He would often wander in my class in his initial school days. Now we were four of brothers in the same school at the same time for one year. It was a record of sorts for real brothers.
But that did not weigh in with my father. Of course, my academic output was mediocre at all times but even Subodh's consistent academic excellence failed to lure him into a visit. He was proud of Subodh's achievements but a visit was 'out of the question'.
My mother did come once as a Chief Guest at a prize distribution function for primary classes.
The school fee was Rs 5 per month. Half for the second brother. Rest were free.
And so there I was at home with no formal schooling from July to September 1958.
What did I do with myself with in those three months to keep me sane and sound?
I have some sketchy memories.
The first thing that I learnt about my being at home rather than in a school was that it was my mother Dayawanti who was the driving force behind the insistence that I join Xavier's - and Xavier's alone.
My mother was a Matriculate, a very high degree those days. Normally, education ended at lower levels for most girls.
She was petite, soft spoken and down to earth, being a Dayalbagh Radhasoami.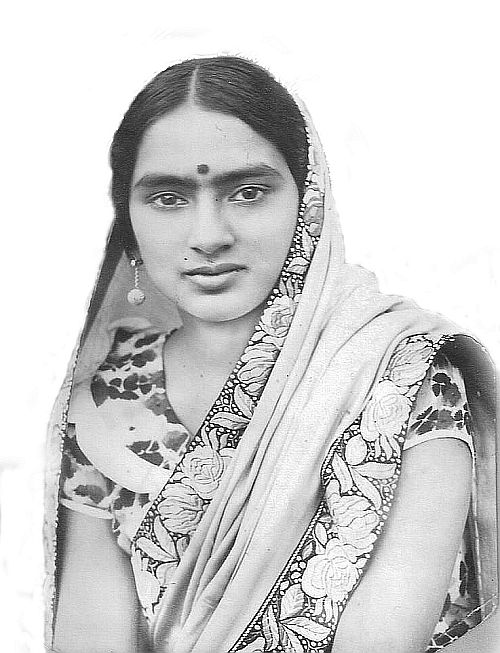 Dayawanti, my mother, 1937. Agra. Wedding proposal photo.
In some ways, I was her favourite. I also inherited many of her soft features.
She was very keen that I should get the best schooling on offer. And, in her opinion, Mahaveer did not quite fit the bill.
She was confident that eventually Xavier's would open its doors.
So, she took it upon herself to improve my all round English proficiency.
(She taught the BODMAS (Brackets Orders Division Multiplication Addition Subtraction) formula to train Ashok and Subodh in arithmetic. And she knew geometry rather well.)
She called up Soni sahib and requested him to buy the 6th class books from the bookstore at Xavier's. Armed with these books, the struggle began in earnest.
Although her efforts did only a marginal job of improving my English skills, her determination revealed a new aspect of her largely soft personality.
The chosen book for home studies was Short Stories by Ronald Ridout.
She took me through the stories painstakingly. I found all of them interesting but, as expected, difficult to follow.
The one I vividly recall was about Cyclops. For the uninitiated, Cyclops were one eyed giants mentioned in Greek and Roman mythology.
She tried hard to teach and I did not lag behind.
Eventually, it did not matter at all.
I found myself at sea when I did start my innings at Xavier's from mid-September 1958.
But how did I spend rest of the time?
I have no clear memory but probably just literally 'killed' time being वेल्ला. But, I did fix the Headphone Radio my elder brothers Prakash and Kailash were trying to put together.
The gadget was ready but simply refused to pick up the sound signal. They were at it to enjoy the ball-by-ball running commentary of the West Indies tour of 58/59 led by wicket keeper Alexander, the last white captain for West Indies. The West Indies team came power packed with Kanhai, Sobers, Hunte, Hall, and Griffith.
And, at that time, we had no Radio at home
And the family was nuts about cricket.
So I did a bit of dabbling and fiddling. To activate the substitute radio.
Extreme precautions were taken not to cause any damage. Otherwise, it would be hell to pay.
The contraption consisted of a headphone, a DEVICE which sat on a platform (like Lego platforms these days) with crystals and soldered wires. A long wire snaked from the mesh antenna on the roof. To catch the signal.
My engineer brother Kailash felt that everything was in place appropriately. But he was perplexed as to why it was not picking up any sound.
So I began my touch and leave trials. Touch here, touch there, and hope for the best.
And without any warning, the earphones came alive. With sound.
Running commentary.
Wow! What a heady feeling. Jumped with joy.
Of course, it was in English. But I did manage to pick up the scores.
Vizzy, as the Maharajkumar of Vizianagram called himself, was holding forth on the marvels of a double century by Rohan Kanhai, followed by a cracking near double hundred by Sobers.
My success.
But no one to share with.
Mom was preoccupied with cooking. The rest of the family members were out of the house - office or school/ college.
Thus, I had no choice but to wait for the siblings to troop in the evening.
They were delighted with success but not very happy with my fiddling around with their DEVICE.
But from that day onwards, my daytime life was dominated not so much by Cyclops of the nether world as the voices of Vizzy, Pearson Surita, and Dicky Ratnagur. They could practically make one watch the proceedings with one's ears.
As the series wore on, Indians did mount some serious challenges to the mighty West Indians.
But come September and the reverie ended.
Xavier's finally agreed to drop their resistance
And thus began my transition from Desi (local) to Vidheshi (foreigner).
Here I must mention that I held a unique position in the family. I received half-Hindi, half-English medium education.
I kind of held a watershed position amongst the siblings.
My older siblings Prakash (Titi), Kailash (Chanda) and Manmohini (Dolly) finished their school education in Hindi medium. My younger siblings Ashok (Shammi), Subodh (Puchhe), Meenakshi (Meenu), and Satish (Bhaiyya) got to study in English medium schools.  I was in between!
And as anticipated, my innings at Xavier's got off to a poor start.
Not poor. It was a near disaster.
Every subject other than Hindi was taught in English. All books were in English. All conversation was in English. All classwork and homework was in English.
In fact, it was simply English, English, English.
And I was all Hindi, Hindi, Hindi.
The twain were never destined to meet. But, in my case, they had to.
I was confused and flabbergasted. So were the teachers.
What the hell was I doing in these English gibberish classrooms? Why wasn't I across the road in Mahaveer?
I had no answers but plodded along. From one frustration to the next. The year-end final exams produced the only result that was possible in the circumstances.
Failed in all subjects including Hindi. Yes, Hindi too. Why? How do I know!
It was a record of sorts. Still stands. No challengers.
Yet the school promoted me to the next class.
Hurray!
No! No! No celebrations please. The school was not that dumb!
From next academic year, the school switched over to a different nomenclature for classes. Instead of the final grade being Tenth, it became Eleventh (The switch came because the school shifted from the U.K.-based Senior Cambridge system to the India-based Indian School Certificate system).
So those who were with me in class in 1958 went to Standard VIII (instead of class VII), and I went to Standard VII to be with those who were promoted from class V to Standard VII.
Surprisingly, my classmates from the class of 1958 remember me very fondly. They treat me as their batch mate with pride. And I was with them precisely for less than three months.
Quite perplexing, but who's complaining!
And from 1959 began my journey in Xavier's in real terms. By then, Mahaveer had become a distant memory. I was now fully engrossed with Xavier's school activities in style.
I excelled in sports. I made it to the Cricket XI and became the Captain of the first Swimming team. I even picked up some medals in 400 &amp\; 800-metre races.
But mediocre proficiency in English and Maths pulled down my academic scores.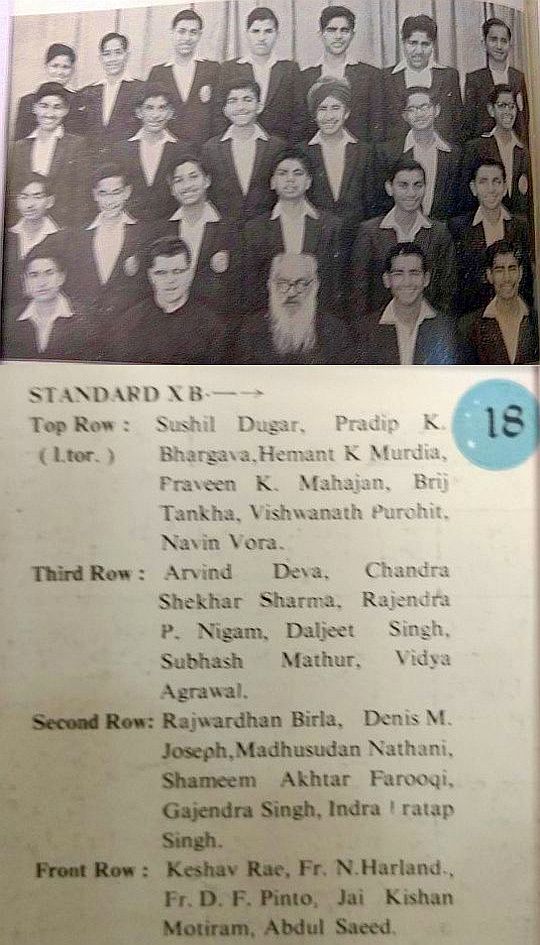 Standard X Section B. St. Xavier School, Jaipur. 1963
Subhash Mathur, Third row, second from right.
My mother uncharacteristically hugged me when I graduated from Xavier's with flying colours. She said, "अब मेरा बेटा भी साहिब बन गया (Now, my son too has become a Sahib.)"
But two significant events stand out from my Xavier's days.  I should record them for posterity.
Why was I nicknamed 'Dopey,' which has stuck with me all these years?
How I did not 'Miss the Bus.'
Ciao! Till we meet again.
---
© Subhash Mathur 2017