Travels to many cities - loving life in Lyallpur
Category:
Tags: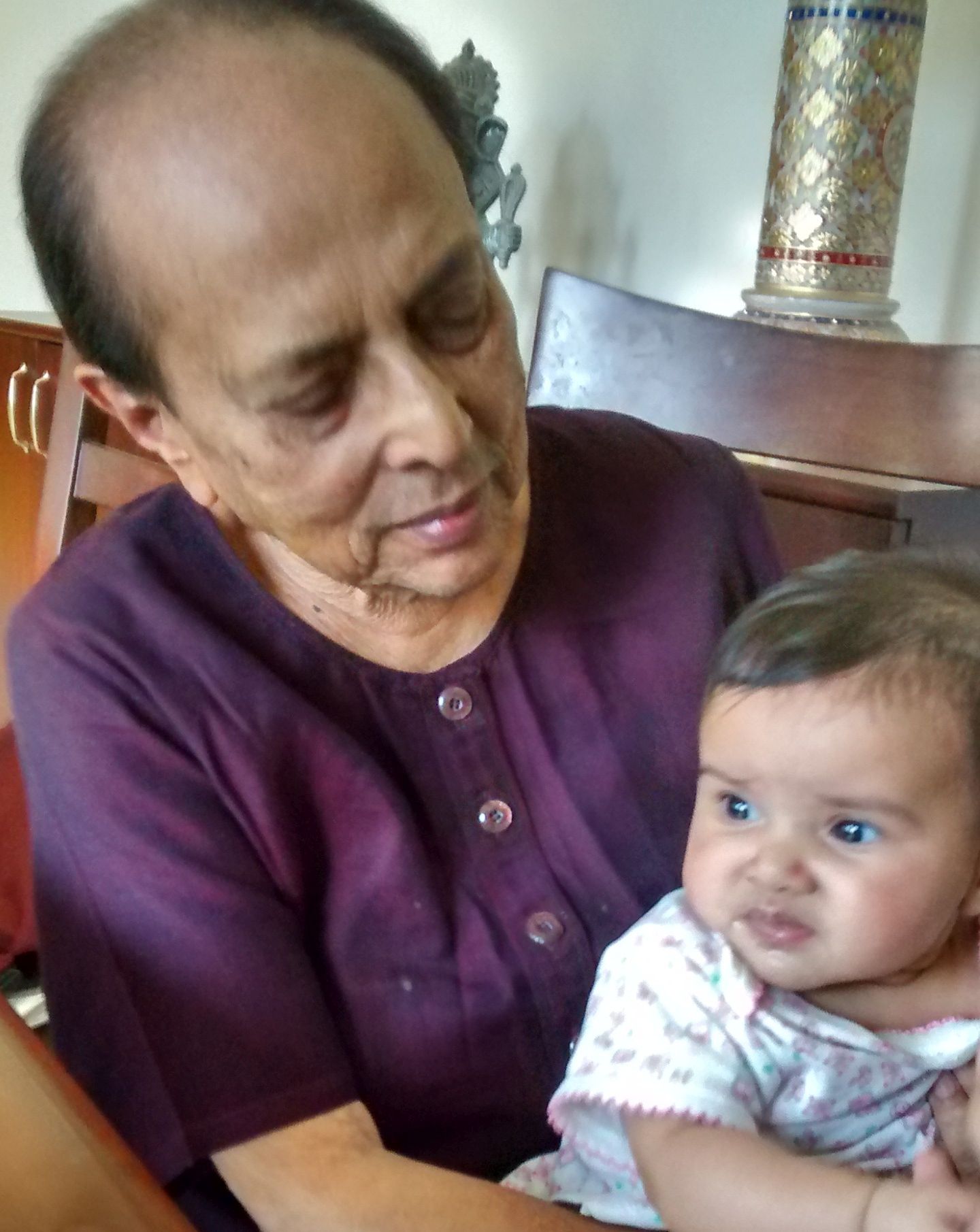 Sadhona Debi Chatterji was born in October 1931 in Calcutta to Hari Prasad and Subarna Bannerjee. She did her matriculation, and got married to Birendra Kumar Chatterji in June 1948. She has a son and a daughter. Her husband, like her father, was in the Imperial Bank of India, which later became the State Bank of India. Her husband retired as Chairman UCO Bank in 1984, and passed away in 1989.
She has had a tremendous interest in national and world affairs, with her own opinions on many issues. She is an avid reader. She has been a popular and well-loved person among the family and a very large circle of friends. Even at the age of 85 and ailing, she got phone calls from all over the world. She passed away in 2015.
Editor's note: Sadhona Chatterji wrote this note in her diary in the 2002. It has been typed and provided by her son in 2018.
My father, Late Shree H.P. Banerjee, was a banker. He was a senior staff officer in Imperial Bank of India. It used to be a prestigious service in those British days for an Indian to be in, like the Indian Civil Service or Indian Police.
Most of his fellow officers in the bank were either form England or Scotland. For an Indian to get into an officers' grade was not easy.
I think my father joined the bank some time in 1923/24, and got married soon after. I was born in Calcutta on the 19th October, 1931. My Bhaiya was born in Shimla in August 1933, and my two sisters Bunu and Chhotu were both born in Gorakhpur, but my youngest sibling Jhunu was born much later in Kolkata in February 1944. The earliest memory I have of my childhood is from 1935/36 when we were in Gorakhpur in U.P.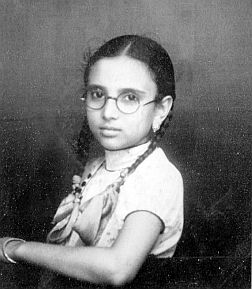 Sadhona. Late 1930s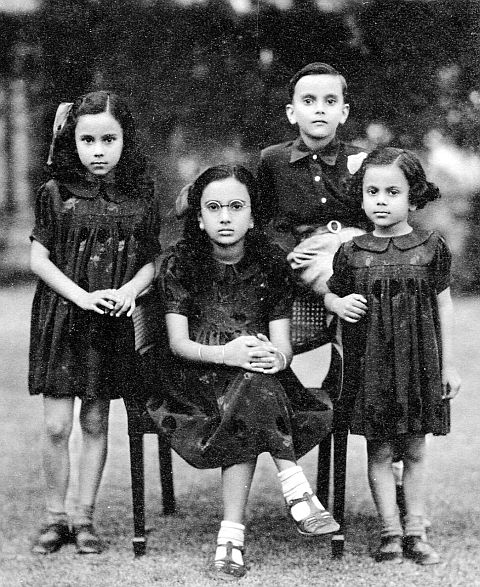 L to R: Bunu (Sumana), Sadhona, bhaiya (Ashish Bannerjee) and Chotu (Suparna). Early 1940s.
My father at that time was posted there as an accountant in the bank and Mr Walker was the Agent. My father was a very keen tennis player, and I remember him going to the club every day from the bank to play tennis. He did this almost throughout his life as long as his health allowed him.
I remember we had to take anti cholera, anti-small pox and anti-plague injections and vaccinations every year. We used to dread these things, and on the day we were supposed to take the injections, my bhaiya and I used to hide somewhere to avoid it. But unfortunately, we were always caught either by our driver or our cook. Once I remember my bhaiya and his friend Jumma (the driver's son), who were great friends, went inside the garage, and were lying on the roof of our car, to avoid taking the injection.
My father's was an all-India transferable service. Every 2/3 years, he used to be transferred and we got the opportunity to see different towns and cities of our country.
Another thing which I remember is that the grade one officers of Imperial Bank used to get six months leave, which was known as furlough, after every three years. My father's first furlough was due when we were in Gorakhpur and as he was very fond of travelling, we visited so many places in those six months.
We went to Dibrugarh in Assam, from there we came to Calcutta, from Calcutta we went to Lahore via Amritsar, from Lahore we went to Sreenagar [Srinagar] via Murry [Murree]. In Sreenagar we stayed a whole month in a house boat. What a wonderful experience that was. From Sreenagar we went to Pahelgaon, where we lived in tents. We had one big bed room. The floor was covered with beautiful Kashmiri carpets. We had one tent for bathroom, one for kitchen and, because our cook and our maid always used to travel with us, there was a tent for them also. I remember, there was a walnut tree in front of our bedroom tent, and Bhaiya and I used to play cricket with those walnuts. There was a river down below. Early in the morning the fishermen used to go there to catch trout and came up to Pahelgaon to sell them. My mother used to buy those fish and, as Madan Singh was a wonderful cook, we used to have trout every day for lunch. After a month's stay in Pahelgaon, we went to Gulmarg. After spending a week in a hotel there, we came down via Jammu.
As my grandparents were in Shimla, we went to visit them after that. We stayed with them for some time, and when my father's furlough was over, he left us there and went to Bareilly, where he was next transferred. We followed him after a few days.
We were more than three years in Bareilly, when my father's next furlough was due. When my father's leave started, we drove down to Delhi and again stayed there with our grandparents. At that time my father was suffering from acute knee pain and we stayed in Delhi for more than a month for his treatment and then went Calcutta for the rest of my father's leave. During that period, my mother had her appendix removed at the Calcutta Medical College.
My father got transferred to Moradabad after his leave was over. The bank house there was really nice. It had a beautiful garden with tall Eucalyptus trees, a mango orchard, lots of sweet lime trees, and grape vines.
We were in Moradabad for six months only. Within those six months, during Easter holidays, we went to Dehradoon and Mussoorie. While in Dehradoon, we went to see Doon School, because my parents wanted to admit my brother there. Everything was fixed, but at the last movement my mother did not agree to leave my brother there.
Like this, because of my father's fondness of visiting new places, we used to go out for short holidays whenever the bank was closed even for 3-4 days. From Bareilly, we once drove up to Nainital, my father, my brother and me. There we stayed in a hotel overlooking the lake. After so many years, I still remember the wonderful fluffy egg omelettes they used to serve for breakfast.
From Moradabad we went to Lyallpur (now in Pakistan and renamed Faisalabad). We went to Lahore first by Punjab Mail. There we changed train and caught another train for Lyallpur, which was an overnight's journey from Lahore. We were in Lyallpur for almost four years. These four years in Lyallpur was one of the happiest periods of my life. For the first time we went to school there, the Sacred Heart Convent. It was a small school, run by Italian Missionaries. The nuns and fathers there were such nice people. We got so much care and love from them. It was during the early forties and the Second World War was going on. India was under British rule and they were fighting against the Italians.
One morning, when we went to school we found that the three fathers of our school church had been arrested the night before and taken to prison. All of us were very sad about it and feared any day the police might come and arrest the sisters also and take them away, but fortunately they did not do it.
We had many very good friends in school. Most of them were either Muslims or Anglo-Indians. My best friend was Razia and my brother's best friend was Khurshid Ahmed.
In those days, at least in Lyallpur, we did not know anything about Hindu-Muslim tension. All of us were very good friends, visited each other's families regularly, attended each other's festivals, and had dinner during Diwali, Id and Christmas together.
We never thought that one day we will be separated, and our country well be divided into India and Pakistan.
We used to go to Lahore almost every month, because my father's D.M. office was there. We used to drive down in our big car driven by our driver Daniel.
Even in those days, Lahore used to be a beautiful city, better than Delhi. It had beautiful broad streets, and the Mall Road which I liked best. It had big shops, nice hotels, big buildings. It had my favourite confectioners there. Whenever we went to Lahore, my mother used to buy lots of cakes, biscuits and sweet bread from there.
My grandfather's (my father's father) friend, one Mr. Roy, used to live in Lahore in a big double storied house in Civil Lines. It had a nice big garden also. He was the editor of "Tribune", quite a well- known paper of those days. Once during Durga Puja, we stayed with them when we went to Lahore.
I remember 'Anarkali' also. It was a crowded bazaar, with lots of colourful shops and bright lights. Mr. Krishnawami, my father's fellow officer from the bank, used to live there. Once we stayed with them also. Once or twice we stayed at a hotel on Mall Road.
From Lyallpur, twice we went to visit Gojra, a small town near Lyallpur, and stayed there with Mr. Bagga and his family. Mr. Bagga was the agent of the local Imperial Bank branch there. Gojra was well known for the eye hospital, run by one Dr. Pahwa. Years later, when we were in Alwar, we met his son, Shree P.L. Pahwa, who was posted there as executive engineer in P.W.D. We became very good friends.
Once we went to Sargoda and stayed at the bank house there. Sargoda was very famous for its "red blood malta", and the bank house had a big orchard of the malta trees. The trees were full of fruits when we had gone there, and what a beautiful sight it was to see those trees full of the orange coloured maltas on them.
Apart from those Muslim friends, I had two very good friends from two local Sardar families there - Tej and Kaval. Tej's father was a very big land lord there. I remember the very big house they had on the outskirts of Lyallpur.
Kaval's family had a very big haveli inside the city. Her father was a big man, 'Sir' something, I am forgetting the name now.
Both of them were two years senior to me in school, but we became good friends.
After partition, I met Tej once in Delhi. I was not married then. Tej said her marriage was fixed in Saheb Singh's family, and Kaval was married to someone in Sir Sujan Singh's family. Very recently, while reading a book by Khushwant Singh, I came to know that she was his wife.
Some other very nice memories from those days are also there. I had my dog Bruno, a mixture of golden cocker spaniel and bull dog. We had a pair of white rabbits and their lovely little babies, a couple of ducks who used to swim in the canal in front of our house. Apart from all these we had about ten-fifteen hens. These hens used to roam around our compound the whole day and at sunset the gardeners used to lock them in a big wire net room, which my mother had got made in our kitchen garden.
Like this, there are so many things which, even after 75 years, remind me of my very happy childhood, with my parents and my siblings. I remember the servants who used to look after us. Our driver Daniel, our bearer Mohan Lal, our cook Madan Singh. The four gardeners, whose hard work used to make our big garden look so beautiful. The sweeper was a Sardar by birth, but sometime later in life had become a Christian. His daughters used to go to the charitable school, which also used to be run by the same Missionaries as ours. The sweeper (I do not remember his name), a smart looking middle aged man, used to tell us about his experiences in the First World War. He had gone all over the world when he was in the British army. Apart from Daniel, who was our favourite among all our servants, this sweeper was the other person whom all of us liked very much.
There was a bhishti also, who used to spray water all over our compound from his huge leather bag, which he used to carry on his shoulder. And above all, there was Sattarma, our maid. She brought up all of us, and was like a second mother. Though we all knew that my bhaiya was her favourite, she always looked after all of us with so much love and care. Whenever any of us did something wrong, she was always there to save us from our mother's scolding. Whenever we were ill, she was there like a loving angel to care for us. None of us will ever forget her. May god Rest her soul in peace.
We left Lyallpur in December 1943, and came to Kolkata. My father was posted there as agent of the Park Street Branch. Today, at the fag end of my life, most of these people are not with me, and I am spending my days alone with these happy memories.
I thank God Almighty for giving me such a happy and wonderful childhood to remember in my old age and make me feel happy.
______________________________________
© Pulok Chatterji 2018