My mother's instant rawa dhokla
Category:
Snack/main meal, spicy, Gujarati

I was not fortunate enough to spend time with either my paternal or my maternal ba (grandmother in Gujarati).
However, my daughters and niece were able to spend a reasonable amount of time with my mother when she came and lived with us in the U.S. after my father passed away. On the weekends, she would ask the girls what they would like for lunch. Most often the answer would be dhokla.
Traditional dhokla requires prior notice since there is a fermentation process involved. So, my mother created an instant rawa dhokla recipe. It replicates the  taste of traditional dhokla, but is compatible with the "instant" lifestyle of the U.S.
My mother has since passed away but her rawa dhoklas are a staple snack in our extended family as far as Argentina and Geneva, where my niece Trushna makes them regularly.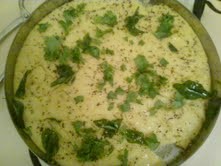 Picture courtesy Trushna
__________________________________________________________________________________
Serves: 4 as a meal, 8 as a snack
Preparation time: 30 minutes
Ingredients:
1 cup fine rawa (aka cream of wheat, semolina)
1 tbs. oil
2 coarsely grated carrots
Minced green chilies and ginger to taste
1 tbs. salt
Pinch of citric acid (optional)
1 cup of plain yogurt
1tsp. Fruit salt (ENO)
Red pepper powder to sprinkle on top(optional)
Tempering:
1 tbs. oil
½ tsp sesame seeds
½ tsp mustard seeds
Pinch of hing, few curry patta (optional)
Chopped dhania leaves (cilantro) and shredded coconut for garnish (optional)
Method:
Get the steamer ready by boiling about 2" water in a large saucepan and place a greased metal plate with a rim (thali) on a stand within and covering the pan.
Mix thoroughly the first six ingredients.
Make sure the steamer is ready. Then add the yogurt to the mixed ingredients, mix thoroughly and finally add the fruit salt (ENO). Stir well and pour the mixture immediately into the hot thali, and cover the pan.
Steam for 10 mins.
Remove from pan, sprinkle with red pepper (optional)
Meanwhile heat up the oil for the tempering in a small pan until smoking, add the mustard and sesame seeds (be careful for they will start popping instantly) and pour over the dhoklas. (can add hing and/or curry patta)
Cut them into small squares or diamonds and they are ready to eat with chutney or by themselves.
Sprinkle with dhania and/or shredded coconut if so desired.
Can be eaten warm or cold.
---
© Purnima Patel, USA, 2016