Champu Tai's Stuffed Brinjal Curry
Category:
Veg, Main Dish, Mild, Western Coastal Region


When I was 13, my father was transferred to Vietnam with the UN Peacekeeping Force, while my mother and I continued to live in a Cantonment town very close to the Pakistan border.
Shortly thereafter, the 1965 war between India and Pakistan broke out, and we were evacuated to New Delhi to live with Kamal akka, my father's sister. She had a cook, Martumam, who had been in her husband's family for years. In fact when Kamal akka got married, he came along, from her in-laws' side and ruled her house with an iron fist!
Martumam was an excellent cook\; whatever he cooked was absolutely delicious. He had two helpers in the kitchen to chop, grind, clean, etc. One of his rules was that I could not leave the dining table without finishing off all the food on my plate.
One day he made stuffed brinjals (eggplants in the US). I very reluctantly spooned it into my mouth, as I was not fond of brinjals (ugh!). Imagine my utter surprise, when I found this dish not only very palatable, but tasty as well.
Champu tai, the cook in Kamal akka's parental home in Baroda, taught Kamal akka how to make this dish. Kamal akka taught it to Martumam. Martumam taught me to cook this dish, and many other dishes as well.
As a teenager, I learnt my love of cooking from Martumam. He was already in his late 60s or early 70s when we went to live with Kamal akka. To this day, I still go back into my first recipe book to make some of the delicious dishes he taught me.
In India, you get baby brinjals, which are stuffed with various kinds of spices. Each part of India has its own style of making stuffed baby brinjals.
Serves 4-6
Ingredients
·
8 to 10 small oblong baby brinjals
·
4 -5 medium sized red onions finely sliced
·
2 tsp mustard powder
·
1 tsp chili powder
·
4-5 cups of chopped cilantro (green coriander)
·
Salt to taste
·
2 cups of thick coconut milk
·
4 tbsp oil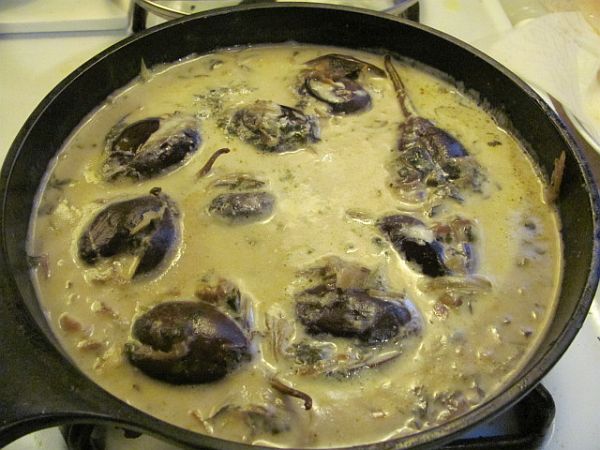 Champutai's stuffed Brinjal Curry
Method
In a bowl, combine the finely sliced red onions, chopped cilantro, mustard powder, chili powder and salt. Mix well together.
Wash the baby brinjals, and cut them in a cross fashion without cutting through to the stem.
Stuff the brinjals with part of the onion-cilantro mixture.
Heat oil in a wok or kadhai, and place the stuffed brinjals in the wok/kadhai, stem side up.
Place the remaining onion-cilantro mixture on top of the brinjals.
Cover the wok/kadhai and let it cook on a low flame until done.
Be gentle, while stirring as the brinjals must stay in an upright position.  
Pour the thick coconut milk to the wok/kadhai and let it come to a boil.
Serve hot with rice or roti.
________________________________________________________________________
© Preeti Gurung 2014