My family in Bannu and India
Category:

Author's note: I was born in India after Independence. Hence, all the information I have about Bannu, which went to Pakistan, is through what I have heard from my elders.
My grandparents' generation
My grandfather, Dr. Partool Chand Banga, practiced medicine in Bannu. He got his LMP (Licensed Medical Practitioner) degree from Agra in 1922.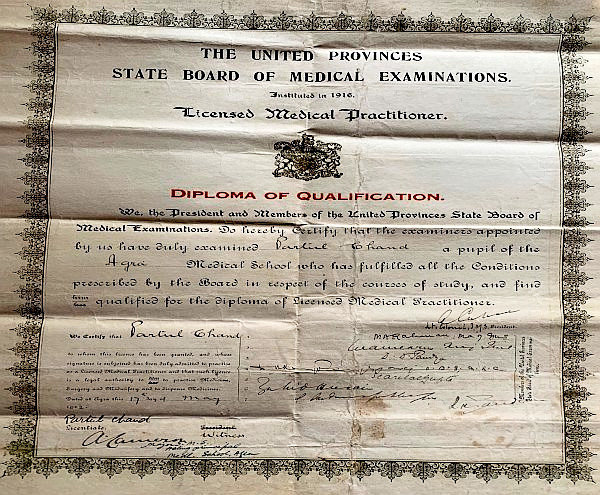 Licensed Medical Practitioner certificate for Partool Chand Banga, my grandfather. 1922.
My grandfather worked with his elder brother, Dr. Shiva Ram Banga, in Banga Medical Hall, Bannu. Dr Shiva Banga passed away on 12th August 1932 in a fire while saving a child in the Medical Hall. The Medical Hall was rebuilt after the fire, and was run by my grandfather. The Medical Hall was on main road, after which a right turn used to lead to Fudian / Chhataiwala muhalla (neighbourhood).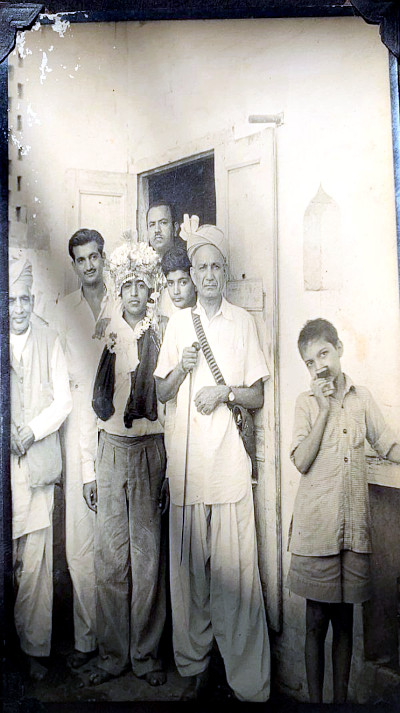 My grandfather on right with stick in his hand, Harbans Lal Banga (my uncle) second from left, Lachman Das Ratra (my father's maternal uncle) wearing Sehra. Bannu. Circa 1940.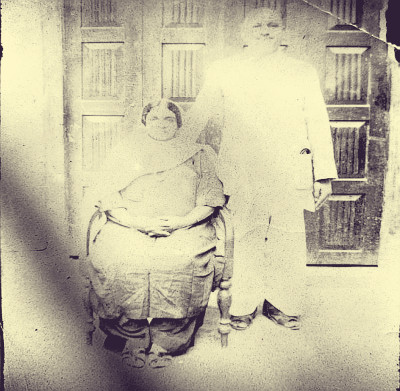 Partool Chand Banga, my grandfather, and Vidyawati Banga, my grandmother. Bannu. Circa 1935.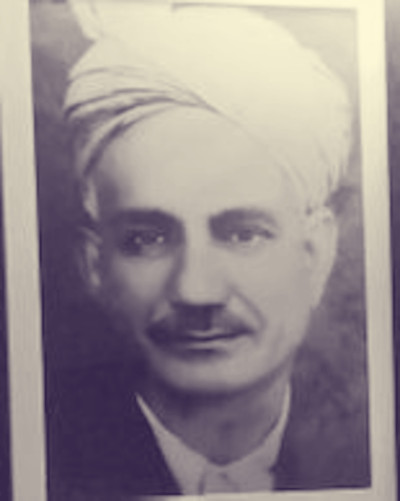 Dr. Partool Chand Banga, my grandfather. Bannu. Circa 1945.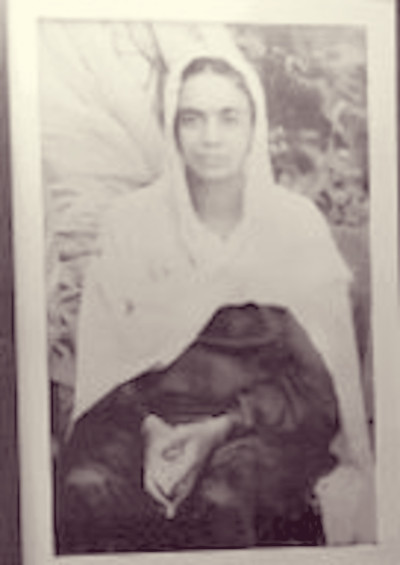 Vidyawati Banga. My grandmother. Bannu. Circa 1945.
As Independence came closer, Grandfather was not ready to shift from Bannu as his Pathan friends were assuring him that he would be safe. However, he moved with his family to India just before Partition. The train in which they were travailing was fired upon but the armed forces travelling with the train fired back, and most people were saved. Most family members moved only with the clothes they were wearing and nothing else – a few had a spare set of clothes. After moving of family members from Bannu, some documents etc. of our family were delivered by one of their domestic help at a later time.
My grandfather was given medical charge of Prem Nagar (Dehradun) camp, and he initially served in U.P. Later, he joined government service in Punjab, and was asked to open a health centre in Sirsawan. He became in-charge of that health centre.
My grandfather was later provided a property in Faridabad. After his retirement, he joined his cousin, Dr. Rustam Lal Banga, and they operated Banga Medical Hall in sector-1 Faridabad. My grandfather continued his practice there.

Prescription slip of my grandfather. Faridabad. Circa 1966.
I remember my childhood spent with my grandfather. We ate fried fish, and cold Ganderi (sugarcane pieces) in Faridabad. I remember walking with him in Tikamgarh, when I was in class 8. I never heard him say anything negative about Bannu and Partition. Grandfather used to read Geeta (holy book) printed in Urdu. I was told they had a big house in Bannu with a courtyard in front, and a separate room for keeping the fruit baskets/dry fruits in bags, to be consumed at free will.
Grandfather passed away in May 1968 at Tikamgarh, MP, where my father was posted then. The Medical Hall in Faridabad continued to operate through Dr Rustam Lal Banga (my grandfather's cousin) and later by his son.
My grandmother, Vidyawati Banga, in later days became a sadhu (saint) with the Anandpur Satsang Ashram, set up by the third padshahi (third in succession) of Adwaitmat Ashram, which originated from Bannu / Lakki, near Ashok Nagar in Madhya Pradesh.
My Nanaji (maternal grandfather), Mr Govind Ram Virmani, was a practicing lawyer in Bannu. After Partition, he shifted to Kingsway Camp area in New Delhi. He had 5 daughters - my mother was the third oldest. I only remember him passing away in 1967 due to cardiac arrest at Delhi.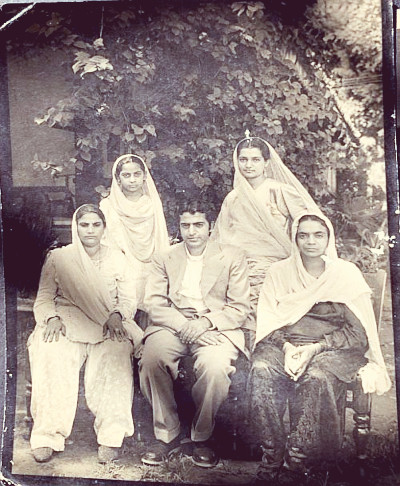 L to R: Front: unknown, my father's maternal uncle (Mama Ji) Lachman Das, my father's mother Vidyawati. Back: unknown, my bua Ms. Sarla now bhakti Premanand. Bannu. Circa 1945.
My parents' generation
My father, Bhagwan Das Banga, and my mother, Saral Prabha Banga were born and educated in Bannu. My father was the oldest in the family. He did his schooling in Bannu, and passed his matriculation from Victoria Jubilee Government High School Bannu in 1940. He did his diploma in Civil Engineering from Karachi in 1943, and joined service in Malakand Bannu. My parents lived there. They had a tonga (horse cart) for transportation.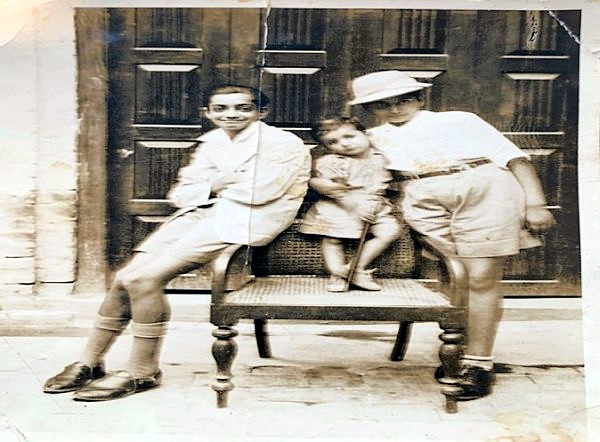 Three brothers. From L to R: My father Bhagwan Das Banga, Surendra Nath Banga, Harbans Lal Banga. Bannu. Circa 1936.
In this photo and a photo above of my grandparents, the main door of our Bannu home is prominently visible, but we don't know the exact address.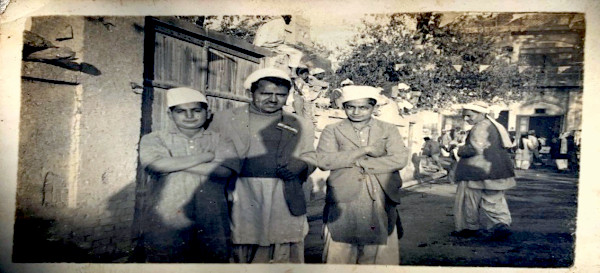 My father on extreme right in Bannu. No other information available.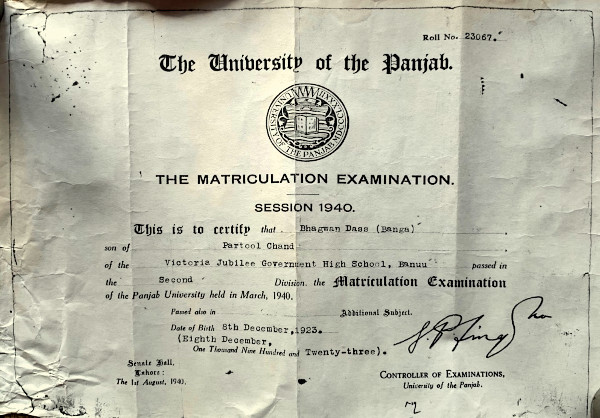 My father's Matriculation, Victoria Jubilee Govt High School Bannu, 1940.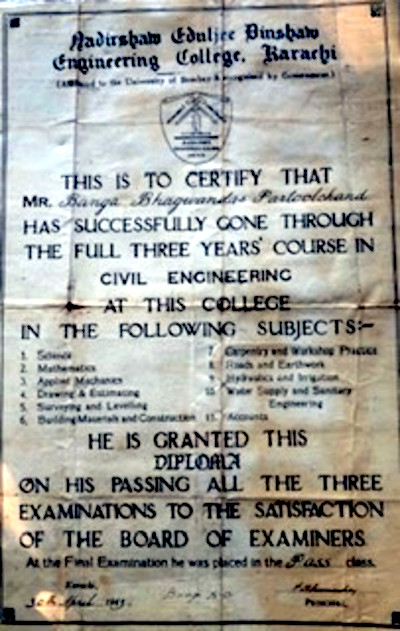 My father's Civil Engineering Diploma, Karachi, 1943.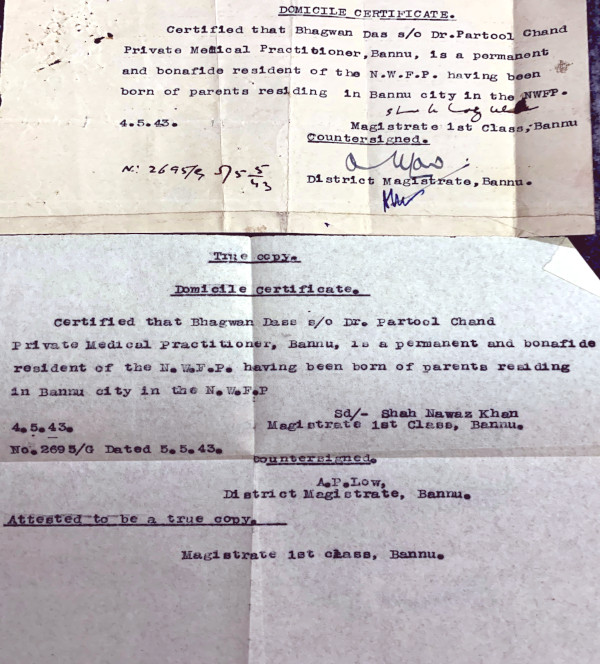 Father's Domicile Certificate, Bannu, 4th May 1943.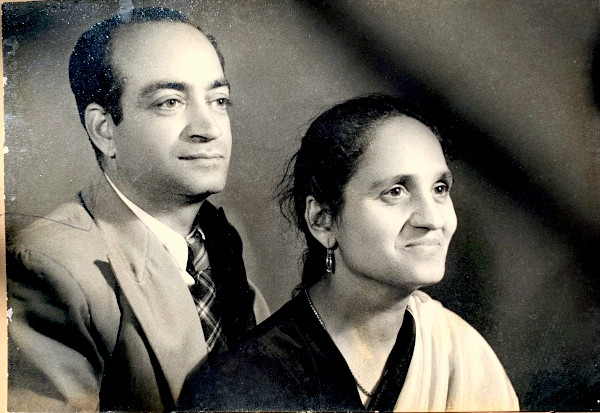 My parents. Bannu. Circa 1944.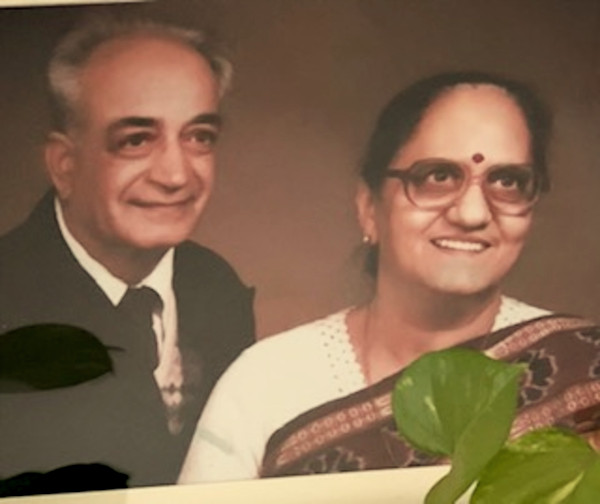 My parents. USA. Circa 1985.
After moving from Bannu in 1947, my father joined the Public Works Department in Madhya Pradesh (MP) at Jabalpur. The family moved with him to Narsinghpur, Chhattarpur, Panna, Tikamgarh, Bhopal, Durg, Rajnandgaon and other places in MP. He retired in 1981 as Executive Engineer (National Highways) and settled in Durg for some time. Later, along with my mother, he went to Sukhpur Charitable Hospital (Ananadpur Satsang Ashram) to look after his ailing mother (my grandmother) and eventually started honorary service in Sukhpur Charitable Hospital after his mother passed away in May 1989.
My mother was extending helping hand in the mess/kitchen of the hospital and other social activities. Both maintained good relations with doctors, their families and staff of the hospital.
My parents supported all of us (two sisters, two brothers) in bringing up our families. My mother particularly supported us in bringing up our premature son, whose birth weight was only 1.7 kg. Her efforts along with my wife could bring up the son to normal condition by the time he was three months old.
Father continued working in the hospital till 2004, and passed away on December 31, 2004 at Delhi. My mother continued her journey of life in Delhi & Durg, and left us on February 6, 2011.
My father had two brothers. One of them, Mr Harbans Lal Banga, retired from Indian railways. His other brother, Mr Surendra Nath Banga (84 years in 2020) remembers some things of Bannu, as he was 12 years of age when he shifted from Bannu. He retired from Bhilai Steel Plant, and we keep talking about Bannu at times.
My father had three sisters. One of them, Indu, passed away in her young age. The other two are sadhus with Anandpur Satsang Ashram, MP. They became sadhus at the age of 14 and 16, after coming from Bannu. They are now 86 and 88 years old. They live in New Delhi/ Chandigarh and Dehradun, where they manage a kutia (branch) of the ashram.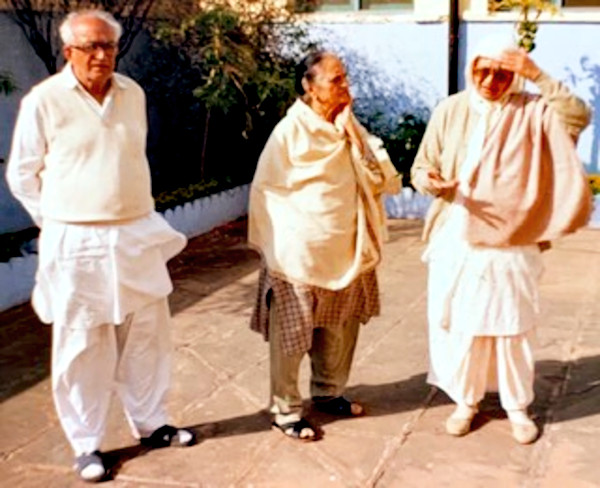 L to R: My father, my mother and his youngest sister (my bua) Bhakti Shantanand at Sukhpur. Circa 2000.
They too have some memories of Bannu. They remember their maternal grandfather (nana ji), Mr Nand Lal Ratra, who was very particular about cleanliness and was quite strict. His tea cups were washed and dried (by moving in air) so that cups were spotless. Their nani (maternal grandmother) use to serve him fresh and hot chapati (Indian bread). She would cook the next chapati only when Nana ji was about to finished the previous one, so that he would get piping hot chapatis.
My generation
We are four siblings - two sisters and two brothers. The eldest, Mrs Usha Kathuria, was born in Bannu in 1946, did her education and served in MP as a school teacher. She settled in Mumbai after she got married to late Suresh Kathuria. Her father in law, Dr Jaidev Kathuria. was son of Master Duni Chand Kathuria who was a strict teacher in Bannu and had even taught my father.
Next is my brother Cdr. Prem Kumar Banga, who was born in Prem Nagar (Dehradun) in 1949. He did his Mechanical Engineering from Maulana Azad College of Technology (now NIT) Bhopal in 1970, and joined the Indian Navy from campus itself. After he retired, became active in the acting field these days and is settled with his wife Preeti in Noida.
Next is my sister, Suman. She did her education in MP and practiced law in MP before settling in USA after her marriage. She got married to Mr T N Batra, whose family came from Bannu. His brother, Mr Vijay Batra, wrote an article: https://www.indiaofthepast.org/vijay-batra/life-back-then/suffering-part....
I am the youngest and married to Anju (Khosla). Our marriage was solemnized in Jabalpur in 1984 by the same pandit who had solemnized marriage of my parents in Bannu (what a coincidence).
My education started from Chhatarpur, MP, and continued at various places in MP. I graduated in Mechanical Engineering from Maulana Azad College of Technology (now NIT) Bhopal in 1977 and joined the Steel Authority of India Limited at Rourkela Steel Plant in May 1978 and was posted in Construction/ Project Department. I worked on various projects like Naphtha Reforming Plant, Silicon Steel Mill, Power Plant, Oxygen Plant and Continuous Casting Shop before shifting to Bhilai Steel Plant in October 1999.
While in Rourkela got married to Ms Anju (Khosla) in 1984 who had just finished her MA (Psychology) and Law. She continued playing a supporting role rather than taking up any job. She started pursuing her interest in dress designing from 1990 (after children started going to school) and continued with her hobby of gardening. She is continuing with her activities as of now.
My experience in steel plant continued in Marketing, IT project (ERP- SAP) and Materials Management. I had a brief stint at Bokaro Steel Plant before shifting back to Bhilai Steel Plant and finally retired from Materials Management Department in December 2015.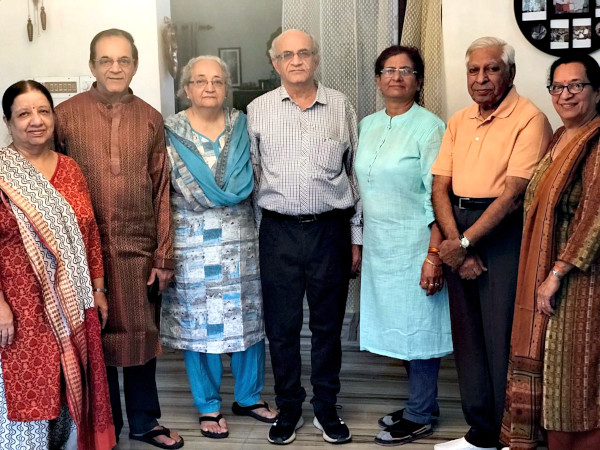 From L to R: Preeti Banga, Prem Banga, Usha Kathuria, Pradeep Banga, Anju Banga, Tribuvan Nath Batra, Suman Batra. Durg 2018.
My wife and I are settled in Durg (erstwhile MP now Chhattisgarh.) Our son Ashish did his LLM from Boston and is working in Abu Dhabi. Our daughter Akanksha did her MDS from ITS Ghaziabad and is practicing Dentistry and now living in Bangalore with her husband Aditya Saigal (working with ANZ Bank).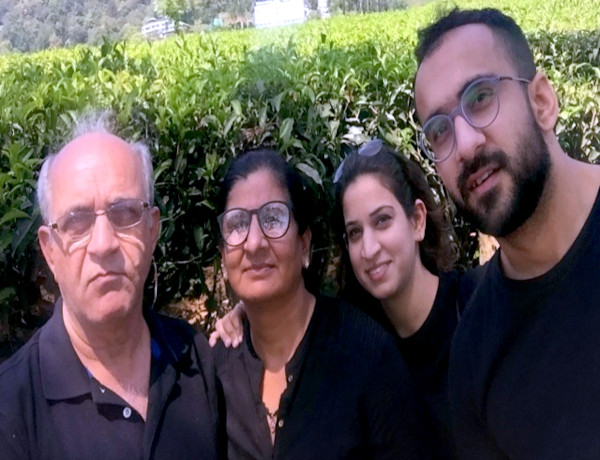 Myself, Anju, Akanksha and Ashish.
We remember some dialect/words of Bannu which our parents used and we speak those words now occasionally. A compilation of those words and their meaning is shown below (I am not sure that these are still in use in Bannu and they mean the same) and would love if people reading this can correct/add words to the list.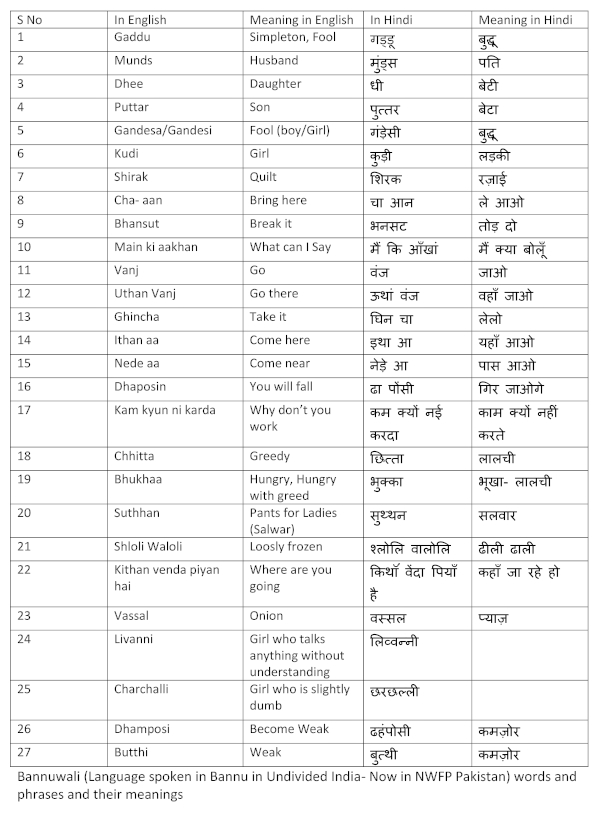 Bannuwali (language spoken in Bannu in Undivided India, now part of NWFP, Pakistan) words and phrases and their meaning.
Looking back, we see a contended life despite the ups and downs faced by our parents. We thank God for seeing us through till now. It is said "Ja ko Rakhe sanyian maar sake na koye (No harm can be done on whom God has the blessings)". Also teaches us to "take the life as it comes".
_________________________________________________________
© Pradeep Banga. Published August 2020.