Playing handball
Category:
I joined St. Xavier High School, Jaipur in 1957 in Class Prep B, and left in 1966 with the Indian School Certificate high school graduate degree. The school Principal all these years was  Reverend Father R. J. Pereira, S.J. (Society of Jesus.
I enjoyed my school days thoroughly.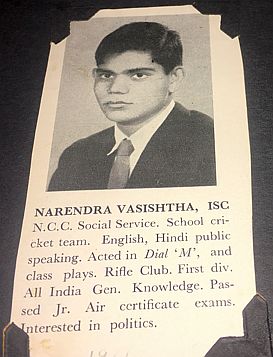 Narendra Vashisth - from a school magazine. 1966.
ISC - studied for Indian School Certificate degree
N.C.C. - participated in National Cadet Corps activities
Social Service - participated in activities to help poor people
Dial M - School production of Dial M for Murder
First. Div. All India Gen. Knowledge - high score in national general knowledge test
Passed Jr. Air certificate exams - a typo\; did not do this
One part of the fun was playing handball - American handball, one-wall style.


One-wall handball court with two games in progress. Source: http://bit.ly/2hap8CF
In the 1960s, St. Xavier School had four good handball courts. They were located behind the school canteen and our Senior Boys Lounge room. The photography dark room, the hostel dining room, staff quarters, and cycle stand were all nearby.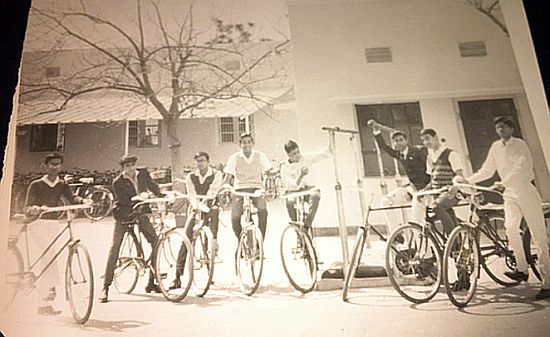 Some of my classmates in St. Xavier, Jaipur.
L to R:  R. S. Rao, Madhusudan Birla, Subodh Mathur, Shantanu Consul, Gautam Sharma, Surajit Sanyal, Kamal Shivpuri, Harshwardhan Chauhan. St. Xavier School Jaipur, Oct-Nov 1966 or Feb-Mar 1967.
Photo was taken by Mohan Lal Tank, and also developed by him in the school darkroom. He was learning photography then. I was assisting him.
I remember that Fr. Issac, our maths teacher, Br. Sebastian, and Mr. Anand Singh Junia, our football coach, lived in the staff quarters.
During events such as school fairs, stalls for pistol shooting, ringing the articles, gas balloons, ice cream counters, etc. were put up on the courts for a day.
We learned to play handball by watching our seniors play - there were no coaches. We played handball during class intervals, after classes, school holidays, weekends, and during summer holidays. In other words, whenever we could!
(Subodh, you may remember that many a time, we used to cycle together to school to play, and you used to bring your younger brother Satish, sitting on your cycle's front handle bar.)
To play handball, I used to bring my tennis ball hidden in my school bag. Buying a tennis ball for me was tough those days just because I had no money. I used to save money given to me by my mother for going to school in a rickshaw. Rickshaw fares then were 10-15 paisa one way. A 25-paisa coin was a luxury to me then. I used to walk to school, instead of going by rickshaw, to save money.
We played even during the intervals between classes, when we had 10-15 minutes off. Many times, we would remove the fur from the new tennis balls during class time to save playing time. I used to rub the ball on the court floor to remove the fur /cover. The ball would then become soft.
At times, we would bet on who would win. Since the canteen was just 20-25 steps away, the stake in the bets were things like a pastry, an ice cream or cup. More expensive bets were a glass of mango juice at M I Road opposite Niros restaurant.
Many of my classmates were good talented players. Let me name just the better players: Alok Purohit, Shantanu Consul, Virendra Singh 'Laddu', M. L. Tank, Kamal Shivpuri, Yogi Durlabhji (one class ahead of us), and Upendra Mishra.
Yogi and I had many encounters on the courts. He was very much impressed by my suttas, which was one of my favourite strokes. In a sutta, I used to hit the ball so that it landed at the bottom of the handball wall. Then the ball would rebound flat all along the court floor. It couldn't be picked easily. Fingers, nails, palms could be injured easily, trying to get at the ball.
A sutta was like an ace in tennis. I had practised hard at hitting suttas and corner services. Corner services were also difficult to return. Yogi still remembers me for my suttas and corners.
Handball is a tough game. There's lots of running. Palms get swollen up due to constant hitting. They become tender, and often need cold compresses. Those days ice was not easily available. No fridge at home. The school canteen had a deep freezer but I felt shy in asking for ice.
The school has annual handball tournaments, and the winners got trophies. Alok and Upendra were frequent winners.
My classmate Subodh's older brother, Subhash Mathur, recently told me that he remembered playing against me on a tournament match. Sure, I remember it. Though he was a senior experienced player, I was confident that I would win. Still, I put in some extra practice with my friends. Subhash did not give in easily. But, as I remember, he did not have good corner services or suttas. His returns were good but not angled. He couldn't return balls flying out over the sidelines. I could do angled, corner services and suttas. As he was older than me, Subhash got fatigued early. I won. Subhash says that he remembers that I went on to win the Gold Medal. Sadly, no. I lost in a subsequent match.
I would love to play handball once again but, alas, the old Xavier courts are gone. They were demolished to add new classroom buildings. New handball courts have been built at the Sports complex behind Father's Quarters, but it's not the same for me.
______________________________________
© Narendra Vaishth 2017