My mother-a devoted teacher
Category: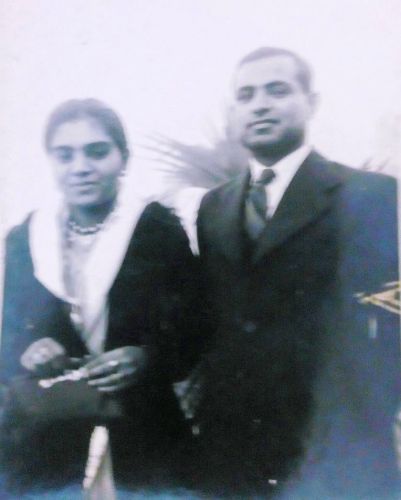 Savitri Hooja Kathuria, my mother, and Jairatan Kathuria leaving Lahore for Karachi shortly after their wedding in March 1942.
My mother, Savitri Hooja Kathuria, was a teacher. Well all parents are teachers-the first teachers a child has, before the schoolteachers step in. But my mother WAS a teacher - a real one - not only mine, but a teacher by profession - and a strict one at that! Born in the early part of the twentieth century [1918], to Shri Govardhan and Lajjawati Hooja, both of whom belonged to Arya Samaj families and were educationists, it was natural that she would be educated, even though female education was rare in India at that time.
She was born in Delhi, where her father was teaching at Ramjas School. Her mother had studied at Jalandhar Kanya Vidyalaya, before her marriage. Later, Shri Govardhan shifted to Dera Ismail Khan, to continue his career as a teacher in his home district. It was here that he suddenly passed away in 1928 at a young age of 46,leaving behind his widow and five children, the eldest twelve and the youngest not yet two years old. My Nani was 32 and my mother was 10 years old.
The family now shifted to Lajjawati's parental home in Dera Ghazi Khan (DG Khan), a town in Punjab, situated on the west coast of river Indus.
Lajjawati was in a state of extreme depression and used to get hysterical fits. The grandparents and the extended family were caring for the children. Savitr, soon passed her eighth grade, and her schooling seemed to be over. There was no school beyond this class in DG Khan!  Relatives and well wishers of the family were of the opinion that she should now learn household chores, and then be married off! The pressure was great. After all, she was a fatherless child, and her mother had still not got over the loss of her husband. There were so many younger children to be cared for.
My mother would not have any of this! She wanted to study further, and made her intention clear. But no one seemed to take her seriously. This was the time when Mahatma Gandhi was leading the struggle for India's independence.  There were processions and anti-British rallies all over the country, including DG Khan. Lajjawati had started participating in these rallies, leading the women in DG Khan. Her older children, Balbhadra and Savitri would also accompany her sometimes. Satyagrah and fasts for the cause of independence were common. Perhaps it was this wave that gave my mother the idea, and she went on hunger strike! Her demand -continuation of her education! I don't know how long this lasted, but in the end it had the desired effect, and her maternal grandfather [Shri Jeevan Lal Nangia] decided to send her to Kanya Vidyalaya, Jalandhar, to continue her education.
Kanya Vidyalaya, Jalandhar, was a residential school, dedicated to girls' education.  It was started in 1890 by Lala Dev Raj and Lala Munshi Ram, both Arya Samaj activists, to promote women's literacy and education, so as to make them self reliant and independent. It was perhaps, the only non-Christian girls' educational institution in north India at that time. It had its own textbooks and gave its own degree. The atmosphere in the school was full of patriotic zeal with the regular hoisting of the national flag, singing "Vande Mataram", and spinning charkha. The girls and staff wore only khadi dresses. This school went on to become a trail-blazing icon in women's education, later metamorphosing into a college (Jalandhar Kanya Mahavidyalaya) offering a wide variety of courses.
My mother's entry to the school led to all her younger girl siblings and cousins following suit and joining Jalvid [as my mother called it], in later years. All attained the highest education possible and went on to excel in their chosen careers. My Nani, Lajjavati, had earlier been a student of this school, and she was also given a teaching position in the school. She was thus able to independently support her family.
After graduating from the school, my mother went to Lahore to pursue higher education. She did her BA from Fateh Chand College, Lahore in 1937 and then BT [today's B Ed] from Lady Maclagan College, Lahore in 1938 (both University of Punjab). After this she took up a teaching career in Karnal, Punjab. This was interrupted for some time when she shifted to Karachi after she got married to my father, Shri Jai Ratan Kathuria. Those were troubled times, and the future uncertain. During this period Lady Montessori visited Karachi and held a training course in her teaching methods for small children. My mother took advantage of this opportunity, and got a diploma in Montessori teaching in 1946.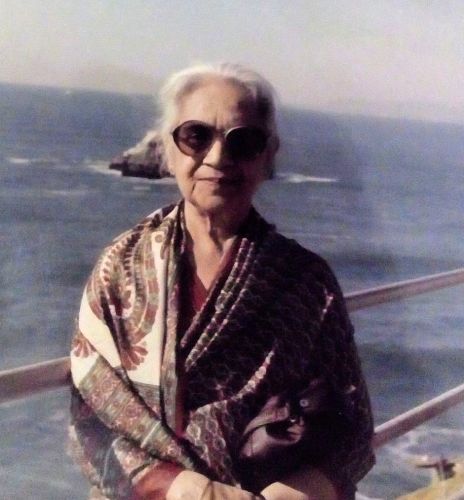 Savitri in UK 1988.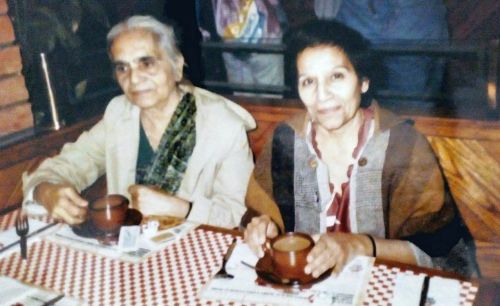 Savitri, left, with her younger sister Dr. Chandra Hooja Sayal in UK 1988
Achievement of Independence from British rule in 1947 was a great event for India, but it also brought about a partition of the country. Karachi went to Pakistan. My father, who was an official in the Post and Telegraph Department, opted to continue serving the Indian Government. Consequently, the family shifted to Delhi. After a long gap, my mother again took up her teaching career in Delhi Administration schools. For some time, she also taught in the newly established Kendriya Vidyalaya in Jaipur.  Her students remember her as a strict disciplinarian, hard taskmaster, but a great teacher.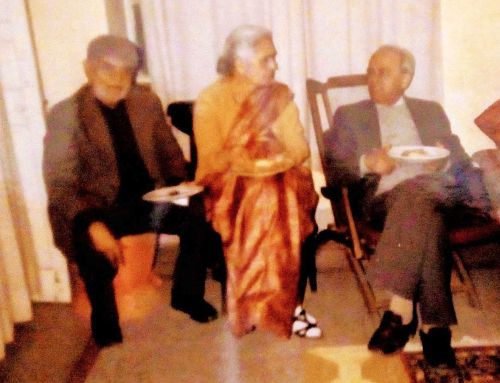 Savitri, (centre), with her elder brother (left) Shree GBK Hooja and younger brother (right) Shree B Hooja in her home in Jaipur. 1990.
My mother's one regret was that she had not done her MA. Perhaps this is what made her determined that her daughters should attain the highest education possible in their chosen fields.
Some time back, I happened to meet a lady who lives in England, and teaches English there. In the course of a conversation she mentioned that she was a student of Kendriya Vidyalaya, Jaipur. She reminisced about a great English teacher she had in school. "When teaching, I always remember her and her emphasis on grammar. It is due to her teaching that I am confidently teaching today," she said. I asked her the teacher's name. "Mrs. Kathuria" was the reply!
It was a proud moment!
____________________________________________________
© Mira Purohit 2018
Editor's note: I approve all comments written by people\; the comments must be related to the story. The purpose of the approval process is to prevent unwanted comments, inserted by software robots, which have nothing to do with the story.