A Wedding Remembered
Category:
It was early 1950. We were living in Daryaganj, Old Delhi. There was a knock at the door (there was no doorbell). I ran to see who it was. A saree clad elderly lady stood there. She was carrying a packet. I didn't recognize her, but folded my hands and said 'Namaste', anyway.
'I have come to meet Savitri. Is this the correct house?' she asked.
Savitri was my mother. I called her, and she introduced herself.
'I am Mrs. Joseph 'she said. My daughter Usha lives in London. She is getting married to your brother Bhupendra Hooja.
This was my would-be aunt's mother, and she had brought sweets as shagan!
I was not yet seven at that time. I remembered only two family weddings. The memory of the first one was very faint. It was before we shifted to Delhi from Karachi. It was the wedding of my mother's mausi's (my maternal grandmother's sister) daughter Raj's wedding. We had gone to Bajwara, near Hoshiarpur. I didn't remember the journey. But there is a picture of great hustle and bustle in my mind. What I remembered most was an upstairs room which was filled with savouries and sweets. These were served at various meals. Also, packets were filled with these, and stored. Later, these were given to the guests as they departed.
Ever one was busy doing something or the other. The youngsters were given the task of decorations, and I tried to help them. Small jhandis (triangular flags) were cut out from coloured kite paper. These jhandis were then stuck to sutli (twine) with layee (homemade glue). There were lots and lots of jhandis. When they were ready, they were hung up across the path leading to the house.
Then, of course I remembered the groom approaching on a horse!
The second wedding in my memory was that of my father's younger sister, Laj. Her engagement had taken place in Karachi, a few months before the Partition of India. There had been great rejoicings. A shamiana (tent) had been put up on the terrace of our house, and there had been music and dancing.
Then we shifted to Delhi - Karachi had gone to Pakistan. The wedding was postponed due to the upheaval. It took place in October 1948, and my memory of this was clearer. Preparations started long before the occasion. The bride's dowry had to be got ready. New clothes were stitched for all the family members.
The groom's family had a business in Karachi, and they had opted to stay on in that city (at that time no one thought that the relations between the two newly born nations would remain strained forever!).The groom and his family travelled to Delhi for the wedding. My aunt would be going back with them. So, in spite of the festivities, there was sadness too.
A shamiana was put up in an empty plot across the lane from our house. The baraat came, with the groom on horseback. He was preceded by a band. The ladies were all dressed in shimmering sarees. Their jewellery glittered. I was excited, and flitted around, feeling very grown up in my new garara suit!
My sister Madhu was only a few months old. She had been put to sleep in a neighbour's home.
The  vedi had been put up in our courtyard. Decorated with buntings and flowers, it was very pretty. The pheras were to take place here, later in the night. I was sleepy, but refused to go to bed. I couldn't possibly miss the actual wedding. My mother promised to wake me up for it. Satisfied, I went to sleep.
When I woke up in the morning, the wedding had taken place, and the doli had already left with my aunt!
Now, there was to be another wedding. I was so excited, determined not to miss this one. After all I was older now!
A few days later, Mataji (my maternal grandmother, better known as Mata Hooja. Read about her here) arrived. My mother accompanied her to the Joseph residence at Mori Gate, Delhi to reciprocate the shagan with sweets and fruits. My sister and I went with them in a hired tonga.
The house in Mori Hate had a small courtyard, as did most houses in those days. Surrounding this was a verandah, in which sat a wooden rocking horse! My sister was really fascinated by this. Of course, she rode it, not wanting to leave this house!
Time passed. But there were no preparations for the wedding I was so looking forward to. I was bewildered, and kept asking my mother as to when it was going to take place. At last, she mentioned a date, but still no activity! At last I asked her when we were going to the wedding. To my disappointment, I was told that the wedding was to take place in London. It was too far away, and no one was going!
Then the day of the wedding arrived. It was registered in the morning, and later in the evening an Indian wedding was to take place. In those days, an Indian wedding ceremony was a novelty in London, and there must have been excitement amongst the couple's friends.
My mamaji (maternal uncle), Bhupendra Hooja, worked for the BBC in London.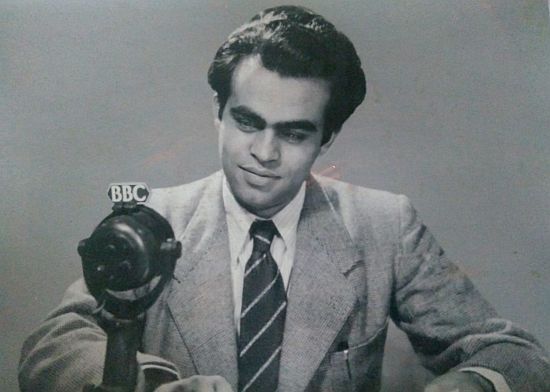 Bhupendra Hooja. London. 1940s.
So a colleague was going to give a Aankhon Dekha Haal (running commentary) of the proceedings, and this was going to be broadcast over BBC. My mother told me that this would be just like seeing the wedding itself!
Sadly, in those days, so soon after relocating to Delhi after the Partition, my family did not have a radio. Fortunately, our next door neighbours had one. Hence, at the given time, our whole family trooped into their house. All of us maintained pin drop silence, and kept our ears glued to the radio so as to not miss a single sentence. What a contrast to the noisy weddings I had attended earlier!
Sometime later, we received a large photograph of the couple. They were standing on the steps of the registry office, and they made such a pretty picture together! This was the first time I 'saw' my Usha Aunty!
This photograph was framed and found pride of place on our mantel piece.
A couple of years would pass before I finally met my lovely and loving mami (Usha) when the 'newlyweds' visited Delhi, along with their toddler son Rakesh!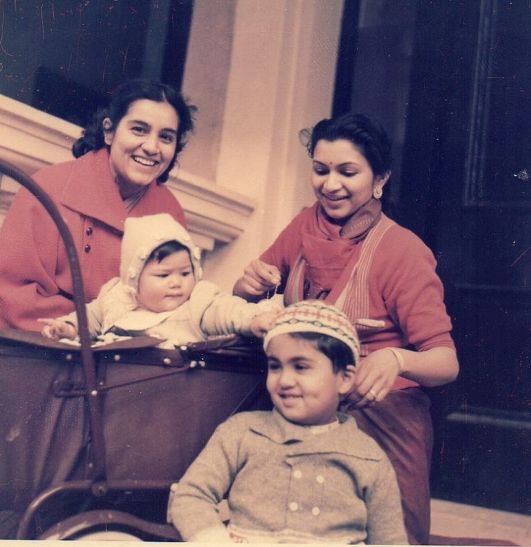 Back: L to R: Chandra Sayal (Bhupendra Hooja's sister), her daughter, Anu in pram, Usha Rani Hooja
Front: Rakesh Hooja. London. 1953.
____________________________________________________
© Mira Purohit 2018
Editor's note: I approve all comments written by people\; the comments must be related to the story. The purpose of the approval process is to prevent unwanted comments, inserted by software robots, which have nothing to do with the story.