My father's gardens
Category:
In our childhood and early adult years, we lived in a succession of Barrack-type Army bungalows in diverse Cantonment towns such as Allahabad, Poona and Alwar. As my father ascended the rank hierarchy, we graduated to more modern duplex houses with garden spaces at Tenga Valley in Arunachal Pradesh and lastly at Bhatinda in Punjab. The common thread through all these residences spread over various corners of our large and beautiful country was the presence of verdant and fragrant gardens due to the efforts of one member of our family - our father.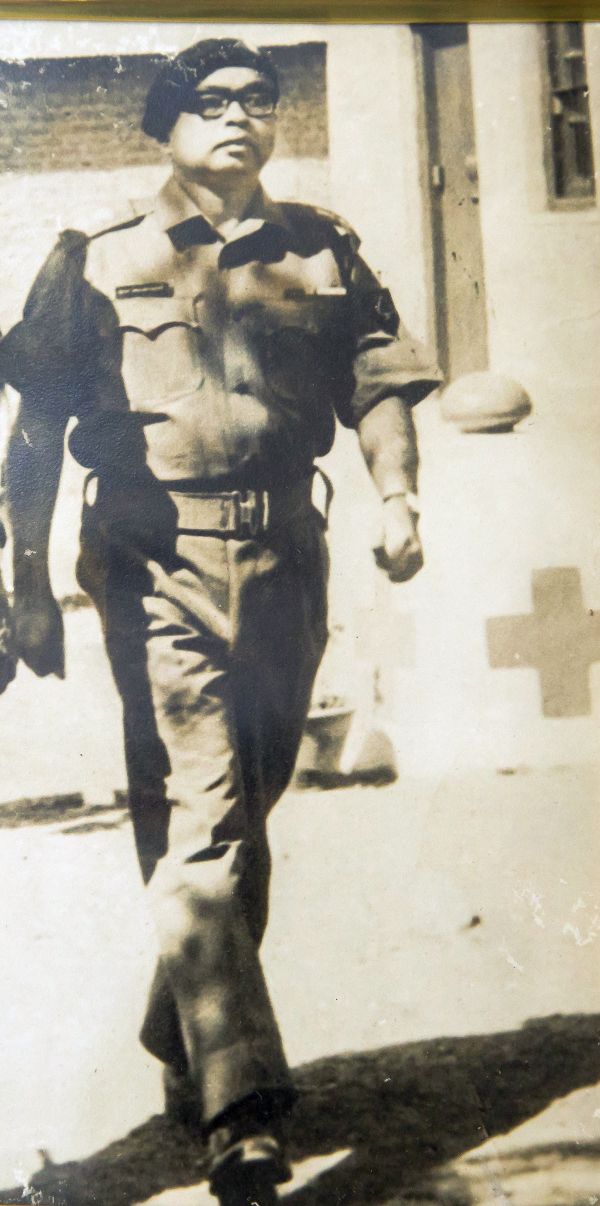 Brigadier C.H. Majumder (Lt. Col. at that time) at Nowshera, Jammu and Kashmir, 1971.
So engrossed were my siblings and I in our pursuits that we failed to observe (and appreciate) the methods and hard toil (not necessarily physical) that produced the colourful gardens that we considered as a given. Since Daddy was in the Army Medical Corps, we did not have much 'help' from the Unit (Army organization where he was posted) in terms of manpower to do the actual physical work. So it was the ubiquitous mali (gardener) and Daddy as the 'inspirer' whose efforts bore fruit ... quite literally!
In Allahabad, a famous pilgrimage town (on the fabled Gangetic plain with its rich, alluvial soil) where Daddy was posted in the 1960s, he did not have to do much ... plants erupted and grew in natural fecundity. In winter, our garden was a flowering Paradise of winter annuals ... Dahlias, Snapdragons, Phlox, Nasturtiums, Pansies, Marigolds, Candytuft, Chrysanthemums and Asters. The Roses, of an Indian variety, bloomed so extravagantly that the leaves of the plants could not be seen. It was a scene out of Midsummers Night's Dream ... for sure, fairies and elves danced in our flower beds at night while we slept!  I also remember the many -hued butterflies that visited the flowers for nectar. Alas, my sister Mridula, now ardent butterfly-watcher, was not watching butterflies at that time!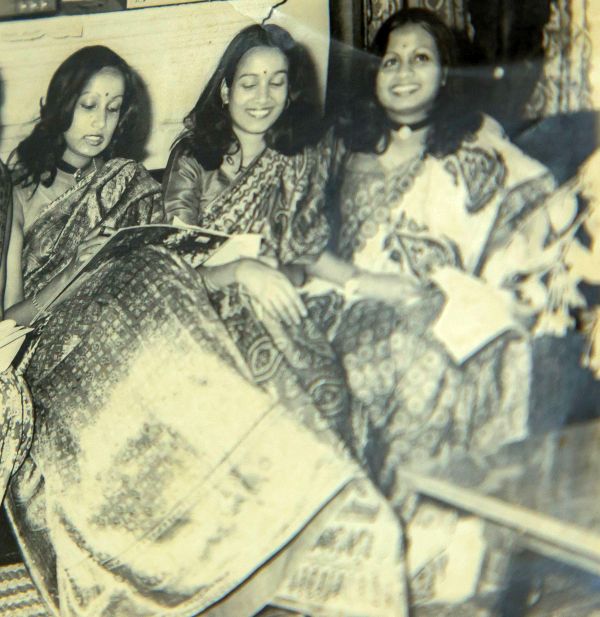 Children of Brigadier and Mrs Majumder - Manjula, Mridula and Sharmila at Alwar, Rajasthan, 1975.
Ditto for our vegetable patch in the backyard. Tomatoes, Brinjals, Bottlegourds, Cauliflowers and Cabbage grew in such profusion that we had to give away most of this bounty to our neighbours. I remember the Bean creeper which was growing near our back verandah, weighed down by clusters of large, flat, purple-green Beans, the taste of which I have never forgotten!
The vegetables that were grown were never the exotic ones such as Broccoli, Lettuce or Zucchini. Daddy grew what we ate every day and what millions of Indians were eating those days - tomatoes, onions, baingan and cauliflower. These vegetables inevitably made their way to our dining table and to the houses of our hapless neighbours. Simple, no-frill veggies, like the man, himself ... simple and unpretentious.
For this story, I asked my mother as to how Daddy got such great results! Nowadays, we have much garden related information available to us. Plant nurseries have mushroomed in towns and cities selling plants, seeds and ready to use composts. Yet, we STRUGGLE- seeds do not germinate, plants are not so healthy or the flowers do not bloom as profusely. We have never come across a tome on Gardening in our house nor did Daddy ever consult one.
My mother feels that most of his methods were simple and time- tested, which were stored in his memory from his farming heritage and into which he delved to utilise whenever he felt the need. He sourced his seeds from Kolkata (Sutton's?) and grew his own saplings which he transplanted into neat, well-laid beds. When the flowers bloomed, he selected the colours we liked (maroons, reds, oranges and yellows) and got his seeds from those plants.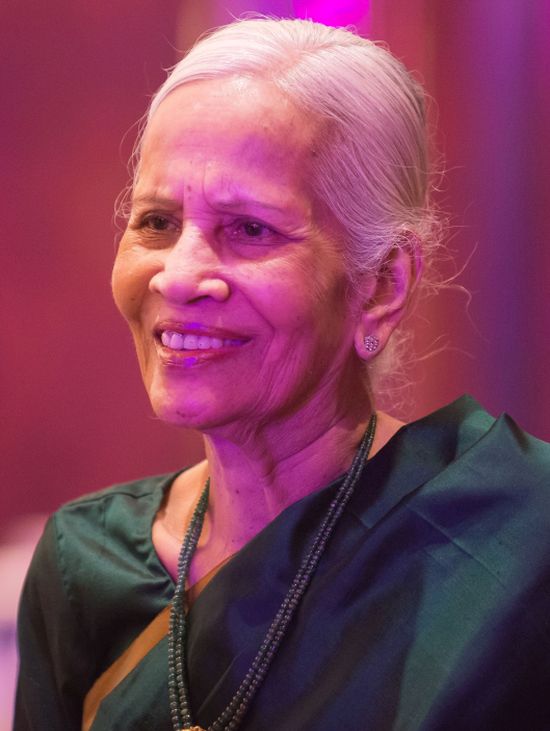 Mrs Dipali Majumder, wife of Brigadier Majumder.  Poona. 21 January 2018.
The seeds were allowed to dry naturally on the plants and later dried again after they were retrieved from the plants once the flowering season was over. Daddy put the seeds in neat, brown paper packets, wrote the names of the plants on the packets and stored them away for the next season in cool, dry shelves. Seed maintenance was a top priority for him.
What did he feed the plants that they grew so abundantly? He used dry gobar (cow dung) which was available in plenty and at reasonable cost at the RVC (Royal Veterinary Corps) Units and Military Dairy Farms that were a part and parcel of most Army Cantonments in those days. He was not particularly fond of usage of Urea and phosphates - maybe they were not readily available in the 1960s, 1970s and early 1980s as they are now. So, it was his practice to put dry gobar in the flower and vegetable beds which made the plants flourish.
Daddy was not a believer of the use of pesticides. My mother recalls that he used Neem leaves that had fallen to the ground. He dried them and powdered them for mixing in the soil around the plants. I do remember that kitchen ash was sprinkled on the Aubergine (Brinjal) plants to keep the pests at bay. The ash was from the kitchen chulha (cookstove) in the hoary, pre- gas burner days!
These simple, rustic methods were, no doubt, used by our farmers before they were 'invaded' by all things chemical. When the word organic was not in vogue, my father used natural methods to create magic in the gardens he nurtured under his care, thereby ensuring that his family was surrounded by all things beautiful and natural so that they could grow in health and happiness.
______________________________________
© Manjula Mathur 2019