Growing Up in Small-town Rajasthan
Category:
It's transfer time! 1946-57
My father was a civil servant in Rajasthan, who was transferred frequently in the early part of his career. So, as children (six brothers and two sisters) we never stayed in one city for more than four years and in some not even for two years. Between 1946, from where my memory starts, until 1958, when I started to go college, we lived, in succession, in Alwar, Bharatpur, Alwar, Udaipur, Jhalawar, Bikaner, and Ajmer, all in Rajasthan. It is often said that children suffer from transfers because each time they move to a new city they face a new school, a different way of teaching, new classmates, new books, etc.
Fortunately, I do not remember suffering in my school performance from these transfers\; instead, I can clearly remember having enjoyed the transfer upheavals.
The transfer news was always a big shock/event and it changed the family life like an earthquake. Mummy always had to do the biggest share of the work for transfers. We children were of no help to her and did not take part in any serious activity. A lot of food and snacks were cooked in preparation of the journey and packed in various boxes, so that we hardly ever bought anything at the train stops.
The journeys were for the most part by train. The railway authorities would set aside two or more coaches for our family, and we established a temporary home in them. The coaches had to be attached to different trains until we reached our destination, because there were no direct train between the cities, we travelled. The coaches would be detached from our first train at some major railway junction, where we would wait for a long time, until the next train to our destination came along.
Our longest trip must have been between Jhalawar and Bikaner, and it definitely was associated with a long stop at least at one railway station. During the stops, our coaches would be parked on a side track, and we would get a chance to get out of the train and inspect the surroundings, i.e., do some mischief.
It must have been on one of those occasions, when I got a chance to travel on a trolley, which runs on the railway tracks and is used to inspect them. If I remember it correctly, a man pushing it from behind brought the trolley to a high speed. Once the trolley reached a high enough speed, the pusher jumped on to the trolley, the trolley kept on rolling for quite some kilometres before it had to be pushed again.
The trolley was a small open cabin with no roof, about one metre in height, in which three persons could stand, tightly squeezed. Most likely, a railway officer accompanied us on this excursion. Travelling at a high speed in an open cabin on a rail track was great fun for me as a young boy, and that is why I still remember it, although it happened more than 50 years ago.
In those days coal-fired engines pulled trains, and we used to be coated with coal dust before reaching the destination. Still, we could not resist leaning out of the windows to watch the passing scenery.
The transfers were like adventures. The size and structure of our family was such that there was no chance of getting bored. Rather we had all sorts of excitements at a high pitch.
On reaching the new city, we had the next thrill of inspecting every nook and corner of the new house and its garden!
Our family house in Alwar 1947-48
The old city of Alwar is built in a chaotic way – much like most other Indian cities. The city centre is crammed with unplanned clusters of houses in assorted sizes, shape and design. The roads and maidans (open grounds) accommodate themselves in spaces where, it seems, that by chance no houses have been built.
Our ancestral Alwar family house was in the middle of the old city, and therefore a drop in the ocean of houses forming a cluster called Munshi Bazar. We moved into this house in 1947, when I was barely five years old.
The building consisted of two houses that had a common entrance and surrounding high walls. The two houses were connected by a big unpaved courtyard, in which there was a lonesome tree. The house on the right hand side was used for the family to live in. In the left hand side house, Daddy's mainji (aunt) occupied the upper floor, and Daddy, who was Collector and District Magistrate of Alwar, used the ground floor as an office and (baithak) meeting room for visitors.
This room had fans of the old Indian style. Such fans are made of a heavy cloth almost as wide as the whole room and hanging about 1 meter down from the ceiling. They are attached to hooks in the ceiling with ropes, so that the whole cloth moves backward and forward when pulled with the rope attached to the fan, usually done by a servant sitting on the floor. The fan creates quite some wind in the room. It is a tiring job for the puller but very effective for the gentlemen sitting in the room. There were no chairs\; people sat on the floor on a carpet.
Another attraction of this room was that it had a cellar. There was a small wooden cover, which when removed, opened the way to a flight of stairs. I cannot recollect if there was any window in the cellar. Maybe we were using a torch or a candle to overcome the darkness. The cellar was not used as a store for foodstuff, but was rather designed for keeping stationary, old files, etc. I remember that we, i.e. myself and my brother Prakash, who is two years older than me, and called 'Titi' in the family, used to slip down the cellar's steps without taking any one's permission. We must have been very happy to come out undetected from that dark vault.
Scorpions were a regular feature in our house, especially in the shadowy wet area where the matkis (earthen water pots) were kept. The walls were made of stones with a thick layer of plaster - no cement was used. Out of the cracks in the walls, big scorpions would emerge every year during the monsoon season. Whenever we children sighted a scorpion, we announced the scorpion with a loud cry. Everybody would come running and a servant would then catch and kill the scorpion.
Dadi (grandmother) occupied the entire upper floor of that house. This floor was of lesser height than normal\; some grownups had to bend their necks when walking there. Even today, I can see Dadi sitting there with her sewing machine in that rather dark room, there was no window with glass panes. She used to sew family clothes.
A funny spectacle used to unfold in the summer evenings when the bhishti (water-carrier) appeared at our house carrying a bag full of water every evening (the house had no running water). The heavy bag used to be wrapped around bhishti's body and was made out of almost the whole skin of a sheep or a goat, stitched watertight. To our surprise and pleasure, he would unwind a cord to open an orifice and squirt water out of the bag to cool the sandy area in front of the house entrance. It was a common practice to deal with some guests outdoors.
On the top of the house was a flat roof, approximately 5 x 20m in size. It had no barriers of any type to prevent one from falling down. As the roof was unprotected, you would expect that our parents would not allow us, small children, to go there, but that was not the case. No family member accompanied us up there - only the servants.
The roof was an ideal place for watching the other boys flying kites from their roofs and for catching kites that came floating towards us. We were not taught how to fly kites – not by our parents, not by any relatives and not by any other friends. Our attempts to learn it ourselves failed. We nevertheless bought kites and reels with kite thread so that a servant could fly a kite for us.
During the kite-flying season, the skies were full of kites - it was a fantastic spectacle. We had no chance of catching a kite in the streets\; the streets were dominated by rough and tough boys, who would beat you up if you dared to reach for a cut kite. We had to hope that the kite would drop in the compound of our house.
The other houses, in which we lived later, were in posh areas, and the sky was never so full with kites.
Bharatpur 1948-49
Since my father stayed for a very short time in Bharatpur, my memories of this city are few and vague.
What I remember most is our school, where Titi and I used to go together, walking. We used to take our hockey sticks with us, and I remember quarrelling and fighting with him with hockey sticks. But none of us was hit or hurt seriously. We were wild but weakly built.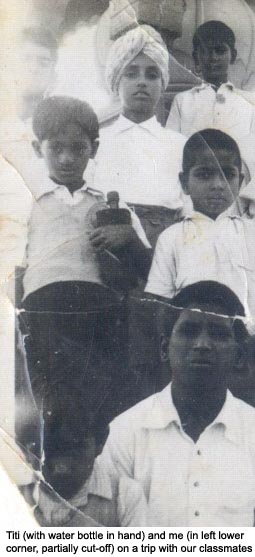 I remember the school as a madarsa (Muslim school), where we had classes in an open area, sitting on benches with long tables in front of us.
We used to write on slates with chalks, which we used to carry in linen bags, our school bags. Other boys in the class were from much poorer families, and we had no problems in getting good marks.
Maybe it was Bharatpur from where we travelled to Fatehpur Sikri, the city built by Akbar and later deserted. I have a photograph that shows Titi (with water bottle in hand) and me (in left lower corner, partially cut-off) with our classmates on that trip. This is my first photograph, and it shows a sheepish boy not quite ready for the days to come, particularly my life in Europe from 1965 onwards.
Back to Alwar 1949-51
When we came back to Alwar, initially my father stayed in our old Alwar house. After some months, he got a nice bungalow at city's outskirts\; the old school was now at a walking distance. The bungalow had a nice garden and a circular lawn, at a level lower than the road surrounding it. I also remember the imli (tamarind) trees, and the innumerable number of stones we threw to knock the imlis down.
I remember overdoing it at the swing - swinging too high - and flying out of the swing. Did I hurt myself? I do not remember, but my legs often carried wounds.
The stamps of Udaipur 1951-52
At this time, I was nine years old. The school that Titi and I attended at Udaipur was run by Vidya Bhawan Society, a "nationalist" group that believed in Gandhian values. There was a lot of stress on discipline and cleanliness. I remember that we used to march class by class into a hall, stand there in rows to prove our arrival in time, and then sing. It was here that I learnt the national anthem, and other patriotic songs such as Sare jahna se achcha Hindostan hamara, Vande matram, and Vaishnev jan to taine hi kahiye.
In the school, we had to a take a bath in open in the forenoon, and this annoyed me. We used buckets to raise the water for the bath from the school well. As we used heated water in the bathroom at home, the cold water from the well made me shiver inside out.
For lunch, we ate our food brought from home in tiffin carriers sitting on floor in a large hall. I think we also slept there on the floor in the afternoon.
In Udaipur, our stamp collection activity reached a high pitch. Titi and I were already writing letters in English, and had got our address published in the 'pen-friend' columns of a few newspapers. Somehow, our address reached other countries, as we got letters full with stamps from countries such as Ceylon (now Sri Lanka) and Tangnayika (now Tanzania)\; particularly, Titi got loads of stamps from Ceylon. In those days, we did not know much about India, Rajasthan, or politics, therefore I cannot fathom now what we wrote to our pen friends then. But I guess that we talked a lot with each other and with Mummy and Daddy to gather ideas for the letters.
By then, we already were a family of five brothers and one sister, all supported by my father's income. Consequently, even the postal costs of our hobby were a financial strain for our parents. We had to send our pen-friends some stamps, but we never bought any of them –instead, we got all the empty envelopes with stamps on them from Daddy's office. Separating the stamps from their envelopes was another big job, and I still remember buckets filled with water, in which the envelopes were soaked. Sending the stamps with envelope paper glued to their back would have increased the postal charges unnecessarily.
I still have some of those stamps in my collection, and I can distinguish them from stamps collected later as they have little pieces of folded stickers glued to them on the backside. These stickers were used to stick the stamps to the album pages in those days. Some of these old stamps are from Eire, Helvetia, Nederland, France, Nippon and Nigeria and carry dates on them as far back as 9.5.1894. Over time, we learnt a lot about the name of various countries, their capitals and their currencies.
Jhalawar 1952-54
In Jhalawar the collector's residence was a very big house with a huge garden that contained even a lemon orchard. The entrance drive was long and we could see from the first floor balcony that some visitor was coming, as the visitor still struggled to get the gate opened by the gate guard.
The guard, a policeman, stood in the front of the gate with a rifle held in front. The bayonet attached to the rifle used to frighten us children, but the guards tried to be friendly with us and smiled at us.
The whole family stayed on the first floor\; the ground floor was only used for receiving the guests and by us, children, as a play area.
Jhalawar is a small town with few attractions. Our school was a simple one with no pretensions. Titi and I went to the school in Daddy's office jeep, but the school was not far, and sometimes, when the jeep did not come at the proper time to pick us up, we simply walked home.
What I remember most about the school are the punishment methods used in those days. I do not remember being punished myself, but watching others being punished was painful and unforgettable. One method of punishment was to place a pencil between the student's fingers and then press the fingers\; other punishments were to twist the ear, to hit the palms with a stick, to make the pupil stand in a corner, etc. Sometimes, a student was punished to stand outside the class, which was not good for him, as it was the talk of the day in the school.
The school was in the middle of the city and two of our schoolmates lived just opposite the school. Their parents were producers of 'lemon drops', and sometimes we used to go to their home-shop to eat lemon drops. They had a kitchen in which dissolved sugar was thickened to syrup by heating it in very big open vessels, and then cooled and cast in to a mould.
There was probably no school for girls in the city, because a teacher came our house to teach my sister, Manmohini, whom we call Dolly.
By then, we were big family of 11 persons - Daddy, Mummy, seven children, Chachaji and Dadi. So, even though we had servants, Mummy had to do a lot herself. The servants were usually villagers who had no idea about our food habits or way of life. Each new cook had to be taught how the food was to be cooked and was eaten in our family. Further, the servants had no idea about the tableware and cutlery, and Daddy was always very particular about how clean the tableware and cutlery had to be and how it had to be arranged on the table, etc.
Another big effort for Mummy was to ensure that each and everyone from us had the required clothes. Shirts, pants, shorts and coats were made by the local tailors, who came to our house to take measurements, but knitting sweaters or pullovers was Mummy's work. I remember that she always struggled but could not keep the schedule as the winter approached. She made very good pullovers, with complicated designs taken from magazines. Even getting the right wool and needles was a big problem in that small town. I was always very proud of her pullovers.
As we became older, we children started going to cinema and circus, for the first time in our life in Jhalawar. We had to only phone the cinema and the tickets were reserved for us. Sometimes they would not let us even pay for the tickets, as we were the Collector's children. As far as I remember, Daddy and Mummy never went to the cinema or circus, but Titi and I were delighted to be able to go to cinema, and Dolly also came along with us. I remember laughing and enjoying the simple circus of those days so much, and I still think the clowns of those days made the best jokes!
In Jhalawar the family also started to keep cows or buffalos at home, as the milk delivered at home by the milkman was not of good quality - it was most probably diluted. We had a servant to look after the animals, but Mummy had to see that the servant did his job and sometimes I assisted her in this work. When the cow did not deliver enough milk, which was usually the case, Mummy would go and look if the animal was sick. At times, we changed the animals.
In the India of those days –and certainly in Jhalawar – no soft drinks were available in the market. Rather people made sharbet (lemonade, limeade, etc.) at their home, if they could afford to. As we had many plants in our garden, whose flowers contained significant quantity of nectar, we could make sharbet from them. These flowers attracted butterflies and I remember seeing very big butterflies, some even the size of small birds.
We also had a regular cricket pitch in the front lawn of our house and I remember that we invited our classmates to play cricket with us there. We were fully equipped with bats, balls, wickets and bails.
The desert city of Bikaner 1954-57
Bikaner is a desert city, frequently plagued by sandstorms. The onset of a sandstorm causes the sky to turn yellow, the sun looks like the moon, and the temperature comes down as the fine sand climbs up the sky. For hours after the sandstorm subsides, the sand keeps on settling down. Anything in the open gets covered with a fine layer of sand. The sand finds the gaps and holes in your clothes and covers the whole body. It gets intermixed with the sweat, thus induces further sweating, and irritates the skin. Still, Bikaner is great!
In Bikaner, we started going to a club. The club must have been built for the British because its style was completely alien to the normal Indian way of life and conditions. After Independence, the government had taken it over for the use of government officers, politicians, rich people and foreign visitors.
Being the Collector's sons, Titi and I had the rare chance to use the facilities of this club extensively. On Mummy's encouragement, we went there regularly, using the only bicycle we had, with Titi pedalling, and me sitting on the front rod. We would watch the club members play billiards, and sit there in fine chairs with waiters standing nearby to bring drinks. Daddy used to play bridge there in the evenings, but we never went when he was there.
The hot summer months lured us into learning swimming at the club, with the added benefit of cooling down at the same time. The club's swimming pool was at least 15m long and had jumping boards at various heights. We had no coach to teach us swimming and we had no idea about different swimming styles. Thus, we learnt to just breast crawl, and that too without proper coordination of hand and feet movement. Some of our friends also came there and we had a good time.
Playing croquet was much more fun. It is a ladies' game, played in the evening. You hit a heavy wooden ball with a wooden hammer attached to a long rod and the balls are supposed to go through a small U-shaped iron rod gate (hoops), inserted upside down in a nicely maintained lawn. A number of players take part, chatting with each other and occasionally hitting the ball. Waiters stood nearby and brought us drinks. The winner is the one, who traverses all the hoops as first. No great physical effort is required but it takes some skill to hit the balls through the hoops. Croquet is not played in Germany/Austria, and I have never played it again.
Titi and I attended the Sadul Public School, where most of the students stayed in a hostel. But, we were 'day scholars', i.e., those who came to the school for the day only, and the day scholars stuck together during the lunch break and evening sports. Rajgopal K.R. Jaikrishnan was a schoolmate of mine there. His father, Shri Rajgopal had moved from South India to Bikaner at the behest of Maharaja of Bikaner. He must have been a very modern man. They had a well-furnished house not far from our own. Titi and I visited them quite often, to simply talk, play table tennis or read American comics. We had nothing comparable to offer to Jaikrishnan, and therefore it was a regular surprise to me that we could borrow and read their comics for week after week. I remember that sometimes even Chachaji read them.
It was my first introduction to Western (Cowboy) and Superman comics and I still remember some of the heroes – Hopalong Cassidy, the Lone Ranger and Billy the Kid – but many more are forgotten. A whole new world opened up to me. America, it seemed, was a country full of sheriffs, cowboys, bad guys and very determined women dressed like men. The heroic cowboys were fantastic shooters. They would shoot from their hips with pistols in both hands, and in some comics, the story unfolded in a desert area not very different from the surroundings of Bikaner. I learnt a lot of American slang phrases like 'reach for the gun' or 'grab for the sky' and thought that if I ever went to USA I already knew what to say!
Only later, when living in Europe, did I realize that the comics described a bygone era in American history, which the comics and western films distorted and kept alive.
Titi and I also became friends with some neighbourhood boys who had a record player (His Master's Voice) at their home. Their parents were probably rich, as we did not even have a radio at our home in those days. (In order to listen to Binaca Geetmala, which played the film hit songs of the week, Titi and I used to go on our cycle to a friend who had a radio.) The record player operated with steel needles, which would have to be replaced after they had played a few songs. Our friends let me change the needles, and I enjoyed doing it. The record player did not run on electricity. It had a spring that was charged manually by a hand crank. After the needle arm was placed on the record by hand, the spring slowly relaxed and drove the rotating table at a reasonably constant speed. I do not remember which music was recorded on those records, Indian or European.
The summers were very hot in Bikaner, and the central room on the back side of our house was adapted for cooling. The back door leading to outside used to be covered with 'Khas ki Tatti' (a network of reeds and a special type of grass) at the beginning of the summer and water pipes laid (or reactivated) for drip wetting. But the drip system was not very effective, and we children used to drench the 'Khas ki Tatti' with water by throwing water out of metal tumblers. It was great fun, and we did it with great noise and excitement in spite of the heat and sweat.
After lunch, it was the practice to sleep or rest in this room on carpets laid on the floor. As we were a big family with a lot of children of all ages, it can be guessed that not all of us slept or kept quite but were mostly busy playing (carom board) or quarrelling with each other. Especially I remember myself being rather naughty - I usually played some mischief on a younger brother. Daddy used to be angry with me, and usually threatened to beat me up. Consequently, I used to run away, go up the stairs to the hot house roof and stay there till Daddy's temper cooled down. Sometimes I stayed on the roof for many hours, and Mummy would even send food for me with a servant, so that I would not starve. But I could hardly risk coming down too early.
The roof of the Bikaner house had two levels, and was very suitable for playing hide and seek, and also for decorating with the Diwali lamps or throwing water at Holi. If I sensed some danger of getting caught, I would slip down a big drainage pipe to the road level and hide somewhere else, or go up again without getting noticed.
But I was also given responsible jobs. One of them was to help Mummy tackle the dhobi (washerman). The dhobi came to our house regularly to bring back the washed and pressed clothes and to take the dirty ones. There were complaints from family members that some pieces were missing and therefore I assisted Mummy in making a list of clothes given to him and checked the clothes returned. If I close my eyes, I can see myself sitting with Mummy in the drawing room with all type and sorts of clothes spread around us.
Another attraction of the Bikaner house was the water tank on the backside of the house. It was about 1.5 x1.5m in length and width, and about 1m deep. Whenever it full with water, we children used to take a bath in the tank. The tank was actually meant for storing gardening water\; it was rather dirty, and the water not suitable for diving but good for just jumping around and getting cooled.
It was the practice that a nai (barber) came to our house, and I remember that Daddy, Chacha and Titi used to get their hair cut and get shaved, sitting in a chair on the platform at the back of the house. It was quite an affair, as the gentlemen struggled to overcome their reluctance to get their hair cut, and the nai waited patiently for hours. When it was all over, the nai would have earned a meagre amount.
Vienna, Austria 2007
By now, all of my seven siblings and I, and our children, have come very far from those days of my childhood. My daughter Sunita does business in America, Asia and Europe like a world citizen. So, it is difficult for her to understand how her ancestors once lived in India (in cities that are even now small and remote), and what moved them. Further, I think in India we do not have the culture of talking about family histories in detail, as was the case in my wife's family, and is common in German culture. Thus, I feel that it is necessary to record the family history truthfully and with details, laying the past open in such a way that the involved persons come to life.
I hope my account will give my grandson a chance to bridge the distance and get some feeling for what my childhood was like.
© Kailash Mathur 2007