Bannu (NWFP) was peaceful during partition 1947-48
Category:
Dr. Manohar Lal Kapur lives in Virginia, USA. He grew up in Bannu, which became part of Pakistan in August 1947. He was 11 years old in April 1948 when he flew from Bannu in a small plane, operated by the Indian government with help from the Pakistan government, to Ambala in India.  His parents followed him later. Manohar's father was a gold jeweler in Bannu. His business was getting affected as Hindus and-Sikhs started to leave due to uncertainty about what the rulers of Pakistan would do.  His family liked Bannu but realized that their business in Bannu will decline drastically as their customers will not be there for too long.  They had to leave behind their gold jewelry assets as the Government planes did not allow them much to carry much.
x
Manohar has told me that he saw no violence or heard about violence in Bannu when he lived there. I trust his memory. He has given me a lot of details about Bannu. He even revisited Bannu all by himself in 1991 for three days. On that visit, Manohar did not see people he knew except one.
Recently I saw a statement by Fateh Chand (born Bannu, 15 thMay,1914) now settled in Faridabad, who gave lot more information to Laxmi Chand Jain ,author of "City of Hope: The Faridabad Story." Fateh Chand told Laxmi Jain that a Muslim  Maulavi , said to be from Bihar, gave a big Speech about a massacre in Bihar in which Muslims were killed. He told Muslims of Bannu to take their revenge, and kill Hindus and Sikhs of Bannu. Fortunately a Khudai Khidmatgar volunteer  got up, went up to the stage where Maulvi was sitting, and said, "If this happened in Bihar, where Maulvi Saheb was present there, was it not his farz (duty)to fight the killers in Bihar."  Now he seeking revenge travelling thousands of miles from Bihar to Bannu to take revenge on local, innocent People of Bannu. This is not what Islam teaches us."
So, the threat against Hindus and Sikhs of Bannu was diffused by the Khudai Khidmatgars  organization of Malak Raham Zad Khan. Which we will cover below.  Laxmi Chand Jain is a reputed Freedom fighter and believer of Gandhian ideas. You can read him on Wikipedia and read his book (fully) by googling," City of Hope -The Faridabad Story "by L. C. Jain. His wife is famous economist who received Padma Bhushan. Both Fateh Chand and Laxmi Chand Jain have passed away, so I was not able to talk to them. But Fateh Chand's story confirms what I heard from Manohar Lal Kapur, who has an excellent memory.
My family had left Bannu soon after Partition https://www.indiaofthepast.org/contribute-memories/read-contributions/life-back-then/560-from-bannu-to-corning-notwithstanding-the-trauma-of-partition. I have been curious about Bannu for some time. After talking to Dr. Kapur, I wanted to find out: Why Bannu saved from the violence that was going on elsewhere in India and Pakistan?
In recent months, I have been in touch with Assistant Professor Muhammad Iqbal of the Postgraduate College, Bannu. He knows 82-year old Aslam Khan Wazir, who still lives in Bannu. Mr. Wazir is  a brother of an ex-parliamentarian. Mr. Wazir told Prof. Muhammad Iqbal that there was a house called Gandhi House, where Gandhiji stayed October 24-25, 1938.  Bacha Khan (who is better known as Frontier Gandhi and Khan Abdul Ghaffar Khan), and Mahatma Gandhi visited Bannu. Mahatma Gandhi gave two speeches from the house shown below from its balcony - roof. The Lady Park in front of the house in 1938 was open space where people gathered to listen to Mahatma Gandhi.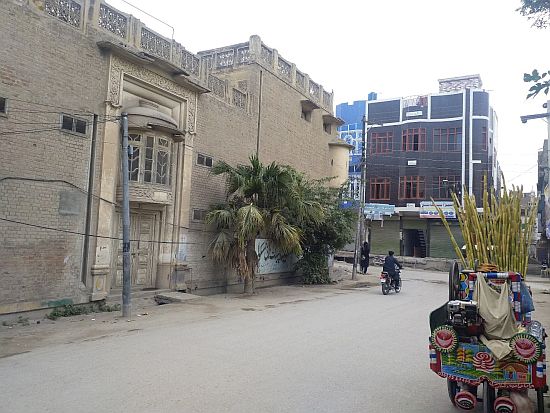 House where Gandhiji stayed in October 1938 located near Masjid Raham Zad  Khan
I confirmed that this is the correct house with Assistant Professor Sifat Ullah Khan of Bannu Post- graduate College. Incidentally, this college is located near Railway Road or Ghalla Mandi, close to where my father built his Haveli.
Sifat 's late uncle, Dr. Habibullah told Sifat that Sifat's grandfather Raham Zad Khan was in jail during the freedom movement when the Hathi Khel massacre happened on August 24th, 1930 in Bannu.  His uncle related this story to Sifat. "At the dinner for Mahatma Gandhi, someone said in jest that Raham Zad Khan has prepared sweet dish in cow milk. Gandhiji replied, 'I have full trust in Raham Zad Khan. He will never do so."
I have found the details of the 1938 speech that Gandhiji gave in Bannu from Rajmohan Gandhi's book, A True Story of a Man, His People and an Empire , page 419. On October 25, 1938, in the walled city of Bannu, Gandhiji told Hindus and Sikhs, "You are a community of traders. Do not leave out of your traffic that noblest and precious merchandise - LOVE. Give to Tribesmen all the love you are capable of and you will have theirs in return. "
Ghaffar Khan told his guest, Gandhiji, "The Non Violent movement is the greatest boon that God has sent us. Our movement has instilled fresh life into us and made us more industrious. We have shed our fear and no longer are afraid of an Englishman."  So, Mahatma Gandhi indirectly helped people of Bannu through Badshah Khan and Khudai Khidmatgar volunteers.
Gandhiji met Khudai Khidmatgars along the route of travel he took in a few cities of Frontier province. He shook hands with Haji Amir Mukhtar a Khudai Khidmatgar leader. According to Prof, Sifat Ullah Khan, Amir Mukhtiar Khan was a resident of Sarmast Mirakhel, five miles from Bannu City on the road to Dera Ismail Khan.
There are several volunteers shown in this photo. Malak Raham Zad Khan has distinct Black Moustache and is wearing a hand-made turban (Pugree) on his head.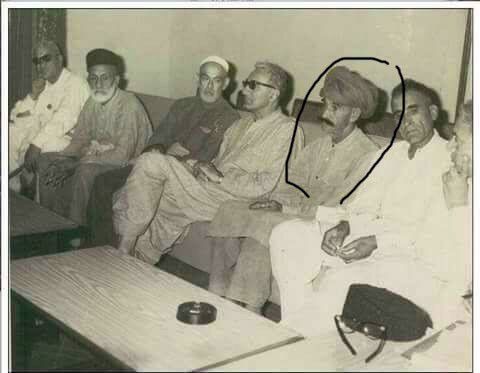 Malak Raham Zad Khan in turban (circled) with other Khudai Khitmatgar volunteers of Bannu
My respectful tribute to these brave souls who protected Hindus and Sikhs in Bannu city during the Partition of India.   Outside Bannu city, violence was provoked by other political organizations. Many people of Bannu faced violence in transit to India.
The Bannu Biradari met with Mahatma Gandhi on January 29, 1948 in New Delhi (just one day before he was assassinated). The detailed questions and answers are documented in Avinash Shukla 's book, Last Day Of Mahatma-Fast Unto Death pages  28-29.  Mahatma Gandhi replied, "My grief is not less than yours. Why people hold me responsible for the partition and carnage. I was always against any partition."
---
© Satinder Mullick. Published January 2020.