Madhu and Me
Category:
It was March 1947 in Belgaum.
I wait for the marker at the union Gymkhana tennis court on a Sunday afternoon. Two young men come down the steps. Madhu Pitre, my classmate in college in 1947, walks like a man with a mission. "This is Madhu Bhadbhade, my friend," says Pitre. The young man with him is tall, fair and freckled. He sports a green shirt, which reflects in his light eyes. "He is looking desperately for a partner in table-tennis," Pitre adds.
Why me? I wonder\; besides, why does his friend need an interlocutor?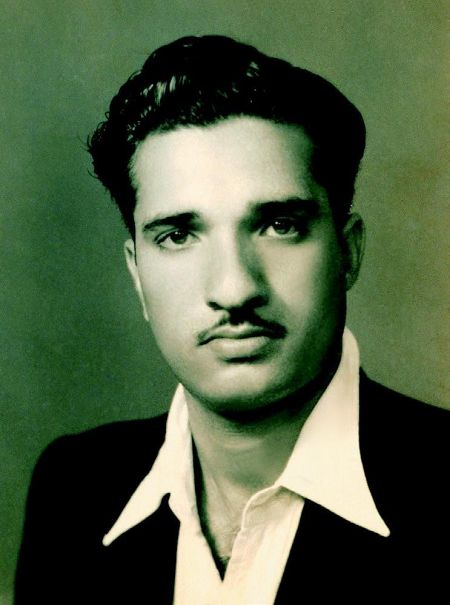 Madhu Bhadbhade. As Tara first saw him. 1947
I plead total ignorance about table-tennis. "Just serve and step aside. I will teach you to serve," says Pitre's friend. There is sincerity and earnestness in the request. He looks helpless. I capitulate. Madhu Bhadbhade holds my hand gently and teaches me the serve. He slips a piece of paper on which the finer points of the game are explained. The rules of the game - to serve and step aside - are the essence of any workable partnership.
The inter-collegiate matches start. 'Love all,' announces the umpire. This is followed by 'Love one'. And so it remains. The die is cast. Madhu serves and loses little time to race to match point. I am spellbound by his mastery over every stroke. To the manner born, style comes naturally to him. This, coupled with agility, anticipation and accuracy, guarantee success.
Before I realised it, we had won. Madhu Bhadbhade was winner of the triple crown. "This is yours," he said, as he handed the trophy to me. I fought back my tears at his modesty and magnanimity. My contribution was minimal.
On hindsight, it seemed to be a well-planned approach. The College notice-board announced the mixed-doubles tennis matches. I was Madhu's partner! This was a surprise. I was taken for granted! I protested. "There was no time to ask you," he explained. The matches followed a similar pattern - quarters, semis and finals. An unspoken understanding had struck roots.
Madhav Naik (from Madhu's group) was in search of a partner in carom. Who else but yours truly? Amazingly, we won the trophy in all the events. Madhav was a past-master at the game. He made short work of the game when the striker came to him.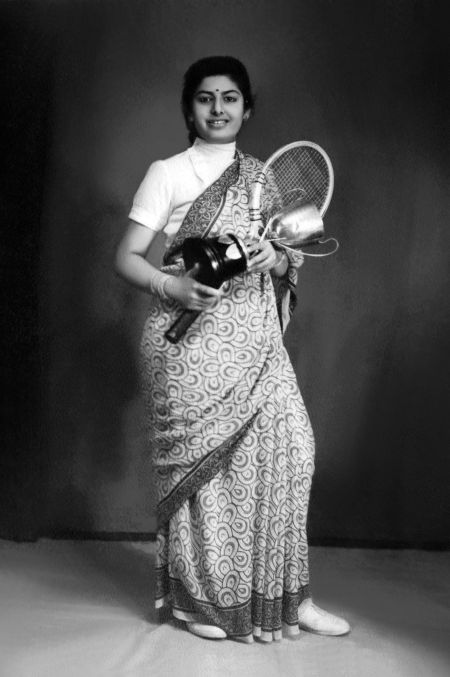 Tara Bhadbhade with her tennis trophy for Karnataka University tournament
Madhav Naik (from Madhu's group) was in search of a partner in carom. Who else but yours truly? Amazingly, we won the trophy in all the events. Madhav was a past-master at the game. He made short work of the game when the striker came to him.
In addition, I had my badminton. Fortunately, they did not invade that area. Yes, they were my cheerleaders. And how they cheered! I suspect they were not too happy with my partner in the mixed-doubles badminton event.
Madhu and I practised almost on a daily basis and partnered in most events. The rest is history.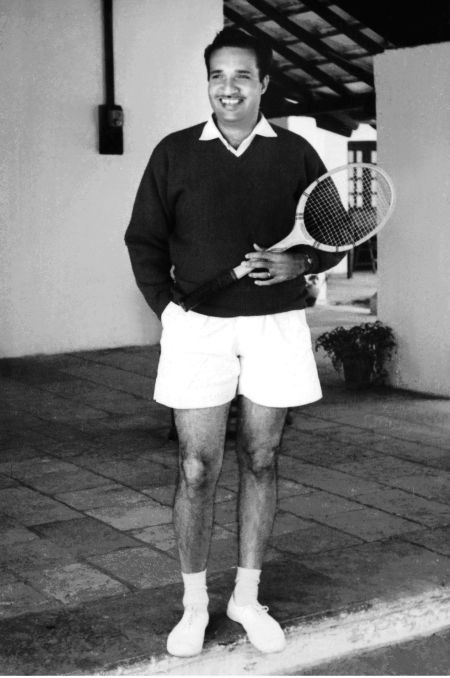 Madhu Bhadbhade ready for tennis. Belgaum 1948.
Prof R S Mane (Secretary, Games) treated us to piping hot puri-bhaji and crisp masala dosa with a blob of white butter at Cafe Delite after every match. We entered the Café by an external winding iron stairway which led to the 'Family Room', an exclusive area, away from the hoi-polloi.
In those days, eating out was quite an event, almost unheard of for middle-class Maharashtrian girls. I don't remember eating out with my parents. Perhaps this explains my reluctance to participate in similar activities. Today, our children insist that we should do this at least occasionally, if not often.
My attitude could also be explained by the fact that restaurant food tends to be spicy and oily. Besides, ironically, I have seen hotels boast of food which is 'as good as home food'. Then, why eat out? There is a trend that homemakers are new five-star chefs at hotels! Home-cooked food is entering five-star hotel menus at the same time that five-star gourmet dishes are entering home kitchens in a unique agreement between homemakers and five-star chefs. High-paying guests at five-star hotels want to taste ghar ka khana (home cooked food) while their families are served gourmet food at home!
Madhu and I met every day - in college, at the library, on the tennis court. My father played bridge in the evenings at the union Gymkhana. Madhav Naik, with a flair for all games, was good at bridge. Madhav was always there to ensure a fourth. He partnered my father\; the duo was generally the winning pair.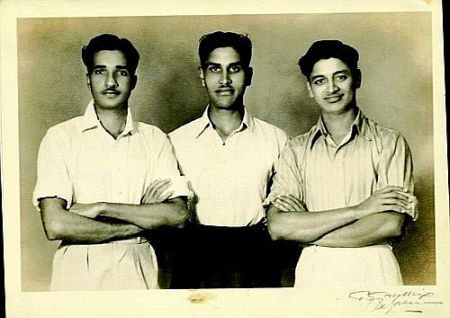 L to R: Bhadbhade, Soman, Pitre. Belgaum. 1948
The strategy ensured that Madhu and I had an enjoyable two hours to ourselves. The Argun Talao was a picture-perfect rendezvous. Holding hands, we used to walk under an arcade of banyan trees. Few words were exchanged. Silence expresses a load of emotions. The sky turned shades of pink and gold to orchestrated notes of wind rustling through the treetops and the gentle lapping of waves. A sliver of the moon appeared. The tinkle of cattle bells as they wended their way homeward broke the silence of our reverie. Hooves kicked up a haze of dust\; godhuli bela (time of cows' dust) is an auspicious hour in Indian mythology.
I had to be back home by 7 pm. It was prayer time at which every family member was expected to be present. The table was laid out for dinner. Eating together regularly provided a forum for exchange of news and views conducive to a strengthening of harmonious bonds following the dictum 'the family that eats together stays together'. The scenario has changed now. Families spend less time together than they did 25 years ago, in an era of unprecedented time-saving. We all have busy kids and busy lives and lots of extra-curricular activities so the every-night-family-dinner is out of the question for most of us. But it just seems that too many people don't really care that they never eat together. This lack of bonding has serious consequences even for the larger social fabric.
The inter-collegiate tennis matches at Bijapur were memorable. We played tirelessly in the blazing sun. Arrangements at the hostel bordered on the primitive, what with food served from rusty galvanised aluminium buckets, the chapattis thick and raw and the coarsest variety of rice.
But, at that stage, who cared? We were ravenous\; we ate. Bijapur is a historical city with magnificent monuments. Madhu and I had moved towards the Whispering Gallery in the Gol Gumbaz. It is an acoustic wonder. The softest whisper can be heard 200 yards away. Madhu whispered the immortal words. Oh, that glow and rapture of first love! We trod on clouds. 'Bliss was it in that dawn to be alive, But to be young was very heaven!'
A time came when reality had to be faced - fair and square. Belgaum was a small place. News travelled like wild fire. I had a feeling that Daddy was aware of the goings on. It was better that I spoke to him before the truth was distorted out of all proportion, as usually happens with gossip in a small town.
Daddy was the Visiting Judge to the neighbouring princely states (Sawantwadi in 1952), which was a celebrated position. Hence, proposals for my hand in marriage poured in from several distinguished families.
My mother was ambitious. She would only consider a person from the prestigious administrative service of the country - the IAS (Indian Administrative Service) - for her daughter.
Daddy knew where my heart lay. However, he believed in the matching of horoscopes.
As I dealt with my father's correspondence, I knew where he kept our horoscopes. Rajabhau, Madhu's brother-in-law, consulted an astrologer. 'Mismatch!' declared the declared the bhatji - a professional astrologer.
However, he was not averse to manipulating Madhu's horoscope to match mine. My faith in astrologers, already weak, crumbled to bits. I was clear in my mind that a sacred union like matrimony could not be based on a fraud. Astrology is based on the accuracy of calculations that determine the positioning of the planets at the time of birth. How was the accuracy determined?
At that point of time, I remembered that I was born in Burma. After conversion of time zones, the charts matched like peas in a pod. With this homework, I approached my father. His daughter's happiness was his main concern. He had had several occasions to observe Madhu's gracious behaviour. "A perfect gentleman," he would say.
The snag was that I was a Gaud Saraswat Brahmin and Madhu was a Karada Brahmin. In the 1950s, such an alliance was socially unacceptable.  Anna, Vinayakrao Mujumdar, a family friend and colleague of my father spoke to Madhu's father, Anant Rao Bhadbhade, and convinced him that this was an alliance made in heaven.
Madhu and I got married in Belgaum on May 14, 1952.
____________________________________________________
© Tara Bhadbhade 2016
Editor's note: I approve all comments written by people\; the comments must be related to the story. The purpose of the approval process is to prevent unwanted comments, inserted by software robots, which have nothing to do with the story.