My Father's College Photos
Category:
My father's name was Khem Chand. He did not use Mathur, a sub-caste identifier, as his last name. He was born in 1911 in Alwar, which was a Princely State at that time. He attended St. Stephen's College in Delhi, which was, and still is, one of India's leading colleges.
His father (my grandfather) Shri Ram Chand was also a student at St. Stephen's College, where he got a Faculty of Arts degree. This was one level lower than a B.A. degree, but a high level of education in the early 1900s in India. He served Alwar State as the head of Baagaat (Garden Department). He also had his training at the Forest Training Institute in Dehradun. We have a book on Forest Engineering on which he has signed his name with the date as 26.11.1905.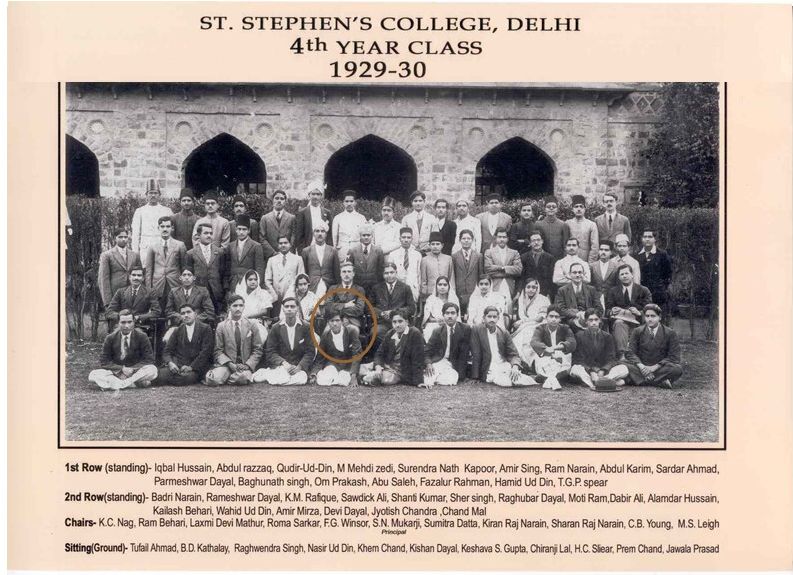 In the last row, at the extreme right is Prof. Spear, an accomplished historian of modern Indian social history who had a great influence on my father.
On the chairs, in the centre, is Winsor sahib (as my father called him) (lecturer in English and History, 1928-35), a linguist who knew many languages.
My father also talked about Prof. Young who taught English and was editor of the St. Stephen's Magazine (later The Stephanian) at the time.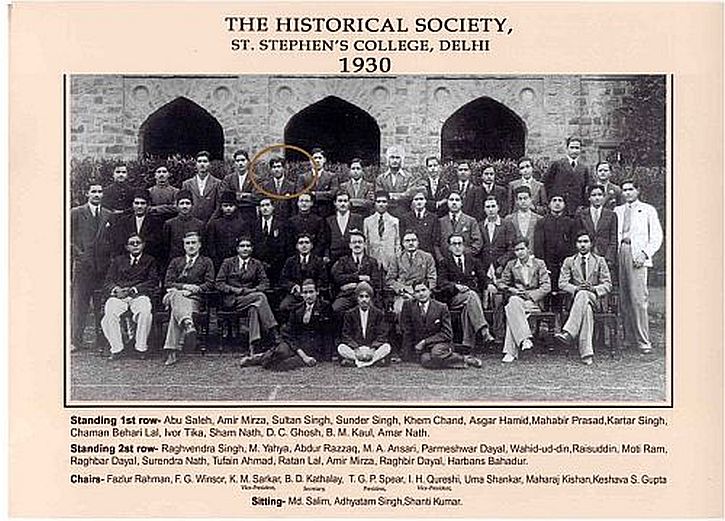 After his education in St. Stephen's, my father was inducted in the Revenue Service of Alwar.  Though Alwar had introduced the system of civil service examinations for government jobs, the Prime Minister of Alwar, Sir Francis Wylie, exempted my father from the exam.
Mr. R. C. Mody, who knew my father in those days, wrote this in September 2016 in response to a question from me:
I knew your father Khem Chandji from his early days, when he was a junior officer recruited by Mr. Wylie, the historic Prime Minister, in or about 1933. He was known among the best dressed persons of his time. The Vice Principal of Raj Rishi College was Mr.  A G Pai M A (Cantab), a Manglorean Brahmin but  an Englishman in manners and behaviour. People used to say that Khem Chandji was next best to Pai Sahib in his dress.
My father really enjoyed his jobs in the Revenue Service. He would talk about his field experiences of those days all his life. He was trained in revenue work by none other than the Prime Minister of Alwar and for whom also he had very high respect and admiration. His mastery over revenue laws and ability to do field work was one of his biggest strengths. It went a long way in making him a very effective and strong Revenue Officer. He went on to become an eminent and distinguished member of the Rajasthan cadre of the IAS with an unblemished record. He retired in 1967.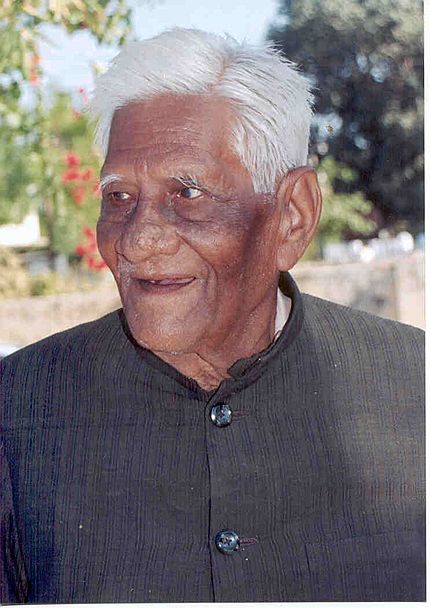 Khem Chand. c. 2000
And the villagers in his area did not forget him. During his service years, and well into his retirement, some of them would show up at our home in Jaipur, looking for some help in cutting red tape or getting a job for a relative. My father remembered them, and never said No to any of them.
---
© Subodh Mathur 2016