My Years in Maharani's College Jaipur
Category:
I appeared for my high school Indian School Certificate Examination from Maharani Gayatri Devi (MGD) School, Jaipur in December 1968. Our results came out in April 1969. I scored reasonably good marks. As there was not much competition then for college admissions, I had the option to join any College, including the well-known ones in Delhi. However, I chose to join Maharani's College, Jaipur for two reasons. First, my elder sister Manmohini (who sadly passed away this year) had studied there, and enjoyed it. Second, it was the established College at Jaipur with a very competent, experienced and dedicated person like Mrs. Savitri Bhartiya at its helm.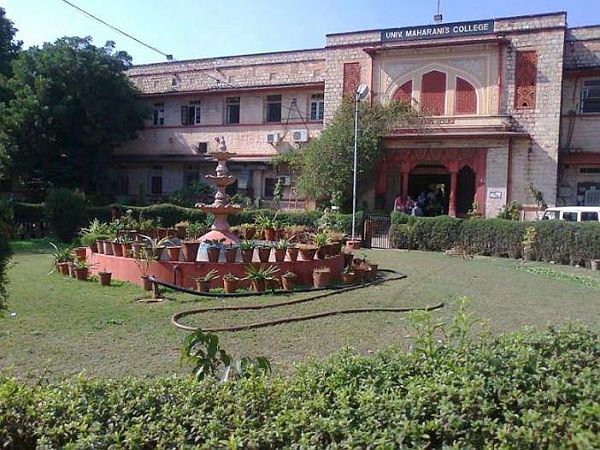 Maharani College, Jaipur. Main Building
Now, in 2020, as Maharani's marks the founding of its landmark 75th year and celebrates its Diamond Jubilee, I feel proud to have studied here and been part of this prestigious institution.
Soon after we got admissions, I realised the differences between a College and the School, though my education in MGD was also a wonderful experience with Miss Lutter as our guiding and inspiring force. Now there was no uniform, and one could wear any dress, come and go for classes and activities as per their schedule and spend time in the Library, chat with friends in the canteen or anywhere in the campus, which was full of gardens and sports fields.
To begin with, we had to face some form of ragging. Though completely banned now, because of the extreme form it can go to, at that time it was more fun and frolic and getting to know each other. I had hoped against hope that I would escape, but the seniors were clever and fast, and as I recall, made me sing standing on a table. I passed the test and then great bonhomie took place, which continues till date.
The first year of our Three Year Degree Course (TDC) had general classes. Of the compulsory subjects, for which there were limited options also, I had General Hindi, General English and History of Indian Culture and Civilization, in brief called HICC. The optional subjects were English Literature, History, and Political Science. I remember amongst other things doing R.K. Narayan's Guide as a text, getting an exposure to world history from Prof Van Aalst, an American teacher, and generally finding studies quite enjoyable rather than a burden. There was a double reason for that. We girls could meet and chat with each other, have a compulsory samosa and tea in the canteen, apart from also understanding how our world was shaping!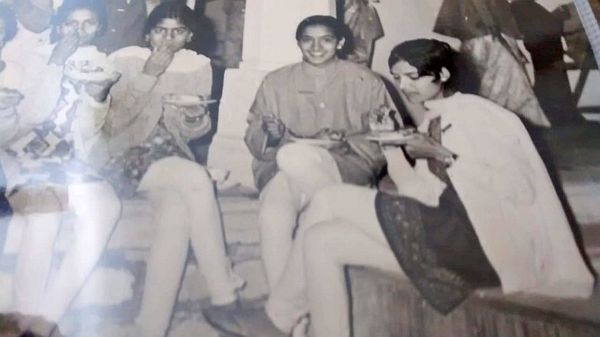 Enjoying the best of college days snacking with friends. Meenakshi in center, Kuntal Gupta on her left. Jaipur. 1972.
After the first year I opted for History Honours with Political Science as a subsidiary subject, very much following our family tradition. This marked another change, for not only there was a specialisation but there were no other subjects in the course. Though Maharani's was a women-only College, the Honours Classes of the boys and girls were held together, in the College premises as well as in the University Department of History. This was my first formal introduction to the University Department and Campus, though because of my elder brothers Prof PC Mathur and Subhash, and sister Manmohini, and our house being near the University, I had several opportunities to go there.
Honours classes made our horizons wider, and the process of analysing and critical thinking began to take shape, as expected of higher education. This also in a way, expanded our world view aided by frequent visits for tea, coffee and Dosas to the Non Resident Student Centre (NRSC) in the University campus.
It was also a strange coincidence that of the three girls in the History Honours class, all had the surname Mathur, i.e., Preeta, Nisha and me and people often commented as to how did this happen.
The atmosphere in the College was greatly shaped by our teachers and faculty and staff. While Mrs. Bhartiya was a revered and iconic figure, I remember, amongst others, senior teachers like Miss Wali, Miss Saxena, Mrs. Sarla Grover, Mrs. Indu Mathur, Mrs. Rama Rani Lal, Mrs. Bhatnagar, Mrs. Sareen (popularly known as Mataji), Mrs. Pratibha Jain, and Bhavani Jija who taught us and took care of us with utmost dedication and affection. Besides the lady teachers, we also had Prof Van Aalst teaching us world history, and whose style of analysis left an indelible imprint on me. Shri Vijay Bakaya and Shri Anil Vaish also joined the College. As young, fresh lecturers, they were the star attraction. It is no wonder that with their high calibre and intelligence they were soon selected into the IAS and rose to become the Chief Secretaries of their respective States i.e., Jammu &amp\; Kashmir and Rajasthan. Our other teachers included towering scholars and intellectuals like Prof. G N Sharma and Prof. GSP Misra, who simply mesmerised us with their teaching and deep knowledge and wisdom.
Maharani's college was always known for its all-round training for girls, which included co-curricular activities like debates, discussions, declamations and essay writing competitions and extracurricular activities like dance, music, drama, Raakhee-making, Rangoli decorations, drawing and painting, and various other creative and innovative activities.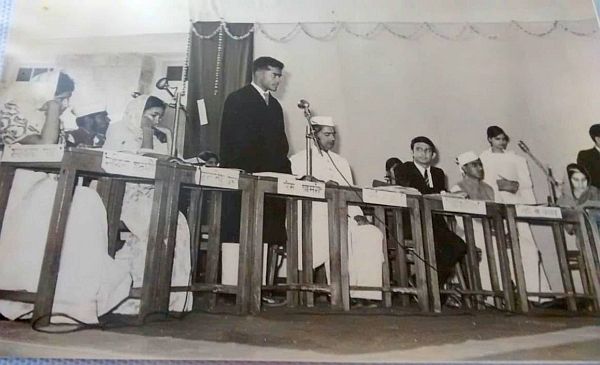 Meenakshi taking part in Mock Parliament playing the role of Minister Nandini Sarpathy. 1972
We were privileged to see a sterling performance of the play Aazar ka Khawab, a Hindi adaptation of Bernard Shaw's Pygmalion in which Vijay Bakaya and Ila Pandey played the leading roles. Lady Windermere's Fan, a four-act comedy by Oscar Wilde was also performed in a most impressive and memorable manner. Of course, there were a large number of dance and music performances, classical and folk, with most colourful costumes and wide variety of steps and instruments, which set the feet tapping and the hands continuously clapping.
For myself, I was happy taking part in a few activities like debates and essay writing, and occasionally playing the Guitar which I was learning from Vishwamohan Bhatt.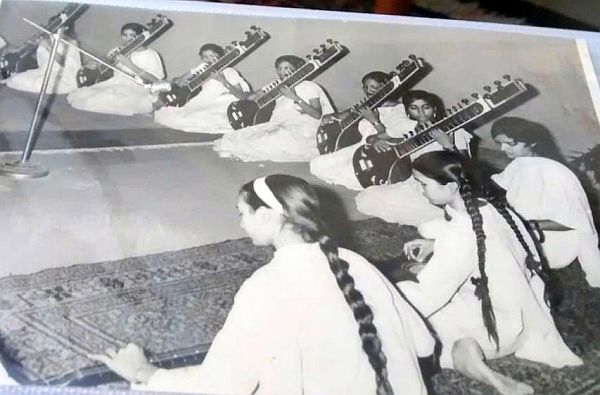 Practicing for musical concert.  Meenakshi foremost. Note the hair band  on my head.  Jaipur 1971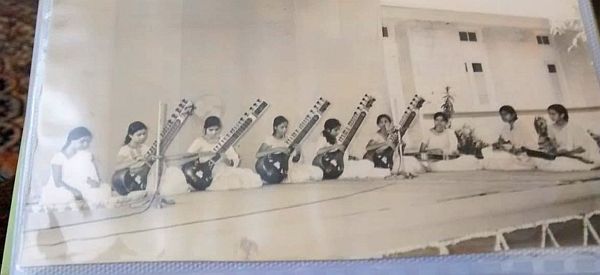 Meenakshi taking part in a musical concert playing the Guitar in Hawaiin form as taught by Vishvamohan Bhatt. Jaipur 1971.
I was also lucky to be one of the participants representing the College at the National Integration Camp held at Chandigarh. To meet and interact with boys and girls from other colleges from different parts of the country was altogether a novel and fascinating experience. Some of us were adventurous enough to make a visit to the hill station of Shimla, taking advantage of its proximity to Chandigarh and travel in the famous Toy train too!
A host of functions, including Annual Day were organised regularly in the College. In one of them I recall Nayantara Sehgal, a well-known writer and daughter of Shrimati Vijaylakshmi Pandit, was the Chief Guest. Her talk, followed by questions and answers so inspired me that I also thought of writing with serious earnestness. However, all I could do to begin with was writing light-hearted stuff under the pen name 'Drivel 'in a Campus magazine called Oasis. Later on, I did move on to more serious writing.
College was also the ground where the foundations for democracy and leadership were laid. Maharani's college at that time also had elections to the Students Council. Somehow, I was persuaded by some teachers and Madhu Sharma, who was herself contesting for the post of President to stand for Secretary. I went around canvassing for votes, which was not something that came naturally to me. Madhu won handsomely and so did I. And we formed a good working team. As Secretary, one of my pleasant duties was to go to Rajbhavan to be present for then Prime Minister Smt Indira Gandhi, who was visiting Jaipur during the times of Bangladesh war. I was part of the lineup and did Namaste on being introduced, as she elegantly walked past us.
Another experience as Secretary was that I was asked to welcome and introduce Shri B Hooja IAS, who was then Secretary for Education to the Government of Rajasthan and was invited as Chief Guest for a Debating function. In my speech, almost as if by chance, I also referred to his son Rakesh, who was a top-ranking student and a well-known debate expert. Little did I know at that time, that just a few years later, I would marry Rakesh, and Shri B Hooja would be my father-in-law.
College was indeed a time for studies, fun-filled activities and having friends. Besides the girls who joined Maharani's from MGD and the three of us in History Honours, I also made new friends, especially Murdhar and Jasleen. Murdhar was good at sports and ever smiling. Jasleen was a great one to have samosa and tea in the canteen and chat just about everything and feel liberated and grown up. Kuntal Gupta, a year senior, also became a friend and companion as she also took Guitar lessons from Vishwa Mohan Bhatt, Vishuji as we used to call him then.
I would come and go to the College in the Red City Bus. This meant walking from my house at B- 87 Ganesh Marg, Bapunagar to the Rambagh circle, which was the bus stop, and return from college in the bus and then walk back home. I did find the going tough at times.
I passed out of Maharani's in 1972, and then joined for Masters in the Department of Political Science in the University of Rajasthan, a University with which, by now I was quite familiar. After completing post-graduation, I applied for the post of lecturer and got selected after an interview. And so soon from a student, I became a teacher in the same College I had studied in. It was a great feeling indeed. One of the benefits of a salary was that I could afford to go to College in a Rickshaw, instead of the City Bus.
I have the fondest memories of Maharani's, which has provided a great educational opportunity and development to so many girls from Jaipur and all other parts of Rajasthan and the country for so many years and continues to do so with zeal. I was fortunate to be one of them. Now the College has really expanded and grown, as it prepares its students for contemporary life and challenges and marks completion of 75 years of its impressive journey.
---
© Meenkashi Hooja. Published January 2020