Punjab's old days – relived through new friendships
Category:
Editor's note: Jatinder Sethi's My Memories of Lyallpur was published on this website in 2012. In June 2016, Sangat Singh read the story, and wrote a comment on it on the website. This led to a link between them. Then, Joginder Anand, who has written several stories for this website, including Walking in the hills of the Punjab, read Sangat Singh's My 1947 Box Camera Selfie. Very soon, Joginder, Sangat, and Joginder began writing to each other, copying me. In this story, I have reproduced some of the initial emails that brought the three of them together.
Joginder 19 July 2016 (Comment on My 1947 Box Camera Selfie by Sangat Singh)
Delighted to read these memories. Sardar Sangat Singh Ji - you lived in Ludhiana contemporaneously with me. I was there from August 1947. Educated at Govt College Ludhiana.
Sangat 20 July 2016 (Reply Comment on My 1947 Box Camera Selfie by Sangat Singh)
Anand Ji, Looks like we were both in Govt. College Ludhiana at the same time. I joined in early April 1948 to do F Sc Medical and did my graduation 1n 1952. At that time my uncle Dr. Trilochan Singh was the Principal. SS
Joginder 20 July 2016
Thank you,  Sardar Ji, Sat sri akal.
I arrived in Ludhiana in August 1947. I had completed one academic year of F Sc in Lahore DAV College, when impending partition propelled us eastwards.
Government College, Ludhiana opened in April 1948, and I started the second year there. After my BSc, I left.
So, you and I overlapped. The Principal in 1948 was Harish Kathpalia. One of the students was the son of Sardar Pratap Singh Kairon (who later became Chief Minister of Punjab).
The Prof of Chemistry was Sardar xxx Sodhi. The English prof was Sardar Sapuran Singh, an Oxford Bachelor of Arts. Other memories are dim.
My younger brother was a year junior to you. He was reading arts subjects. Unless you were in the NCC, your paths and mine would not have crossed. Nor, your path and my brother's.
If your family, ladies and children needed hospital treatment from 1947 to 1952, they would have come across my  mother, who was the doctor at the Civil Hospital.
May I wish you a long, happy, healthy life in Malaysia.
I am ignorant of the world -  knew a little of my Punjab, very little of Old Hindustan. A teeny bit of England now.
You may wonder why I separate Punjab from Hindustan. Well. It may not be politically acceptable today. BUT when Maharaja Ranjit Singh was the King of Punjab, including Simla and  the hill states, up to the Tibetan frontier, plus J and K , including Gilgit, plus the NorthWest areas inhabited by the Pathans - Peshawar included, and the Amir of Kabul a vassal:
Then, people in the Punjab talked of Punjab and Hind!
Punjab was as you know ruled by a Sikh who treated all his subjects equally. The Second Sikh War was described , correctly, by Shah Mohammed, the popular poet of Central Punjab, as "Jang . Hind aur Punjab. (War: Hind and Punjab.)
And now I wish you good night. It is evening here. Perhaps dawn is breaking in Malaysia.
Sangat 20 July 2016
Joginder Ji,
Many thanks for your mail.  The dim fog is lifting and some of the lost memories of that period are returning.
As refugees in 1947 we got a place in Govt. College Ludhiana hostel. All the hostel rooms were occupied by refugees families mainly of the education dept.  We got a place as at that time, My uncle, Dr. Trilochan Singh, was also staying there but occupying the warden's quarters. Soon we were allotted a place to stay in Wait Gang where 4 or 5 families from Multan were already living.  Added to these were our two families.
You mentioned about Lyall Book Depot, as it was known when in Lyallpur.  Lala Sunder Das (Multani) was the owner. Although not English literate, he was the  most knowledgeable book seller we knew.  He later on got himself a shop in Ludhiana and opened for business.  Just before that he even started to sell Newspapers coming on the bicycle. That was one shop that I always visited.  His son although much younger  at the time of partition became a close friend.  I had written  a nostalgic piece  on Lyall Book Depot and must try to find it.  His son told me that his father Lala Sunder Das had met with an accident and he read out my letter to him.  He died soon after thus ending the legacy that had started in Lyallpur.  The last time I visited Lyall Book was some 13 years ago.  This was the only shop that sold books other than the school or college text book.
Talking about your mother who was a doctor in Civil Hospital.  The only lady doctors I remember were Dr. Sant Kaur wife of S. Gurnam Singh, lawyer, later a Chief Minister of Punjab after partition.  His son Sukhbir was my class mate.  Their house was a few door away from Lyall Book Depot. S Gurnam Singh died in an air crash.  Sukhbir was sent to Chief's College just before the partition
The other Lady Doctor I remember was an Englishwoman and married to the owner of Grand Hotel in Ketchery Bazar near the Ghanta Ghar.  A place well known for producing excellent unsliced breads. My most favourite were the cream horns - the best ever.  For old times' sake, I still try to get whenever I see them but they don't match up with the Lyallpur Cream Horns available at Grand Hotel.
Another memory of Grand Hotel is that they had a black telephone, which they allowed me to use at times to call my friend and classmate Manmohan, son of Civil Surgeon Dr. Narain Singh.
Joginder Ji, you are quite right.  Harish Kathpalia was the Principal at that time.  He had  four sons.  The eldest was Prem.  One of them was Ravi. I forget the names of other two.  Harish Kathpalia had a great sense of humour, and we looked forward to his speeches.  At that time there was a Government College for Girls\; the principal was Miss Bannerji. (He once referred to her as an 'Official Wife.'  I don't she took it as sportingly.)
Trying to remember the names of lecturers and profs at that time.  I remember Chemistry  Prof. Chitkara and then newly joined  lecturer Upkar Singh, a shy  teacher.
Yes I did join NCC just because of the prospect of two free uniforms and sweaters to add to my sparse wardrobe of two shirts and two trousers.  I do remember a couple of  senior members who later on went to Dehra Doon to join the NDA  (National Defense Academy). I  had hesitated to  join NCC as we had to go for a medical examination.  I delayed because the doctor would ask to remove your trouser ... as I thought my member was rather small.
In the last two years, I think during 1950-1952, my uncle Dr. Trilochan Singh became the Principal.  Later on, he became DPI of undivided East Punjab as mentioned by Joginder Ji.
More stories to follow as the veil of mist lifts.
Sangat 21 July 2016
Joginder Ji,
Talking of S. Pratap Singh Kairon. At one time, they  shared the bungalow in Jalandhar with my Jija Ji (brother-in-law). At that time, Kairon was the head of the Congress party in Punjab. Darbara Singh was then his acting  as his assistant cum driver, and later became Punjab's home minister. There used to be a lot of people coming and going.
The notable students at that time were the two Baghrian Brothers, who had a car.  There was the English Prof by name of Vohra  who was a great friend as he was interested  in Photography and I was very deep in this hobby. Vohra also became a principal of another Government College. I lost touch with him when I moved to Singapore in 1954.  There were quite a few students that occupied notable positions such as IAS, IPS, IFS, IRS, etc.
There was one classmate Satish. I was  surprised to see him as an ADC to the president Dr. Radhakrishnan.  I saw his picture escorting Galbraith when he went to present his credentials to the President as the U.S. Ambassador to India.
Regards
Sangat
Joginder 21 July 2016
Sat sri akal ji .
Thank you. You mention that the college hostel was occupied by refugees. Yes. Quite right. In August 1947, we were lucky that my mother had the designated bungalow in the hospital. Many of my relatives as they moved from across the border would get off the train at Ludhiana, search for the hospital - just in case my mother had escaped in time and by chance, was posted there. They did not know if she was there.
No more of those painful memories.
Back to Ghanta Ghar. Yes I remember the Grand Hotel. I cannot remember the owner or his English doctor wife.
I think the first time I ever saw an Indian Punjabi girl receptionist was at the Grand.
How horrified I was. It was 1947. Times have moved on.
Somewhere around there was a Typing and Shorthand school. I went there for a few weeks but did not pick up the art of typing with two hands. I still use only my right index finger.
Somewhere in those 1950s, there was a humorous Punjabi translation of an English advertisement.
In English
Wanted
a typist, a shorthand writer
Temporary
In Punjabi
LORHI DA!
Ik tip-tipaoo
Ik gheecheemeechee.
Subhay wayla tuppaoo.
I wish I could speak this to you.
Will write again.
Joginder
Sangat 21 July 2016
Joginder Ji,
I don't remember the Punjabi girl receptionist at Grand Hotel.
The Typing and Shorthand School was in Ketcherry Bazar.  It was known as Pitman Typing and Shorthand school. This was run by a Giani Rajinder Singh, who  also had  a great fund of funny stories to keep us amused.
My Pitaji,  to keep us out of trouble, always got us to learn something useful during school holiday days.  He had a project for every school holidays so he put me in the Pitman Typing School when I was just 11 or 12 years old. I was the youngest student and learned touch typing and could type 35 letter per minute. In this respect I was the top student.  To this day I know touch system (except figures). I didn't make much  headway in shorthand except the first few lessons.
Now here is a story of my typing skill that provided me the first honorary employment in 1947 at the time of partition.  My Jija Ji and family took me along when they went by air from Lyallpur to Delhi.  Since S. Sant Singh the famous lawyer was a close friend of my brother-in-law  and also had been an Ex-MLA, he managed to get an MLA quarter situated then at  27 Queensway (now Janpath). It was next to Eastern and Western Court, and not far from Imperial Hotel.
Since he was a politician, he usually issued press statements. He had a portable Underwood Typewriter sans a typist. Seeing the typewriter - it brightened my eyes and I bashed on the keyboard "A quick brown fox jumped over high lazy dog" that covered the whole alphabet.  For this I could touch the unheard speed of between 50-60 Words Per Minute.
From then on, I became S. Sant Singh Ji's Typist. I had a bit of difficulty with the spellings, but he forgave that little  infraction. After all, I was honorary and was just provided with simple meals. Later on, he became the Indian Ambassador to Ethiopia. And I returned to join my parents who had by that time reached Ludhiana.
Oh! I forgot to tell you.  My brother-in-law had a Morris 8 car, which someone drove from Lyallpur to Delhi. There was one problem: they did not have a driver.  I raised my hand and said, "I can drive." Thus, I became a driver too in addition to being a typist.
By the way I had learned how to drive at the age of about 12.  I had a friend by the name of Faruk when I joined MB School for a brief spell.  His father was in the education department and had a Chevrolet open hooded car.  They had a driver who would every evening drive Faruk and his mother to the Lady's garden. Since our house was in Wakilan Wali Gali and quite close to Ladies Garden, I would meet Faruk and we would get the driver to let us drive on the Thandi Sarak. That's how I had learned to drive, which came handy in Delhi.
Enough for today,
With warm regards
Sangat
Jatinder 21 July 2016
I have been reading the Great Memory Game, going on between you two (Joginder and Sangat). It makes me feel that I have, perhaps closed my mind to lot of Lyallpur Ki Yaad.
About Ladies garden. I used to walk up to that bagh, after the Library, and District Office (?), and walk up to Company garden to meet my friend, Ranbir(?) whose father was the Executive Engineer, and had a kothi somewhere near the Company Garden. He and his two sisters used to play Tennis in the club.
I think Ladies Park had another entrance on the other side, which used to lead us to our Arya School at Mai Di Jhugi. It used to connect another road coming from Company Garden.
There used to be a gentleman, Bhaapaji, in Wakilan Wali Gali who used to run teach yoga at one of the big grounds attached to some bungalow.
Incidentally, I have an old friend from Lyallpur, Dharam Malik. He did his architecture from Delhi and has been in Toronto for donkey's years. He did his Landscape Architecture from Harvard. His family had a cloth shop in Kechari Bazar, just after the printing Press (opposite the Photo shop.)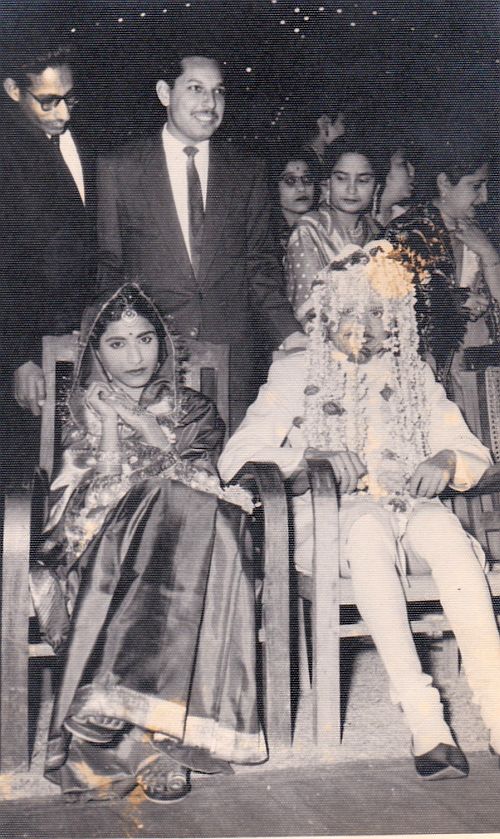 Wedding photo - Uma and Jatinder Sethi. 1958. Delhi.
This picture was taken on my wedding day. It show Uma, the new bride, and me, the groom in Sahera. Behind us, left to right are Kalia (my friend), Dharam Malik (my fried), and Asha Kayshap (Uma's friend.)
Friends, here is one for you  (written by Ahmed Faraz, sung by Lata Mangeshkar):
aañkh se duur na ho   dil se utar jā.egā Don't leave my sight  You will slip away from my heart
vaqt kā kyā hai guzartā hai   guzar jā.egā Time will always pass, it will pass.
I last met Dharam when I went to Toronto in October 1978 October for a training programme of my company.
Sorry to you both for BARGING in your down the memory lane.
_______________________________________
© Joginder Anand, Sangat Singh, and Jatinder Sethi 2017
Editor's note: I approve all comments written by people, provided the comments are related to the story. The purpose of approval is to prevent unwanted commetns, inserted by bots, which are really adverstiments for their products.