Visit to Purbat Ali, Indian occupied territory in Pakistan - 1971
Submitted by
subodh
on Sat, 07/27/2019 - 05:00
On 16 December 1971, a ceasefire was declared in the war between India and Pakistan. The day marked the end of hostilities and the end of the war.
The Indian Army had captured and occupied nearly 8,000 square kilometers of Pakistan territory in Chhachro and Nagar Parkar Tehsils of Tharparker District.  Barkatullah Khan, Rajasthan's Chief Minister at that time, announced his intention to hoist the Indian tricolor flag at Chhachro Tehsil Head Quarters. And he did so, in a ceremony, a few days later.  Our story takes place in the days in-between.
I was the Collector and District Magistrate of Barmer district, which has a border with Pakistan's Sind province. India's Major Gen. R.D.R. Anand, the GOC (General Officer Commanding) of the Army in the area, had advanced, with his troops, to the occupied territory in his 'Caravan' vehicle. Around 2 PM on 19 December 1917, he called me from somewhere near Naya Chhor in Pakistan's Mirpur Khas district. The Army had laid new telecom lines over the sand dunes. They were now active.
General Anand provided information about the positions and infrastructure under the control of the Indian Army. He also mentioned that the green belt of Pakistan was visible from his position.
The areas captured by the Indian Army were now awaiting some semblance of civil administration. Food ration and other civil supplies needed to be rushed there as they were essential for the welfare of the citizens. Many, on both sides, had stayed on in their villages despite being in the crossfire of the two armies. General Anand invited me to see the area. Civilian administration was going to organize the dispatch of essential supplies, food grains, and medical aid.
I seized this once-a-life time opportunity to visit an occupied area in Pakistan. A few days later, an Army Officer came to my office with a route chart. He also carried an envelope marked 'Secret' that contained the travel plans.  A modified station wagon, made out of a jeep chassis with four-wheel drive, was made available for my travel.  The co-passengers included my P.A. Shri Mangi Lal, Press Officer Shri Bhoor Chand Jain, and a gunman for protection.  We travelled by road to Munabao, our border village. Here we left the station wagon.
We followed a newly laid steel duckboard (Broadwalk) track to a waiting two-compartment railway train. Aboard the train, we made our way to Khokhrapar, Vasarwa, Jaluchara, and Parcheji Beri, all Pakistan Railway Stations.  At a small railway station named Anand by the Indian Army, we alighted from the train and resumed our journey in a station wagon.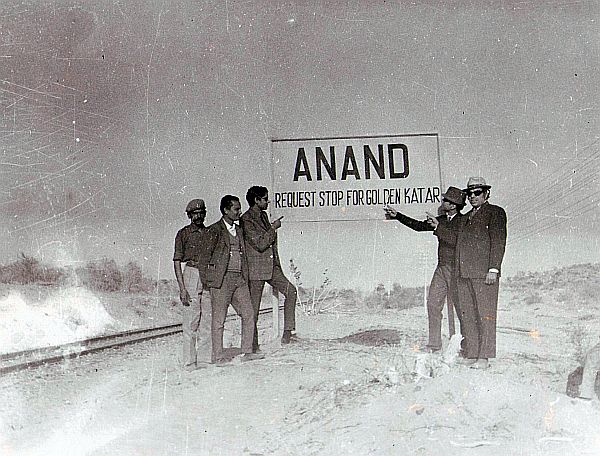 Left of sign Security Guard 1, Security Guard 2, Assistant Public Relations Officer, Bhoor Chand Jain pointing to sign. Right of sign. I.C. Srivastava, Collector Barmer pointing to sign, Unknown.  At Anand Railway Station (named by Indian Army). India-occupied part of Pakistan, December 1971.
We patiently negotiated our way up and down the dunes, often having to use the 4x4 mode of our car.  The Indian Army had cleared the mines in the area, and made the highly secured and fenced duckboard track that we were driving on.  During the drive, we learned that Indian Brigadier Katara had lost his legs to a mine somewhere on this road.
Outwardly we displayed a calm demeanour, but imagining the war and looking at the terrain filled out minds and hearts with awe and fear. As we made our way, the dunes turned into high hillocks ranging from 500 feet to 1,500 feet.  At 1 PM, we reached the peak of Purbut Ali.
From the summit, we could see the township of Naya Chor and adjacent villages.  Interestingly, life seemed to be continuing as usual. A flour mill, with smoke billowing from a hidden diesel engine, is one building that I clearly remember. There was also a mosque where men were offering prayers. Overall the view was a mixture of rural and urban settings.  Greenfields, on the edge of dunes, stretched into the brown sandy valley. They could be made out with the naked eye.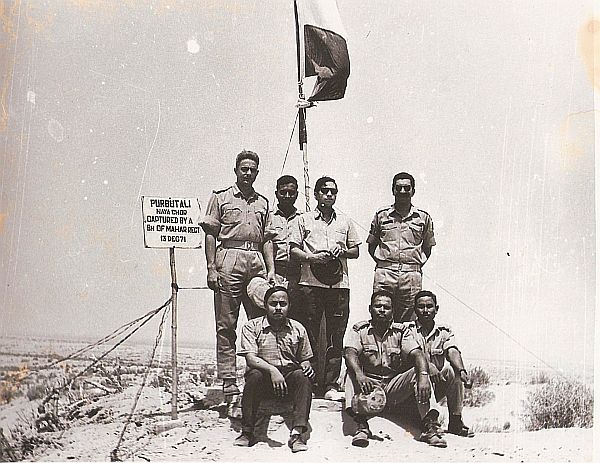 I.C. Srivastava (below the flag), hat in hand, Sitting extreme left, M.L. Jain PA to I. C. Srivastava
Others: Army Personnel. Purbut Ali, India-occupied Pakistan. 13 December 1971.
What a historic and momentous spectacle/moment it was to visit Purbut Ali and have a photo taken on the summit. The visit was rounded off by a most satisfying lunch laid out by Army Officers in their temporary Officers' Mess.
We came back safe and sound to Munabao, our border village. We reached Barmer, the District Headquarters at night. It was a happy day for me. I feel fortunate for having been at the right place and time to experience this visit to Parbat Ali, Army Occupied Territory, in Pakistan. The bonhomie generated between the Army, Air force, and civil officers during the war lingered and lasted for a long time.
After the 1972 Shimla Agreement, India returned this area to Pakistan.
__________________________________________
© I C Srivastava.    Published July 2019.
Category:
Description:
Memories of visit to India-occupied Pakistan (Sindh)