A Personal and Family Memoir - 1947s onwards
Submitted by
subodh
on Sat, 12/07/2019 - 05:00
I was born in Bannu, NWFP to Mr. Hira Nand Batra and Mrs. Subhashvati (aka Mukandi Bai Banga). I studied at IIT Madras (B Tech Chem E 1964 1st Batch)\; IIT BHU (M Tech 1966), Taught at IIT BHU and IIT Delhi before going to the University of Waterloo, Ontario, Canada in 1968. Got my PhD in 1973 and moved to USA. I served at PEDCO-Engineering Firm and Procter &amp\; Gamble in various Business Units. Retired in 2000 as Associate Director R&amp\;D from Health Care, P&amp\;G.
Author's note:  I have covered our experiences of partition and journey to India. https://www.indiaofthepast.org/contribute-memories/read-contributions/life-back-then/663-suffering-the-partition-in-bannu-kohat-and-parichnar
When we reached Delhi after leaving Pakistan in 1947, in late November 1947, we ended up in Shadipur village, which no longer exists except for its name on the bus depot in South Patel Nagar. We stayed in a mud hut. Shadipur was the closest village to the Indian Agriculture Research Institute (IARI), New Delhi, where my dad, Mr. H.N. Batra (Pitaji), was expecting to be hired, starting at the lower rung of the ladder. He got reinstated on December 10, 1947, and joined IARI.  We moved to Government Quarters (Bloc D-22) in 1948. My education started in Pusa Elementary School near the bus station.
The refugee situation was pretty intense in Delhi. The people settled wherever they could find shelter - Pahar ganj, Karol Bagh, Bara Hindu Rao, Mehraulli, Lajpat Nagar, Faridabad and so on. The Government decided to level the hilly areas adjacent to IARI. By 1950, new localities like East Patel Nagar, Rajinder Nagar, and New Rajinder Nagar got set up. These were small 2-room brick houses with small kitchen and verandah. They were built in rows, one after another. The shells were brick-walls with corrugated asbestos roofing. They were called teen hazari (three thousand rupees) houses. These came to be known Rajinder Nagar. My uncle, Chaman Lal Batra, bought a house at 4B/22 Rajinder Nagar.
Simultaneously, panj hazari (five thousand rupees) housing got built on a slightly larger plot (100 square yards), and came to be known as New Rajinder Nagar. Shankar Road separated the two towns. My Dad bought a house in C bloc-102 on October 3, 1950, for Rs. 4,950.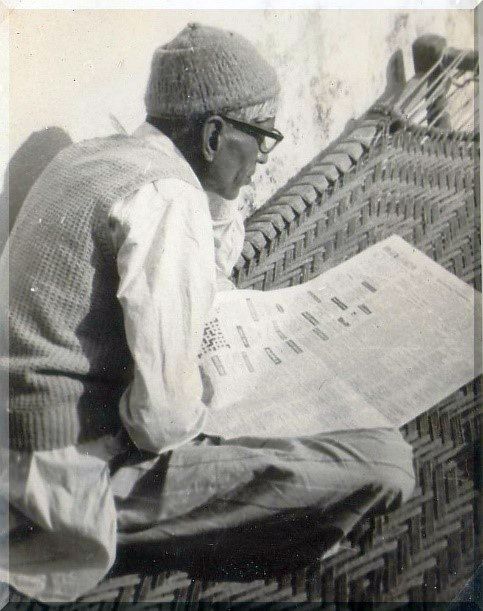 Mr. H. N. Batra (Author's Dad), New Delhi. Circa 1952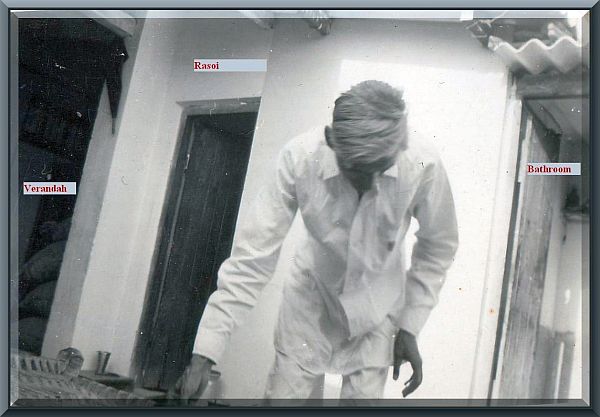 C-102 New Rajinder Nagar Home, circa 1952
About 20 shops were also built and sold. They lined up in a row along the Shankar Road in New Rajinder Nagar. These shops catered to the needs of new settlers.
Dr. Seth with mini-clinic, Delhi Cloth Mills Outlet, BSc Shoe Store, General Merchandise Store, Peshawar Sweets (Peshori di Hatti), Grains Shop with Grinding Mill, Chemist &amp\; Druggist, Dental Doctor, Restaurant, Shankar Studio - Photographer, Fruit and Vegetable Shop, Barber Shop, Soda Pop Shop and so on, met all the needs. Likewise, there were shops in the Rajinder Nagar Market. There was a Government-run dispensary to meet health care needs. Sir Ganga Ram Hospital got started in Rajinder Nagar. To meet the spiritual needs, Sanatan Dharam Temple got built along Shankar Road.
Recall, we were all refugees who settled in these communities. We knew what hardships were, and how to cope with them. We had one community tap for water for approximately every 20 houses,. So, early morning, one had to start fetching the water and fill up a cistern in homes. There was no electricity\; we had to use kerosene lamps at night. One would have a couple of lamps in fixed positions, and a roving lamp to go to washroom, etc.
We had coal-fired stoves. Every family had a bin for charcoal as well as semi-bituminous coal (pakka koyala). My mom used to get up early in the morning to fire up the stove just outside the house. Everyone else also did the same. It was quite a scene to see the thick smoke oozing out in the neighborhood. Sometimes, one could see the yellow tint in the smoke due to presence of sulfur in the semi bituminous coal.
It was a nasty irritant to the eyes and breathing wasn't easy. Bunch of neighbors will pool together and put together a Tandoor - Clay Oven (wood-fired). At lunch, people took turns and baked bread for their families. Adversity has some advantages. It brings people together for a common cause. One gets to know everyone. Our neighbors came from Jhang, Bannu, Multan, Kohat, Mian Wali, Sindh, Lucky, Peshawar, Parichnaar and so on.
To add some greenery to the barren land, my Dad planted several trees. The neem tree adjacent to our house is still flourishing. Several Gulmohar trees have also survived and continue to add beauty to the neighborhood. Being an Agriculturist, he was a consultant to anybody who wanted advice. Mr. Mehra, our next-door neighbor planted a Fig tree. I often tasted the free ripe figs that fell to the ground and had escaped the beaks of the birds.
Let me credit the Government. Despite the unsurmountable problems of settling the refugees, they did very well in quickly building the infrastructure.
Let me turn to education.
"The Invincible Soul" is the biography of Mr. Girdhari Lal Salwan an  educationist, humanitarian, politician, craftsman and, above all, leader. Deprived of a formal education himself, Girdhari Lal took up the challenge of providing education to the children of a resurgent India in the post-Partition era. Mr. Salwan started a high school in Rajinder Nagar in 1949. He created an integrated school for Boys and Girls with a nice playground and a theater. I saw my first movie Alakh Niranjan for 25 paise in that theater.
Mr. Ghanshyam Das was my Dad's teacher in Pakistan. As a mark of respect, my Dad asked him to escort and admit me to Salwan School. I joined in Grade 2 in 1950. He distributed laddoos (sweets) to mark the occasion. All I remember, the focus was on basic Math, Hindi, and Handwriting. Day in and day out, we cleaned a wooden takhti (plank) with soap and water, coated it with glazing clay, dried it, and wrote on it with a "bamboo chiseled" kalam (pen) with India ink. Math had to be done on a framed black stone plate (slate) using hard chalk. Addition, Subtraction, Multiplication and Division were drilled in the students. Multiplication tables (20X20) had to be memorized, no ifs and buts!
English and basic sciences were introduced in Grade 6. Our teachers, who were refugees as well, poured their hearts in education. I have memories of Mr. Lal Chand, the English teacher who used creative methods to teach us.
Look dekho, aasman Sky
Pigeon kabooter, uddan Fly.
What a nice way to remember the English word and its corresponding Hindi word!
Let's look at another rhyme mixing the mother tongue with English:
I am ne eat kittey, du char ganney\;
Kissan ne aake puchhya, why do you bhaney?
I am ne answer ditta, my dear kissan,
du chaar ganneyan pichhe, what's your nuksan?
(I ate two or four sugarcanes. The farmer came and asked me "Why did you pluck them". I answered," My dear farmer, what do you lose with two or four sugarcanes?").
I have narrated it many times over the years, because I see the creativity in such a method.
I remember Mr. Suresh Kumar, our Sanskrit Teacher. He was very strict and gave us harsh capital punishment for not doing homework. Murga (Cock) posture was standard punishment. Now research says this posture improves memory and brain activity. We didn't know! I don't remember much of Sanskrit other than "Twam kutra gachhti\; Aham tatra gachhami" (Where are you going, I am going there). But he instilled the rules of grammar. Those rules came in handy when I learnt German in later years.
I still stay in touch with two of my classmates - Suresh Kohli and Yadav Rai Ahuja form those years.
In 1956, I transferred to Ramjas Higher Secondary School No.2, Anand Parvat, Delhi. My elder brother, Subhash K Batra graduated from Ramjas No. 2 in 1952 with distinction. He thought it would be best for me to join there in Grade 8.
Mr. Rai Kedar Nath, the founder of Ramjas Institutions was born in January 1859. Despite constraints of poverty, he pursued his studies with great devotion, dedication, and distinction and rose to the position of Session judge. He established temples of learning- the Ramjas Schools, to set a new awakening and perpetuate the sacred memory of his dear father Mr. Ramjas Mal.
Ramjas School No.2 dedicates itself to his lofty ideals and pledges to stand committed to work for the cause of education, the education that includes an all-round development.
There are playgrounds outside the walled and gated school, where students play Cricket, Soccer and Field Hockey. The physical training exercises are held within the school compound.
Since the school was approximately 10 kilometers away and I biked to the school daily. My bike was full size, and I could not ride it in the normal way. So I had to paddle it at an angle like a scissor (Kainchi). I missed out on participating in school sports. Basically, I played poor man's sports like Gulli-Danda (a primitive form of Baseball), Kanchhe (pseudo Billiards/Pool table), Street Cricket (using bricks for wickets), and Kho-Kho (touch and run type of game). We learnt the principles of playing in teams.
Beginning with Grade 8, the medium of instruction was English. The subjects covered were: Humanities, English, Physics, Chemistry, and Mathematics. Biology or Engineering Drawing are chosen based on interest either in Engineering or Medical Science. I opted for Engineering Drawing. We had highly competent, dedicated and committed teachers.
Our Principle, Mr. R.S. Gupta, was a strict disciplinarian. Every morning, he will be at the gate welcoming the students and sharp at 7 am, the gate will be closed. If you were late, tough luck! Obviously, you learnt punctuality by his example. Mr. Radha Krishan, the Vice Principal, wrote every day - the top lines from the newspaper on 2 large blackboards (outside the library) in neat handwriting so that every student could read and be aware of the global as well as local events.
I offer my gratitude to the remarkable teachers: Mr. B.L.Manchanda (Physics), Mr.I.S. Khera (Chemistry), Mr. Amrit Lal Kapoor (Mathematics &amp\; English), Mr. Ram Narain (English), Mr. Gaud (English), Mr. Theta (actual name forgotten, Mathematics), Mr. ? (dedicated Engineering Drawing Teacher), and two great assistants to the Principle - Mr. Chuni Lal and Himmat Singh. I am not able to remember quite a few other names of the dedicated staff. Imagine, Chuni Lal will make a daily pot full of blue ink and go to each desk and fill the inkpot in every classroom. We were all supposed to use the G-nib (croquil) in a nib-holder for good handwriting.
Mr. Amrit Lal Kapoor had authored several books in Mathematics such as: "Important Steps in Algebra, Important Steps in Geometry, Important Steps in Trigonometry, Important Steps in Arithmetic." Mr. Manchanda had published books in Physics. I still have kept a book on Practical Physics as a memoir in my collection.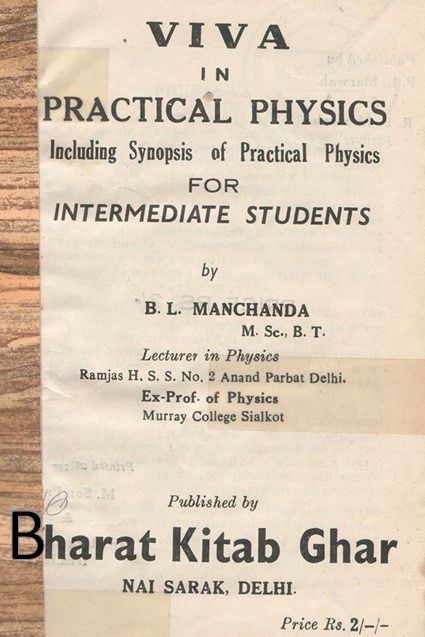 Mr. B.L. Manchanda's Book Cover -Note the price - Rs. 2
I remember the whole school stunk when we used Kipp's Apparatus to generate Hydrogen Sulphide H2S for group testing of unknown Chemical Compounds in the Chemistry Lab. In the absence of a vacuum hood in the Lab, this was the best alternative to set up the Kipp's Apparatus out of a window.
In 10th. Grade Mr. Gaud took us out on a field trip. Here are a few pictures that  I have of my classmates from yesteryears.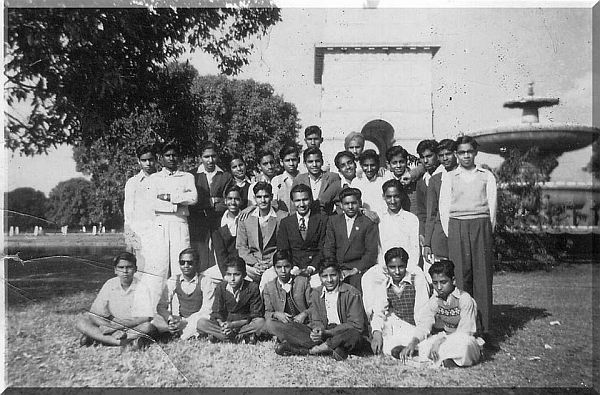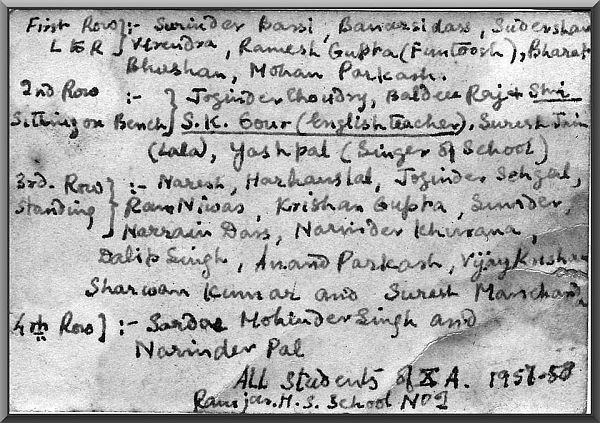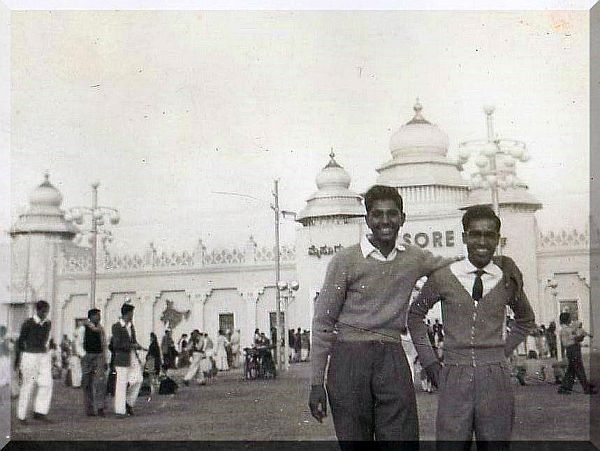 Left. Vijay Batra (Author), right Joginder Singh. Delhi 1958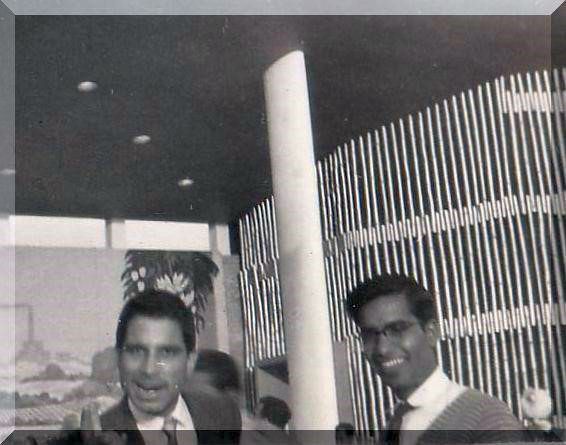 Left, Virendra Oberoi, right Joginder Singh, Exhibition Grounds, Delhi 1958
I can't thank enough, our friends and teachers, who grounded us in the fundamentals and provided a strong foundation to follow our dreams in various disciplines. I graduated in the First Division with a Distinction in Mathematics from the Delhi Board of Education in 1959.
Going to college
After my school graduation, I went to Hansraj College in Delhi University and registered for the B.Sc. Physics program. As luck would have it, I read an advertisement for Admissions to IIT Madras in The Hindustan Times newspaper. My dad asked me to apply, which I did.
Soon I got an invitation for an on-campus interview in Madras (now Chennai). To be frank, my knowledge of geography was very poor. I had been to places like Agra, Jaipur, Haridwar, Rishikesh, and so, I thought Madras could not be far. My dad bought me a ticket for the Grand Trunk Express train to travel to Madras. I packed up a suitcase, and Hold-All (Bedding Ensemble) and went aboard the train to Madras. I was nervous\; I'll get out at almost every station to check whether I had arrived at Madras. After about 8 hours, I asked someone whether the train was headed to Madras. The gentleman was nice. He pulled a thick yellow book out and showed me how to read a railway time table.
Once I realized it was a long 48 hours journey, I made peace and relaxed.
Station after station went by, and I wondered. I had to settle for Railway Canteen food. After Nagpur, the nature of food changes and southern cuisine got introduced. Somewhere near Vijaywada, I got a tray that had Sambhar, Rice, Yogurt, Pickles, Pappadam and a bowl of light pale liquid with a thin slice of lemon. I ate the food out of hunger and in closing dipped my fingers in that bowl to clean the fingers and wipe my mouth. As soon as I did that, I looked across\; a South Indian gentleman poured his bowl of the yellow fluid and slurped his rice. Oops! I realized I had made a mistake. Later I found out it was Lemon Rasam.
Finally, we reached the destination, Madras Central. I was dead tired. A swarm of porters came into the cabin. Before I could realize it, one porter picked up my trunk and hold-all and headed out, and I briskly followed. He was quick through the gate and out of the station where the taxis and rickshaw owners entice you. I showed him the piece of paper which said that I needed to go to Saidapet Hostel. I did not understand a word of Tamil. The porter fought with me for the money. In dire confusion and with no control over my baggage, I suddenly got planted onto a man-driven rickshaw.
To this day, I feel sorry and guilty that this poor guy ran on Mount Road all the way to Saidapet. We passed a training college for Physical Education, where people from all over the country come for training. No one on the street knew what IIT was and where Saidapet Hostel was. The poor guy would ask folks, and run and then ask again.
I finally saw a Sardarji at a distance and hollered at him. He read my letter and made some sense out of it. His directions eventually brought us to Saidapet Hostel. Once again, we had back and forth arguments on how much to pay for the ride to the Rickshaw puller. The language barrier was finally settled by a Tamil speaker, and the rickshaw puller happily bid me good-bye.
The interviews were conducted all day, over many days. I understood there were 10,000 applicants, approximately 1,000 were called for interview, and only 120 were going to be selected. When my turn came, I did my best in the interview. This was the FIRST TIME that I spoke in English. I was not sure what would be the outcome with my broken disjointed English during the interview. I presume that technically I did well enough, and communicated reasonably well. Oh, well! I gave the interview and headed back to Delhi.
To my great pleasure, I got the news in a few weeks that I had been selected. I was torn. Should I continue my education at Hansraj College, Delhi? Or, venture to join IIT Madras, where the food was totally different, the people were different, the language was different, and on top of it the institute was NEW.
My dad made the decision easy. He said," You should go to IIT M". He realized very well that it would be a financial burden on him. My elder brother had left for MIT, in Cambridge, Massachusetts, in 1958 to pursue Masters and Ph.D. My dad had taken an interest-free loan of Rs. 4,000 from Sir Sri Ram, philanthropist, and owner of DCM (Delhi Cloth Mills). My dad was repaying it in installments of Rs 50 per month. However, he was committed to our education, irrespective of the family hardships.
IIT Madras had two hostels. Guindy Hostel (Non-Veg) accommodated approximately 30 students, while the Saidapet Hostel (Vegetarian) accommodated 90 students. I opted for Guindy Hostel. The quality of food in the hostels was horrible. We had to work hard to create a menu that would meet the needs of all students. Our warden was initially against it, but thankfully, he finally agreed to the changes.
At that time, IIT Madras had no buildings of its own. So, our classes were held at AC College of Technology, CLRI- Central Leather Research Institute, and Madras Engineering College.
Our German and Indian Professors set up a great curriculum. Classes in the first and second years were common for all students. We had Workshops, Eng. Drawing Classes, Physics, Chemistry, Math., Humanities. German language was compulsory in the first year. Nearly 100 students flunked in this class, and so we were called early prior to the second year and given a crash course.
Chemical Engineering and exposure to other Engineering subjects started in the third year. There were about 10 plus subjects. The examinations were brutal. For example, in the morning, you sat through Applied Mechanics Exam for 3 hours. You went back in the afternoon and gave another 3-hour exam in Electrical Technology. You did this, five days in a row. Likewise, during the year, homework given was so much that it was physically impossible for most of us to cope up. This led to a new art "Copying" (or, Topo as a slang). I admit that I copied from others many times. I don't carry any guilt since I don't think that there was any other way possible for many of us.
We did get a quality education. It's appropriate to acknowledge several folks who made a difference! Prof. Cock (Physics), Dr. Ramashastry (Physics), Prof. Srivastava (Mathematics), Prof. Scherrer ( Workshops, Drawing). Prof. Satya Naraina (Thermodynamics), Prof. T Gopichand (Unit Operations, Design Project- Mono Nitro Toluene), Prof. MS VairanPillay (History, Humanities), Mr. YBG Verma (our Industrial Tour guide) and many others - whose names slip my memory. I attended the Convocation, and it was a proud moment for all of us as well as the Institute.
I post a few pictures from those years.


Guindy Hostel, 1959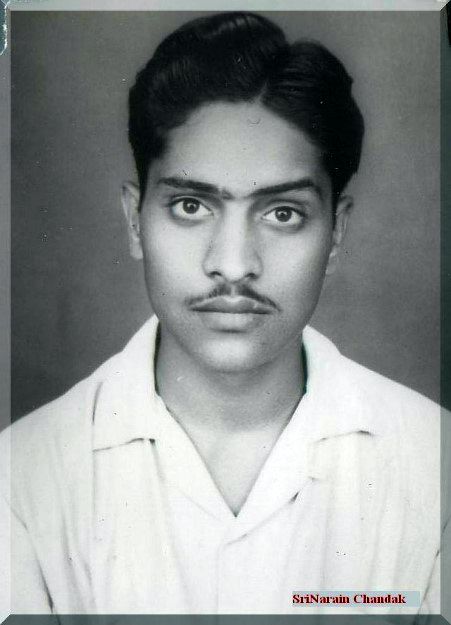 Sri Narain Chandak, Metallurgist 1965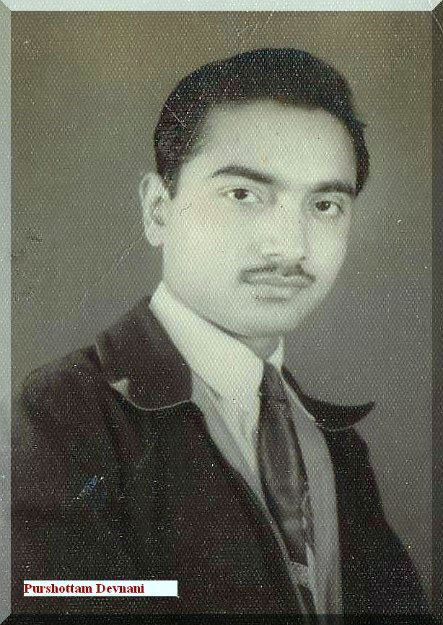 Purshottam Devnani, Mechanical Engineer 1964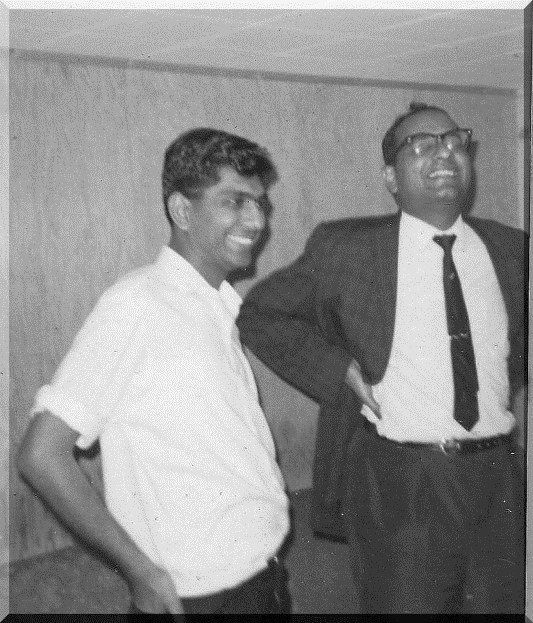 Vijay (author) with Prof. Reddy 1964


Cauvery Hostel under construction - 1960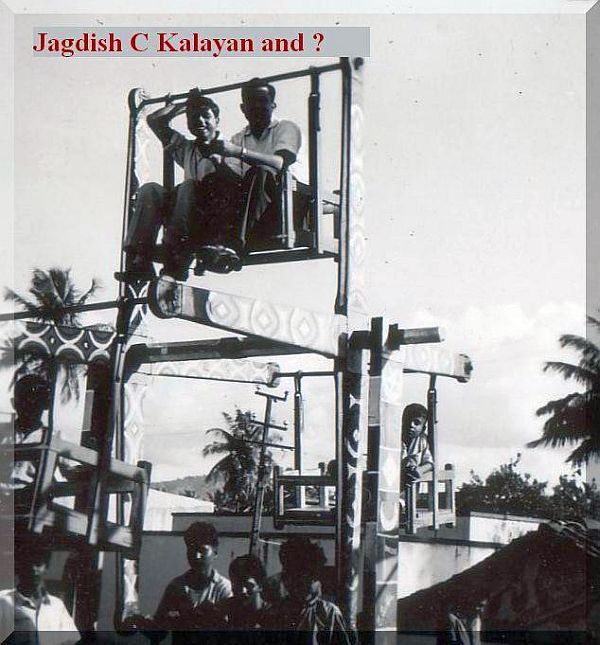 Jagdish Chander Kalyan and ? 1962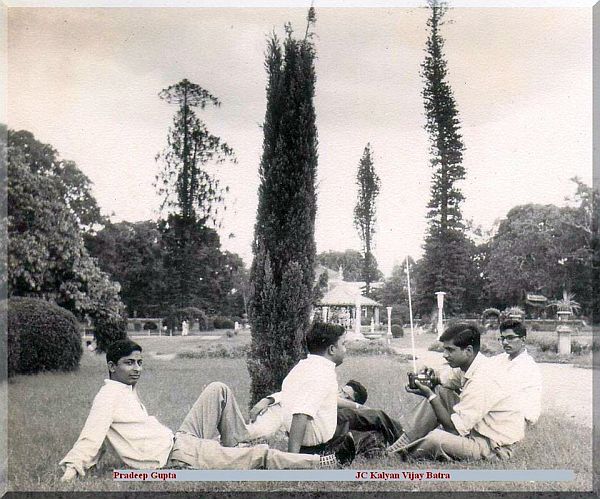 L to R: Pradeep C Gupta, ? , JC Kalyan, Vijay Batra (author) 1962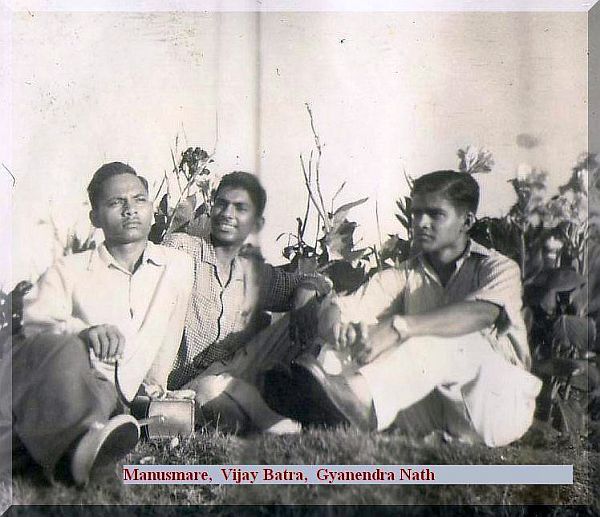 L to R: Purshottam Manusmare, Vijay Batra and Gyanendar Nath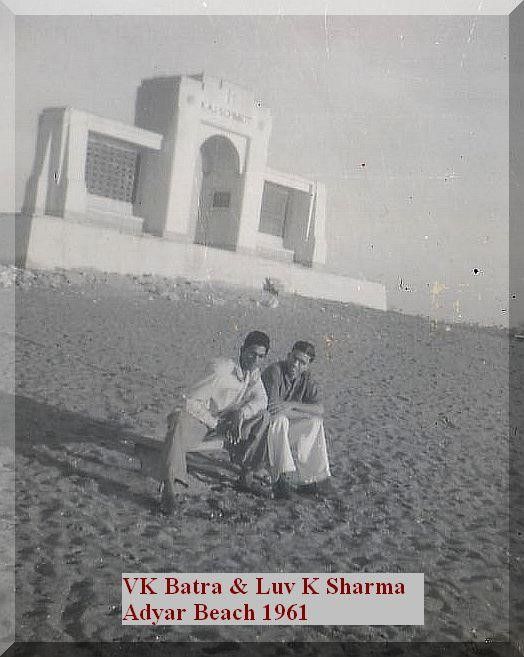 Vijay Batra and LK Sharma, Adyar Beach 1961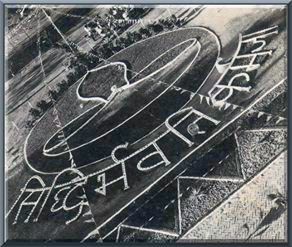 IIT M- Motto circa 1962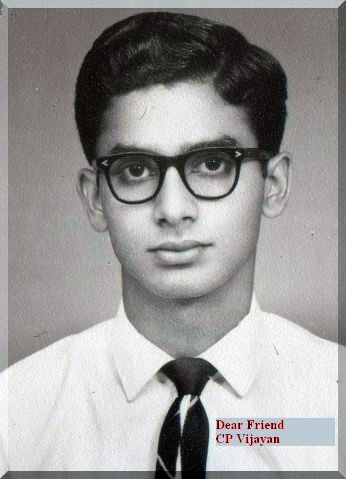 CP Vijayan Chemical Engineer  1964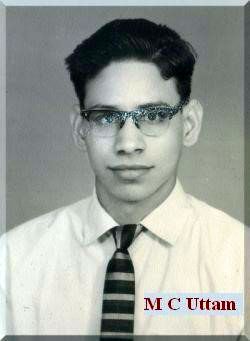 Munish Chander Uttam, Chemical Engineer 1964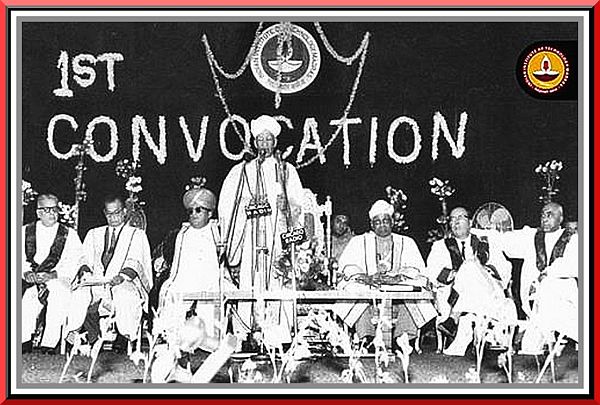 Credits: IIT M Heritage Center, President Sarvepalli Radhakrishnan giving the First Convocation Address. 1964
Getting a job
I got a job with JK Aluminum in Asansol, W Bengal. I was excited as the HR Manager was going to receive me at the station and I expected it to be a great experience. The train arrived in Asansol from Calcutta at midnight. The HR Manager never showed up. I took a taxi to the plant, some 20 kilometers away in the boonies. The security guard, a Gurkha at the gate accommodated me. He kept my baggage in the booth and said, "Go to the Canteen, set a couple of benches together and sleep there." At 5 am the canteen staff woke me up as they were getting ready for the next day. I went back to the Gurkha and he suggested that I could take bath at the public tap and get dressed in his booth. And so I did, while fuming internally at the HR Manager.
At about 10 am, the Manager arrived (He was in the Officer's club the previous night and probably drunk - the Gurkha had told me about it). I showed him the appointment letter and did the join-up paperwork. The HR manager took me to the shift supervisor and introduced me. The shift supervisor assigned me to study the Bauxite ore crushing process.
Now, picture the scene - I am dressed up in a white shirt and white pants (that was the formal fashion of the day), I go to the ore crushing room. There is no dust mask, no protection whatsoever. The room is full of red-colored dust with hardly any visibility. I still go near the Jaw Crusher, wipe off the thick layer of dust from the nameplate, note down the Horse Power, etc. After 30 minutes or so I look like red man and come out to adjacent cleanroom.
At noon, I go to the Canteen for lunch where I ate a mountain of sticky rice with dry floating fish broth. Horrible! I return and sit down on a chair in the cleanroom. Here comes the supervisor and says," Why are you loitering over here? You Punjabis have...." Before he could finish his sentence, I got up and swung my hand and slapped him with a full five-finger imprint.
That was the end of my employment. I ran past the road, to the security booth, picked up my baggage, and waved at a delivery truck driver, who was returning back to the town. The Sardar ji driver was courteous\; he loaded my stuff at the back and gave me a ride to the Asansol station. I bet, the Supervisor tried to find me, but I was long gone.
I returned back to Delhi with a bitter taste of my experience in Indian industry. My elder brother had a similar experience. After getting his degree in Textile Engineering, he worked in Ahmedabad for a year and decided to leave the country for further education at MIT in 1958. I remember his plight with cotton dust in the cotton mills. Our Indian industry cares little about the health and hygiene of employees!
Getting another degree
What next? I got admission in July 1964 for master's program in Chemical Engineering at Banaras Hindu University. It was a pleasant surprise\; once again I became part of a pioneer program. Dr. Gopal Tripathi was the Principal, and he wanted to strengthen the department with a strong Graduate program. He taught us many subjects but he instilled in us the concept of self-study. Go to the library and explore the classical lectures given by the World's leading authorities\; pick up a field that interest you and do research. Learn to be accountable and responsible for your own career.
Prof. V K Mathur\; Prof. A K Aggarwal\; Prof. Varshney- all shaped our future.
I graduated with honors and earned a Gold Medal in M.Sc. Chemical Engineering program in 1966. Prof. Tripathi offered me a Lectureship with advance three increments in pay. Thus began my teaching career.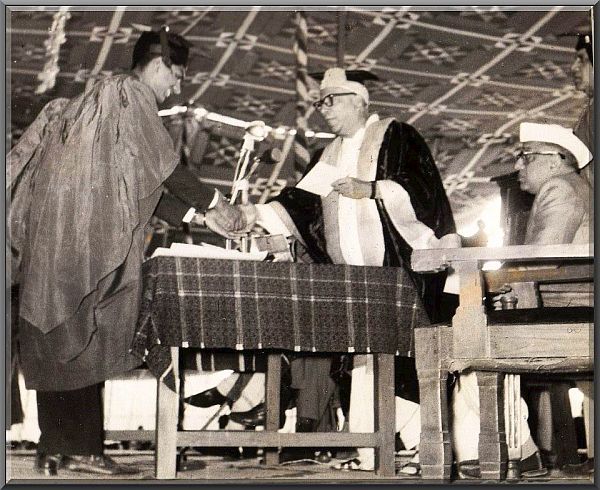 Vijay Batra receiving Gold Medal from Mr. Triguna Sen. Seated - Mr. K L Shirmali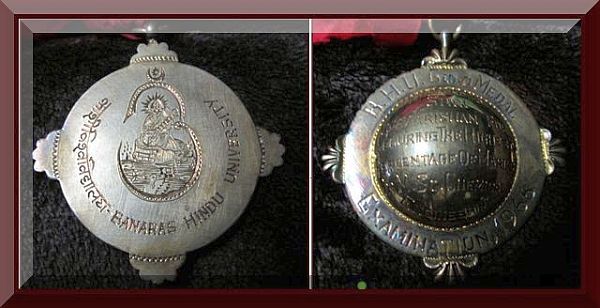 BHU Gold Medal 1966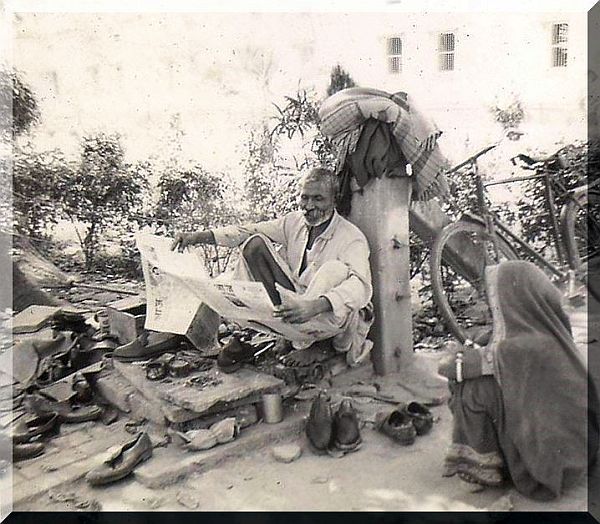 Versatile Cobbler reading Aaj newspaper 1965, outside Morvi Hostel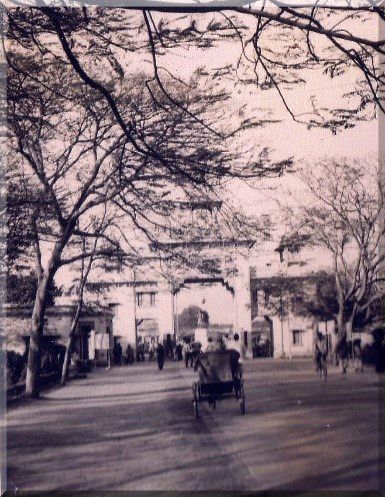 BHU Gate to Lanka Bazaar 1964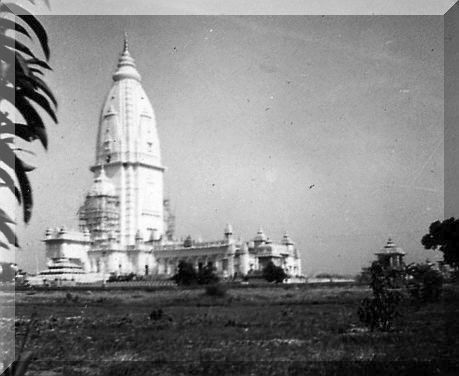 Campus- Vishwanath Temple  ~1964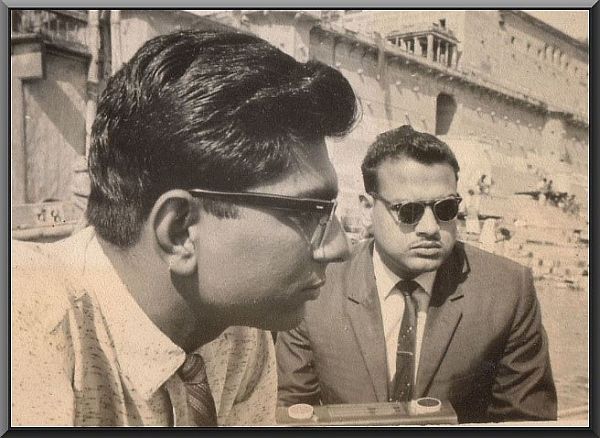 Vijay Batra and Radhey Dhayam Sharma 1965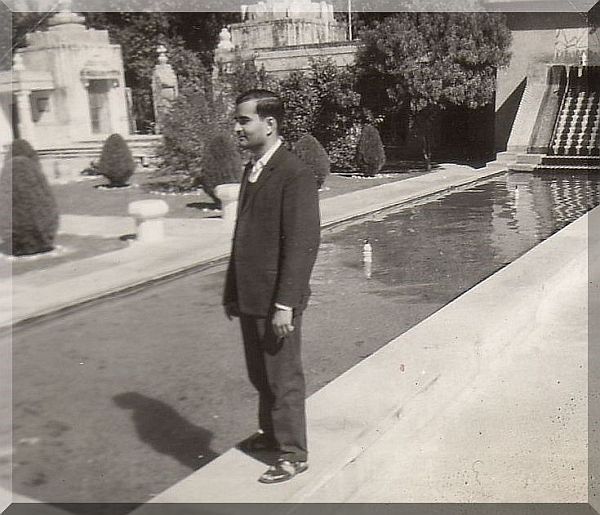 Subhash Chander Vij, Chemical Engineer 1966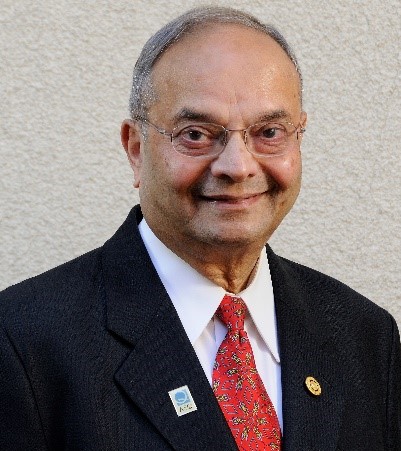 Dr. Manu Vora Educator and Philanthropist- my first student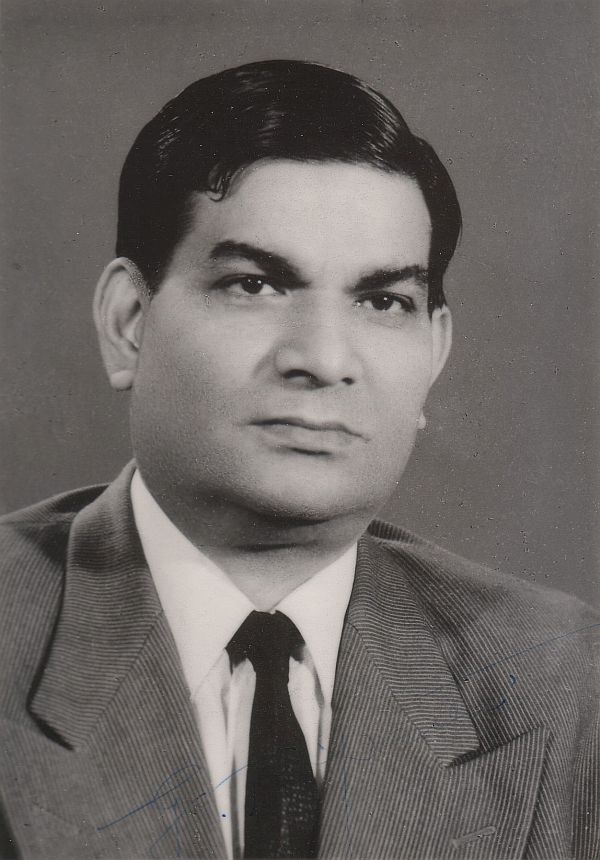 Dr. Gopal Tripathi DSc. Director and My Mentor 1966
My younger brother, Tribhuvan Nath Batra, also did his Higher Secondary from Ramjas No. 2. He graduated in 1962\; then went to Birla Institute for BSc Chemistry. He graduated in 1965 and found it difficult to get a commensurate job. The future looked uncertain. My elder brother took the initiative and sponsored him to move to the U.S., where he got into Computer Programming. I wanted to stay in India and be close to home in Delhi.
Another job and marriage
In 1967, I joined IIT Delhi as a lecturer in Chemical Engineering. Within a year I got frustrated since the Chairman was a control freak. One had to get his signatures to get Chalk and Duster from the storeroom. It wasn't a mentally rewarding and trustworthy environment. However, I got excellent teaching experience by teaching fourth and final year students. Life does not move in a straight line - there are bound to be ups and downs.
I got married to my lovely wife, Sudarshan (Gulati family from Bannu) in December 1967. Upfront, I told her that I had plans to go abroad for further studies. She was very supportive.
Moving to Canada
In September 1968, I joined the Department of Chemical Engineering, University of Waterloo, Ontario, Canada. I got my Master's Degree in March 1970 with Prof. G. Fulford (who left the department in late 1970). I switched to new advisor Prof. FAL Dullien to do my Ph.D. I have fond memories of Prof. Park Reilly, Dr. Chang, Dr. Pei, and Prof. Turner.
The University of Waterloo was started in 1958, relatively a young school. It was getting students from all over the globe for graduate programs - to establish its standing in the academic world. The regular scholarship was $3,600 per student per year. For overseas students, they split two scholarships into three - so each one got $2,400. This was my first taste of subtle racism. They got three Indian students for the regular two Canadian students. The logic was that "these" foreign students are used to living on low funds, they don't have cars and so on.
In reality, it was a hard life since after paying tuition, one got only $110. To rent a room in someone's basement cost $13 per week\; groceries cost 12 to 14 dollars per week and you were left with almost nothing to buy clothing etc. I remember I bought a large size turtle neck sweater for 12 dollars from Kmart. As the temperatures dropped in October, November... - I'll keep adding additional layers of undergarments. I could not afford to buy an Overcoat.
There were five of us (MV Bhat, M Balasubramaniam, Krishnamurthy, Jai Bansal, and Vijay Batra) who stayed in the newly finished basement at 195 Lester Street. We saw the moon landing in Bhat's room on an old TV in 1968. It was a scene. We were holding the antenna to get good reception, and Bhat was adjusting the hold for vertical picture stability. We DID see the "Moon Walk" -one small step for man, one giant step for mankind.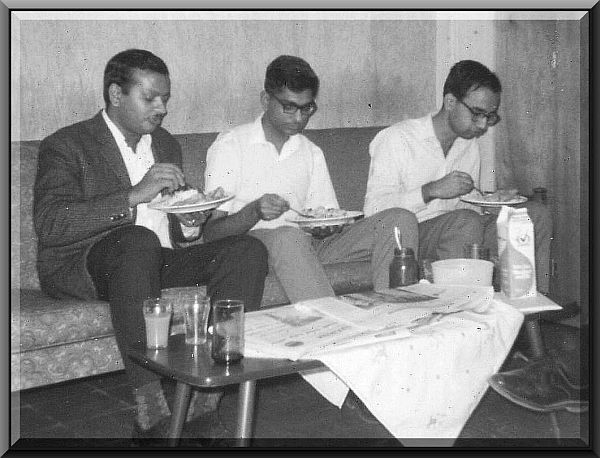 Mr. Chandershekhar, Vijay Batra, M Balasubramaniaum 1968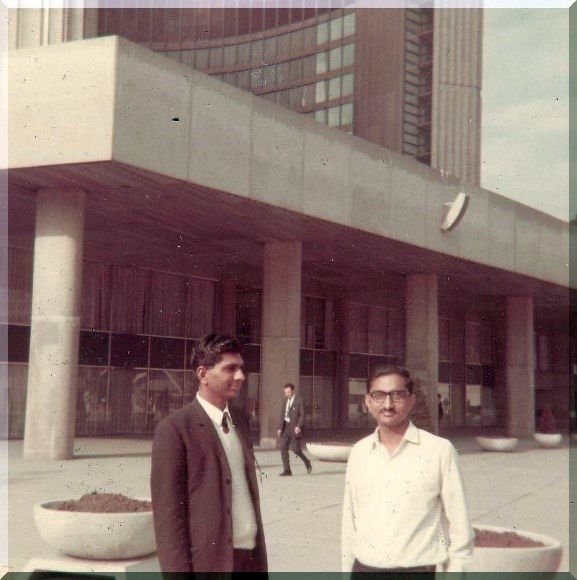 Vijay Batra &amp\; Krishnamurthy on campus 1968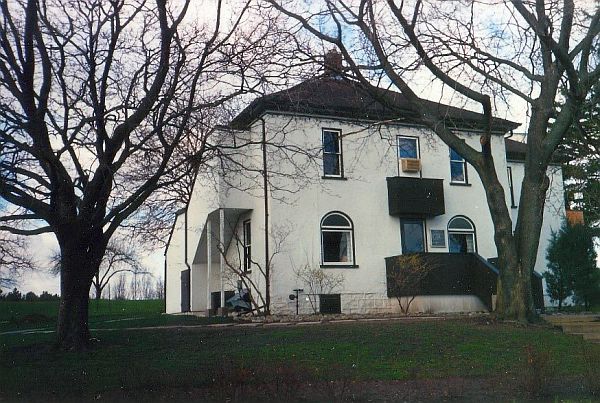 Graduate Students Lounge- Club House 1968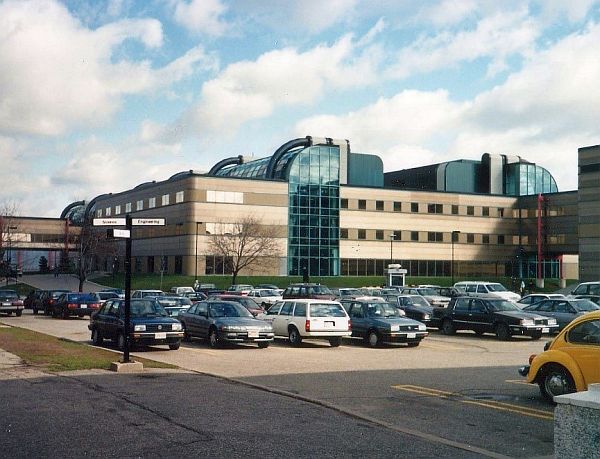 Department of Mech. Eng. Waterloo, ON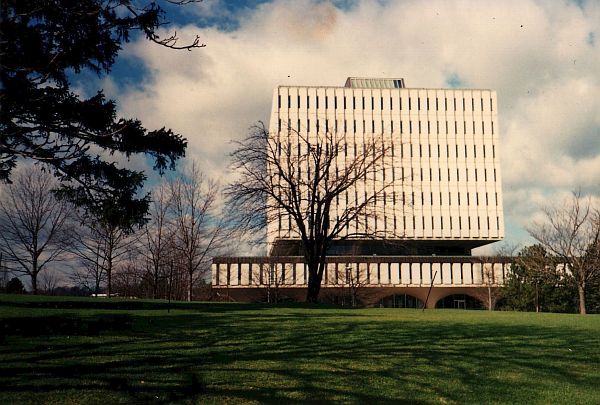 Library, University of Waterloo, Ontario, 1968
Epilogue
My wife Sudarshan joined me in 1970, and family life began. In 1973, I got my hard-earned Ph.D. degree.
In the fall of 1973, we moved to the University of Toronto. After 6 months, I moved to Quinn Labs, a motion picture processing laboratory as Analytical and Quality Control Chemist. We used to watch many movies in the darkroom at high speeds to ensure proper colors as well as the sound-track.
Once we got Immigration Papers, we moved to the U.S. in August 1974. We took time to visit India. I returned back in three weeks to search for a job, while my wife Sudarshan, daughter Anjana and son Aneil stayed back. This was a hard time for us once again. Finally, I got a job at PEDCO, an Engineering firm, in January 1975 in Cincinnati. Here I blossomed as an ace Chemical Engineer. My expertise was in the Design of Distillation Columns and Heat Exchange Equipment.
I joined Procter and Gamble on January 1, 1978. Based on the career contributions over a long period, I was honored with the very first award PRISM (Professional Recognition for Individual Sustained Mastery) in 1993.
I developed a course "Methodology of Process Development" and taught it to ~3000 Engineers and R&amp\;D Scientists during 1990 -1995 all across the Global Technical Centers. This course in practice has saved the company 500 to 1000 million dollars in the last 28 years.
I retired in 2000. In 2014, I received a Distinguished Alumnus Award from IIT BHU.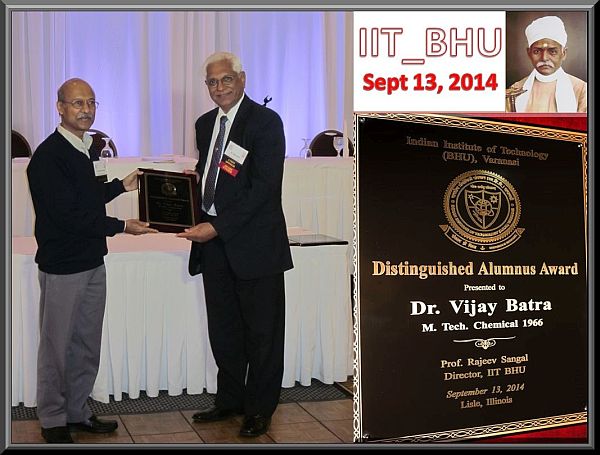 Vijay Batra receiving Award from Prof. Rajiv Sangal 2014
In 2018, we went to visit my alma maters: IIT BHU and IIT Madras in Chennai. IIT BHU presented me a plaque after I gave a lecture, "Life Lessons in Innovation and Creativity".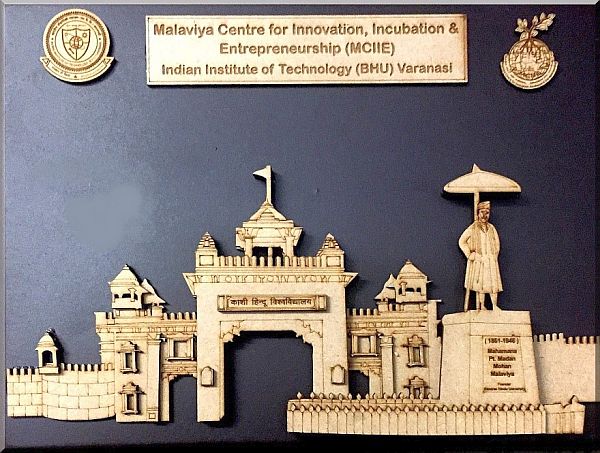 IIT BHU Innovation Plaque - October3, 2018
We visited IIT Madras campus and stayed at the Taramani Guest House. Our room was in a despicable condition. We visited Cauveri Hostel. It was also in bad shape. It appears the Institute spends very little fpr the upkeep of the accommodations. Their main focus happens to be ranked as number one Institution in the country. My feedback, well-intentioned fell on deaf ears!
It is our (everyone's) job to constantly IMPROVE, INNOVATE and TRANSFORM the systems. The slide below was prepared to make this point in my lecture (that never materialized at IITM).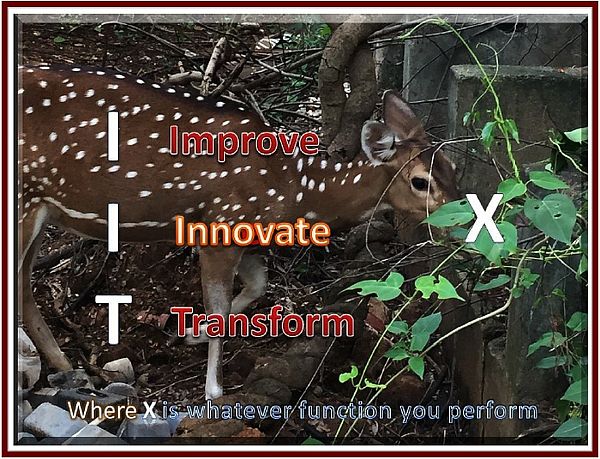 Meeting with my classmates at the Heritage Center saved the day.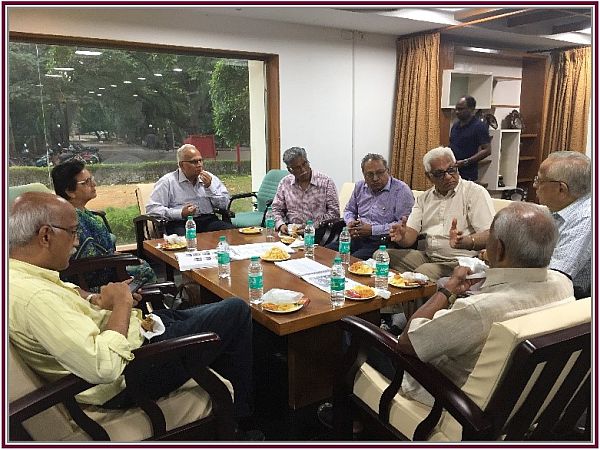 L to R: Prof. Naagraj, Sudarshan Batra, S. Srinivasan, SR Thangavellu, R Mahadevan , Vijay Batra, V Amudachari , and V Koteeswaran .
My life has been beautiful, despite the ups and downs. In gratitude to my parents, friends, and family, I wrote this memoir as an inspiration for the future. I dedicate this memoir to the memory of many of my friends who are no more:
Mr. Tejinder P Singh, Mr. C P Vijayan, Mr. Jagat P Kalra(BHU), Mr. M Balasubramanium, Mr. Vinayak Joshi and others. May their souls rest in peace!
__________________________________________
© Vijay Batra.    Published December 2019.
Category:
Description:
Life after Partition - India and abroad